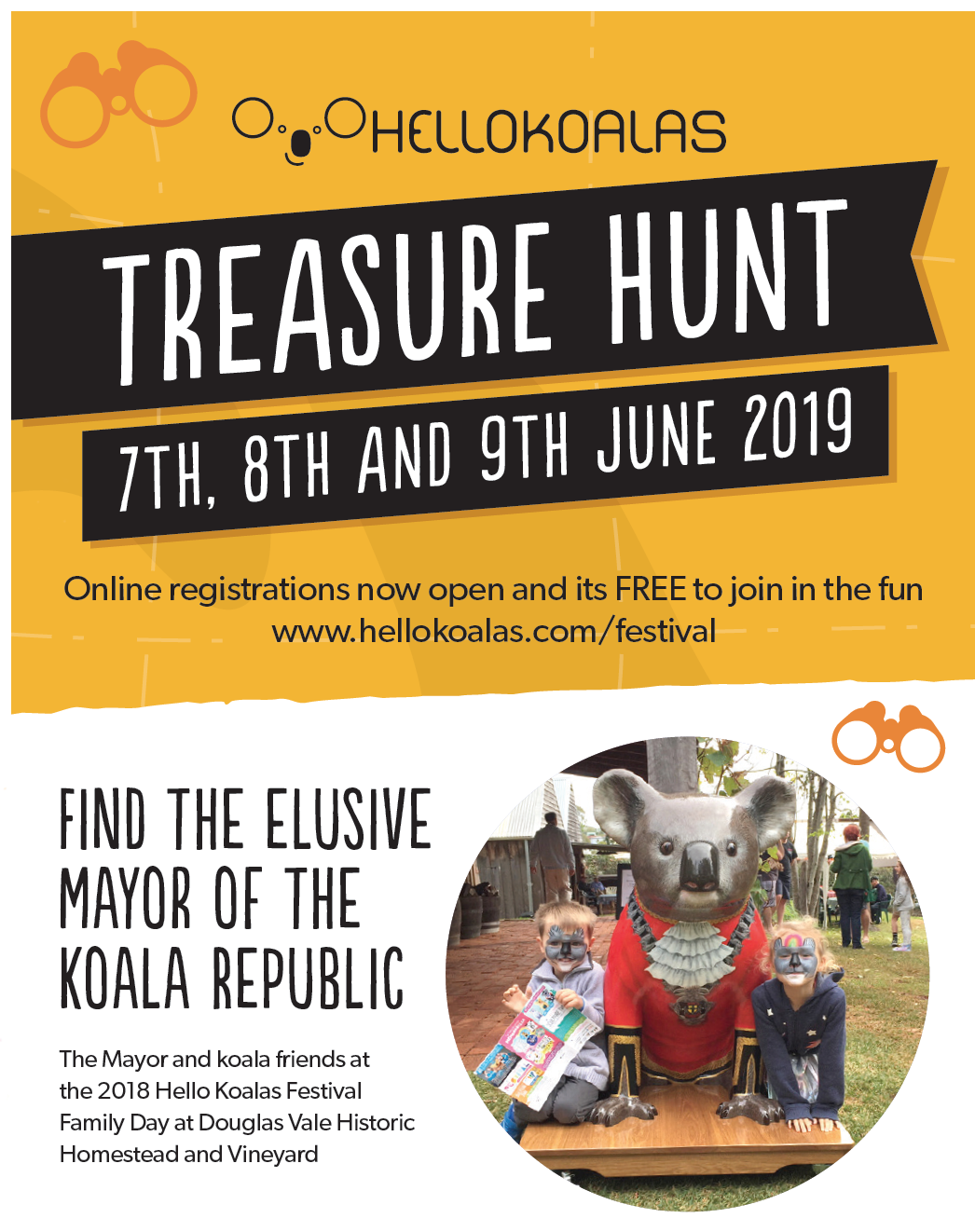 REGISTER ONLINE – IT'S FREE TO ENTER
Hello Koalas Treasure Hunt runs from
Friday 7 June (from 12 noon), Saturday 8 June, Sunday 9 June (to 3pm)
To be in the race to win prizes and receive your Hello Koalas Treasure Hunt Certificate,
it is important to register for the Treasure Hunt. There is no cost to enter and take part.
Two Ways to Register –

1. Online NOW ! And start receiving text messages of updated information and clues!
2. Fill in the Registration Form at the Glasshouse Reception, Panthers Club or Sea Acres Rainforest Centre 
We will be providing email updates to registrants during the Hello Koalas Treasure Hunt.
If you want to register as a family group, or as a couple sharing the same last name, just add the names of people one per line, but please put ages in brackets after children's names.
How does the Hello Koalas Treasure Hunt work?
On the latest official Hello Koalas Sculpture Trail Guide (bright red cover, June to September) – you can download the pdf below – you will see all 68 Hello Koalas sculptures.
Beside 16 of the sculptures. there is a small pair of binoculars. There is also a pair of binocular next to the Mayor of the Koala Republic.
Look carefully at those 16 locations because at 10 of those sculpture locations, there will also be a 'surprise' koala.
That's a total 26  sculptures and 26 photos you can post on facebook or instagram  #hellokoalas and #koalatreasurehunt
But there is one more!
And she is the elusive Mayor of the Koala Republic who is moving around town on Saturday 8 June and Sunday 9 June (until 3 pm).
We will email people to let them know when the Mayor has moved to a new location and how long she will be there.
So the challenge on the Treasure Hunt is to photograph 26 Hello Koalas sculptures plus The Mayor of the Koala Republic and post them on facebook and instagram by using the hashtags – #hellokoalas and #hellokoalastreasurehunt
Everyone who signs up for the Treasure Hunt will receive a "Hello Koalas Treasure Hunt Certificate" but those who capture all 26 koalas + the Mayor – on social media will receive a special Hello Koalas Certificate of Achievement and a gift pack from Hello Koalas.
(PS If you don't have access to social media, send your photos as a group to info@hellokoalas.com)
To download the latest map – click here  Hello Koalas Trail Guide June to September 2019
Here here you can download the Info Sheet
HK_TreasureHunt2019_A4INFO Final