Hello Koalas Sculpture Trail is a multi-award winning art project which was launched on 8 September 2014 to celebrate one of Australia's iconic animals – the Koala.
Conceived by Australian Centre for Arts and Health executive director and now Hello Koalas director, Margret Meagher (pictured), and supported by Port Macquarie Hastings Council and the NSW Government, more than 200 local businesses, community organisations, individual donors, artists, suppliers and numerous volunteers have made the Hello Koalas Sculpture Trail possible.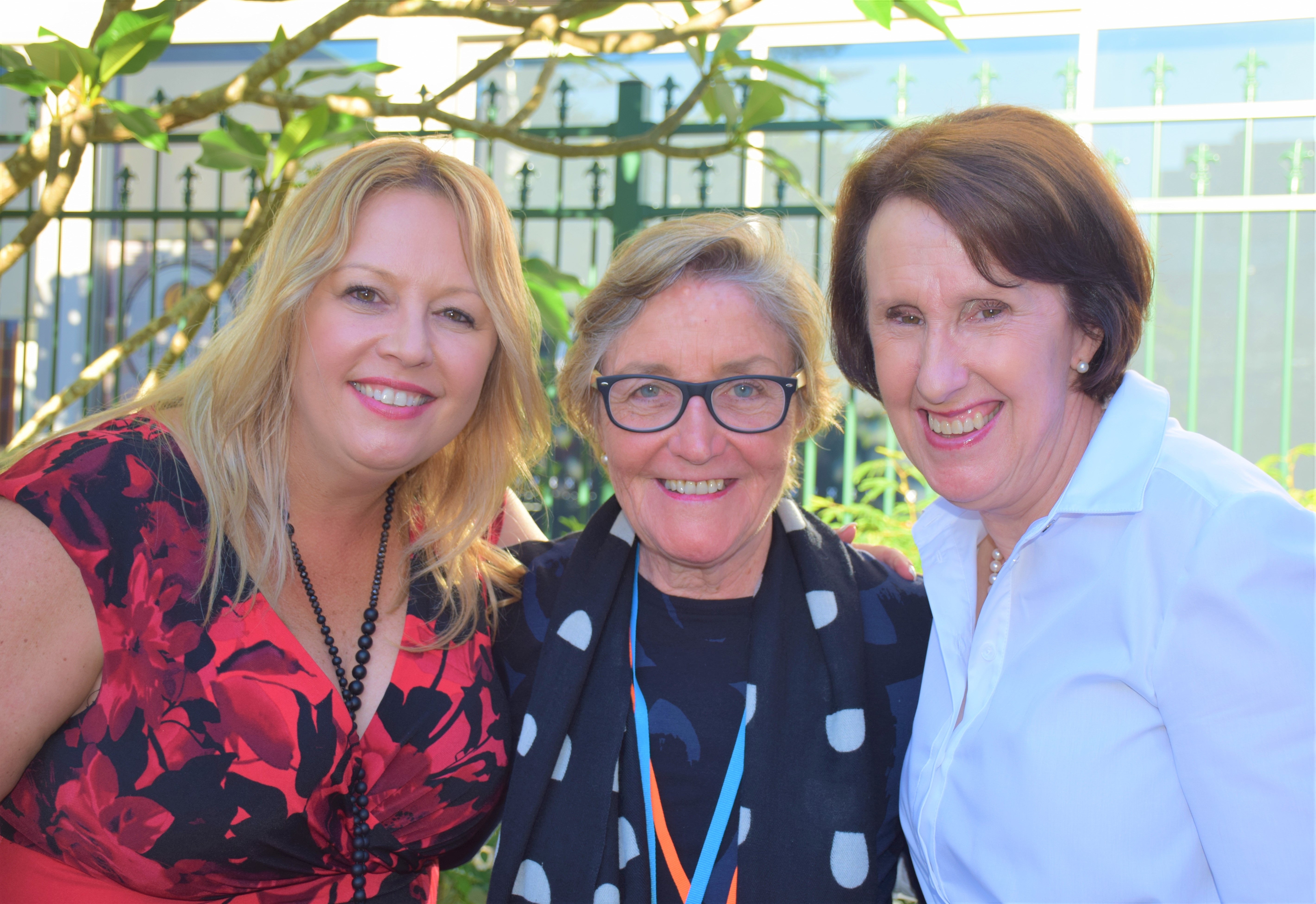 Project Director Margret Meagher, centre, with Port Macquarie Mayor Peta Pinson and MP Leslie Williams.
As of 2022, the bold and ambitious community art project comprises 83 Hello Koalas sculptures. It is designed to promote the arts, cultural tourism and environmental sustainability, to raise awareness of the need to protect the Koala and its habitat in particular, and our unique Australian wildlife in general.
It also aims to encourage visitors to come, stay and explore the Greater Port Macquarie region, with the Sculpture Trail leading throughout Port Macquarie, across towns, villages, parkland, beaches, community locations and businesses.
Port Macquarie-Hastings has been recognised as one of the largest koala populations on Australia's east coast, but the 2019-20 summer bushfires put Koala survival across NSW in crisis, making the role of Hello Koalas Sculpture Trail in raising awareness more vital than ever.
Into the Future ….
Hello Koalas continues to grow, now including an Annual Hello Koalas Festival and Treasure Hunt and incorporating touring exhibitions. In 2021 Mt Annan, Campbelltown hosted a Hello Koalas exhibit from 1-30 April. More than 1 million people passed through the gates of the Royal Botanic Garden Sydney during the Hello Koalas Sculpture Trail's one-month visit in October-November 2019, while the Australian National Botanic Gardens in Canberra hosted the first tour in March 2019.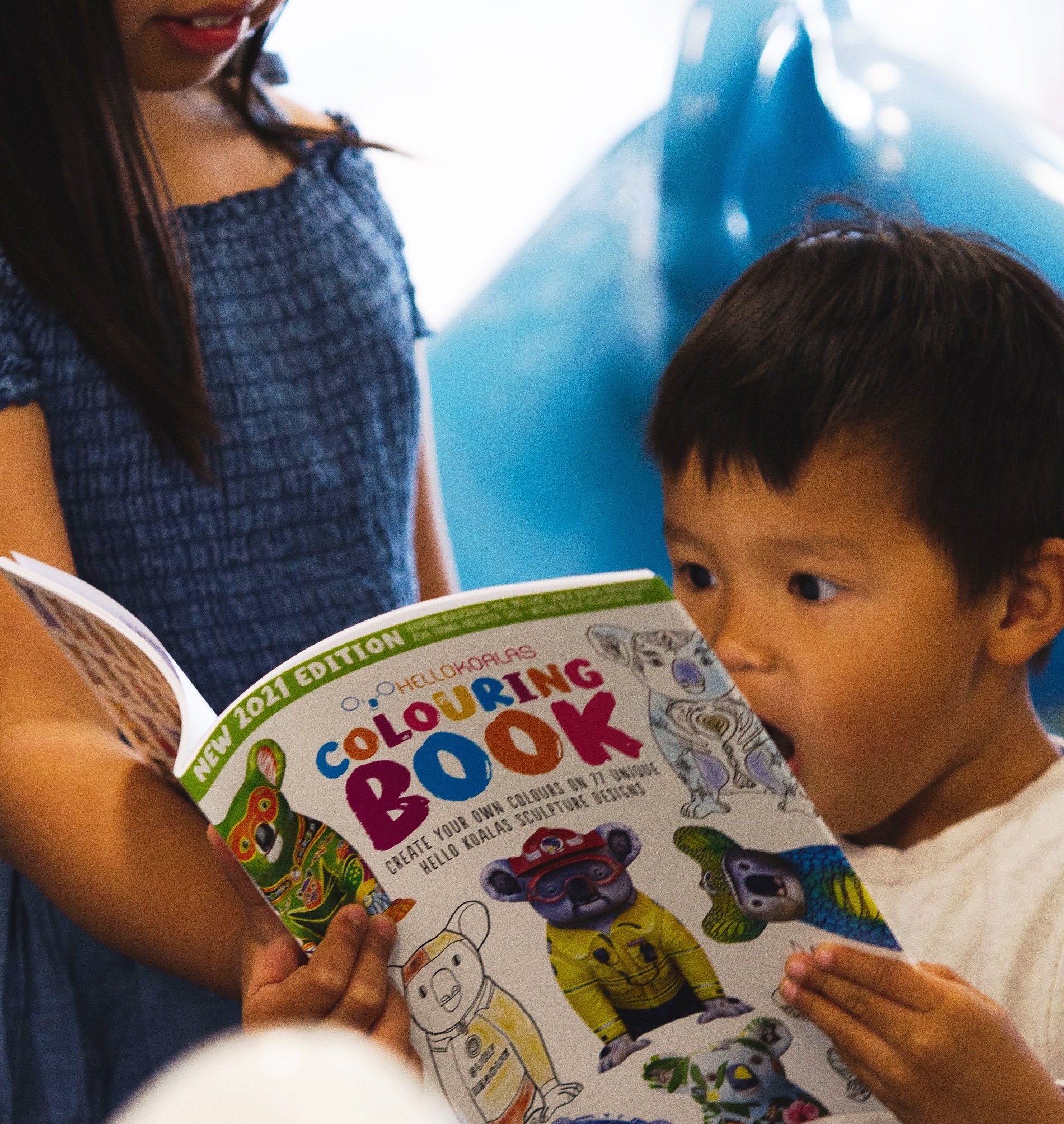 Visit the Hello Koalas Gift Shop at 16/10 Bellbowrie St, Port Macquarie (open Monday to Friday 9am-3pm & Saturday 9am to Saturday) which complements our online store and provides the personal touch, including tips and information about the Hello Koalas sculptures. There are also high-quality gifts and souvenirs including T-shirts, calendars, colouring books, tote bags, tea towels, bookmarks, badges and magnets.
Hello Koalas director Margret Meagher looks forward to welcoming you to our "koala haven"!
"It's a great resource for locals and visitors alike, so they can take home a little piece of Port Macquarie and look back on their visit or send a special piece of home to family and friends," Margret said.
Inspiration
The Hello Koalas Sculpture Trail was inspired by the 2010 highly successful 10-week Larkin with Toads public art project in Hull, UK, in which artist-decorated giant toads "appeared like Christmas presents across the city one night" (Toads festival manager Elaine Burke).
Each was the artist's "vision" of Hull and helped to reinvigorate the community and encourage people to move around their city, come together and rediscover their own backyard and what it offered.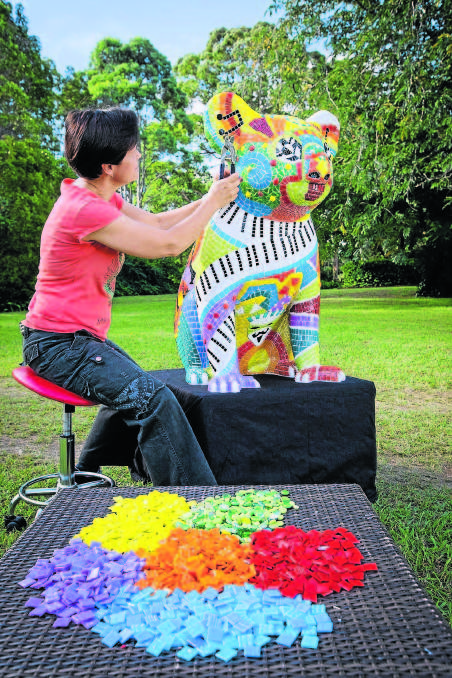 Translating the project to Australia to feature the Koala, capture its appeal, resonate with locals and visitors alike, and become a permanent exhibition that exudes ongoing joy, colour, engagement and inspiration was no simple task.
The Hello Koalas sculpture design was a labour of love for Melbourne-based artist Ben Walsh, working in close consultation with Port Macquarie Koala Hospital supervisor Cheyne Flanagan. Koalas' features are largely determined by their geographic home, and we are very proud to say that the stylised Hello Koalas sculptures have all the features of a true blue Port Macquarie-Hastings koala!
The Designs
Like their furry inspirations, each Hello Koalas sculpture is different, being lovingly and intricately hand-painted by local artists in different themes so each has its own individual character.
Over 150 designs were received from artists across Australia for the original 50 1-metre high Hello Koalas sculptures, and more than 40 Mid-North Coast artists have to date been involved in their creation, including Mosaic artist Francesca O'Donnell (pictured above).
The highly individualised designs reflect vital elements of our region's rich history and heritage, Aboriginal culture, natural environment and diversity of wildlife.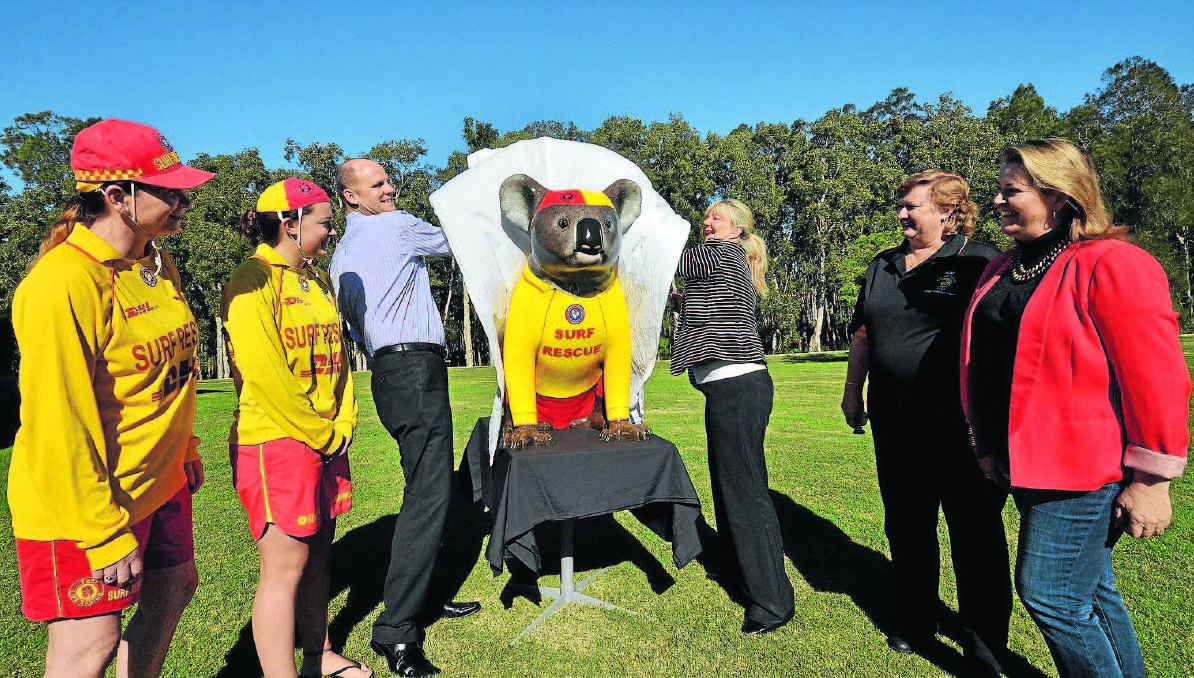 They also connect with local interests and issues.
Pictured top is the 2020 launch of Frankie Firefighter, designed by Kim and Wayne Sharples, celebrating the local men and women who fought valiantly to protect our community in the 2019-20 fires, and dedicated to all of Australia's selfless and heroic firefighters.
Other examples include Mac the Surf Life Saver (pictured at his launch with artist Pauline Roods), Puzzles (Looking for the Key to Dementia) and Ranger Riley a roaming ambassador for NSW National Parks and Wildlife Service and the NSW Government's "Saving Our Species" program.
"Arts and Health Australia is dedicated to advocating the use of the arts and creativity to enhance health and wellbeing," director Margret Meagher said. "Public art is one of the most effective ways to engage members of a community, from childhood to older age and from diverse backgrounds, and effectively encourage interaction, participation and contribution.
"Everyone loves the koala. The Hello Koalas Sculpture Project is a perfect match of artistic practice, cultural tourism, scientific research and an Australian icon that's a true local identity."
Manufacturing and Specs
The enthusiastic team at Craft Fibreglass in Sydney took the next step and made the fibreglass Hello Koalas sculptures a reality, ready to be painted. When fibreglass craftsman John Belfield relocated to John's River near Port Macquarie in 2017, Hello Koalas was delighted that the manufacturing process became truly local.
Reflecting his dedication to the project, when John had to evacuate his property in the 2019-20 fires, he took the Hello Koalas sculpture mould with him "because it was the most precious possession in my care and the one that would be the hardest to replace"! What an amazing man – thank you, John!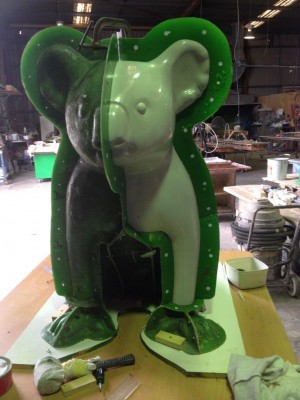 The components of each sculpture are moulded in manageable segments, and fabricated together with fibreglass to make the complete form. It is a very labour-intensive process. The sculptures have been manufactured according to AS/NZS/ISO 9001 Quality Assurance accreditation.
All the sculptures are 1m high x 57cm wide x 87cm long and secured to concrete or timber plinths, which are generally 20cm high and 1.5 metres square. The plinths include a plaque which displays the design title, the artist's name and the sponsor, including principal sponsor Port Macquarie Hastings Council.
The fabrication is designed to cope with weathering and handling by the public – particularly the enthusiastic love of children! All koala sculptures are finished with a primer and ready for the artists to paint using high quality fine art paints by Australian manufacturer Derivan. A varnish is then applied before a final coating to protect the sculptures from graffiti and the weather. Thankfully, vandalism is generally not a major issue because there is a strong feeling of community ownership in the project.
Thank you
Thank you to all the past and present business sponsors of the Hello Koalas Sculpture Trail and the talented artists involved in creating each unique koala on the growing Trail.
"It's their backing and creativity which allow us to create this really strong message about koala conservation," director Margret Meagher said.
Thank you also to our legion of Hello Koalas followers and fans who share their enjoyment with us in person, on TripAdvisor and social media.
A look at how it began … Larkin' around in Hull, England