Standing 2.5m high, Hello Koalas' The Big Koala is the face of the ground-breaking Guulabaa (Place of Koala) tourism and educational precinct now open in Cowarra State Forest, alongside adventure attraction WildNets.
Hello Koalas is a proud partner in the Guulabaa project with NSW Forestry, the Koala Hospital Port Macquarie, Bunyah Local Aboriginal Land Council and WildNets Adventure Park. Guulabaa will include the Hospital's wild koala breeding centre, Bunyah's café and gallery opening in 2023.
This photograph is the start of The Big Koala's journey to Guulabaa.
Acclaimed fibreglass specialist, John Belfield, who has made all our Hello Koalas sculptures, first in Sydney and since 2017 in John's River, built a special mould for The Big Koala and prepared it for painting by Port Macquarie artist Pauline Roods in March 2020.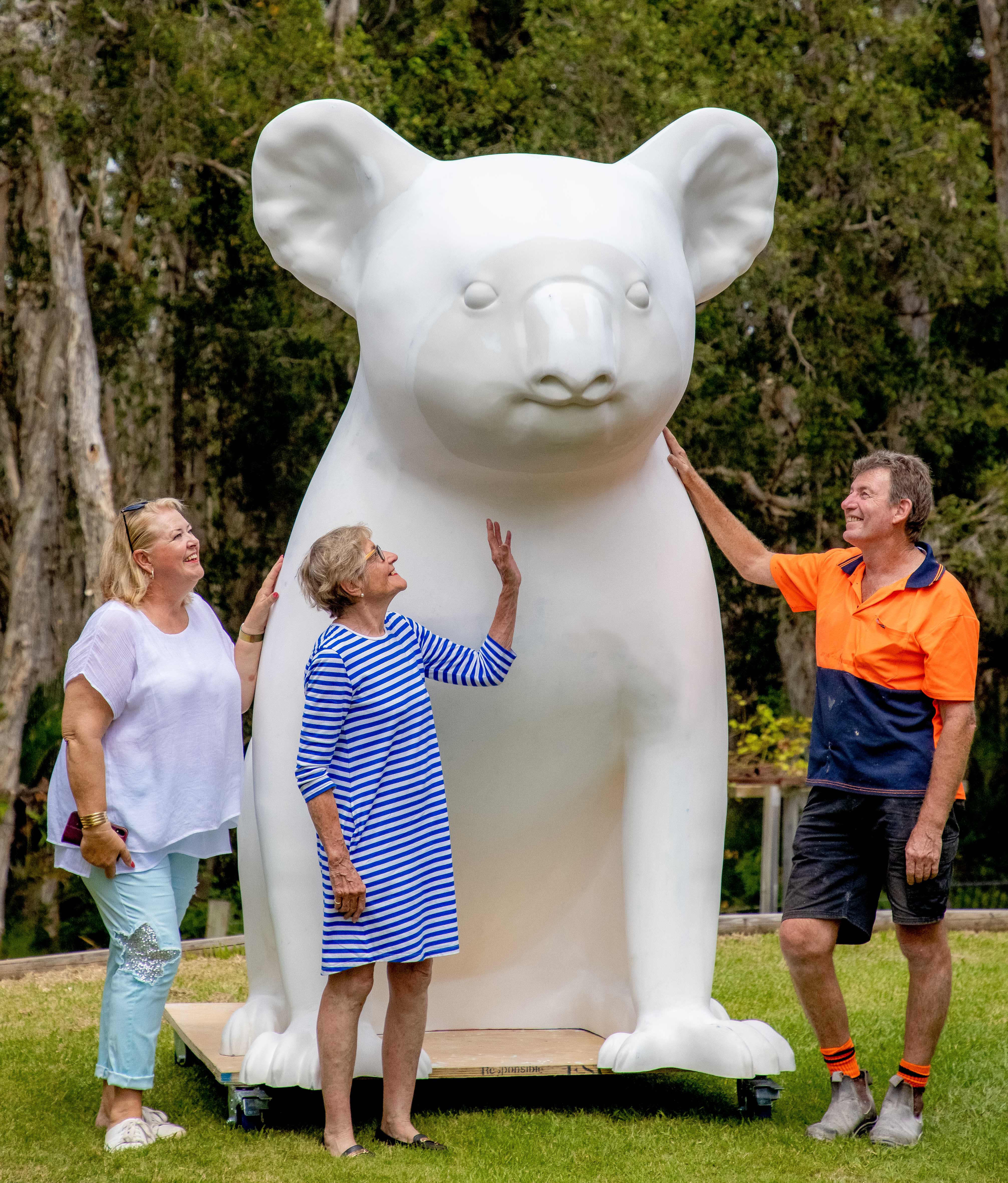 Artist Pauline Roods, Hello Koalas director Margret Meagher and fibreglass manufacturer say there first official 'Hello' to The Big Koala on its reveal day in March 2022. Photo: Lindsay Moller
Mid year, Pauline completed the commission and The Big Koala was moved to Guulabaa to take up residence as an iconic landmark for the Mid North Coast of NSW.
Guulabaa is expected to attracted about 200,000 visitors a year, and aims to engage and educate visitors about Koalas and conservation, so they leave "committed to make a contribution to the sustainability of our planet".
Pauline Roods is one of Hello Koalas' original and most prolific artists. Followers will know Pauline from Hello Koalas sculptures as diverse as Mack the Surf Lifesaver (at McDonald's Settlement City) and Koalasaurus Max (at Hello Koalas Gift Shop) to her two Forestry-sponsored sculptures, Forest (at Port Macquarie Museum) and Woody (at Sealy Lookout Coffs Harbour).
You can keep up to date with Guulabaa on our Friends of Hello Koalas and The Big Koala Newsletter  and on Facebook, Instagram and Twitter.