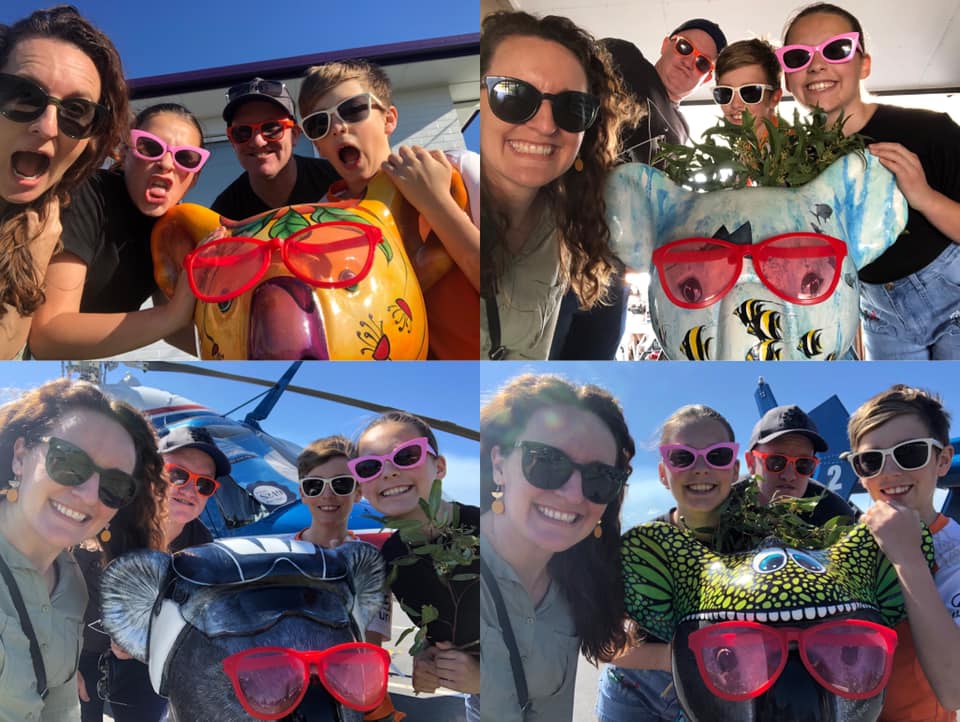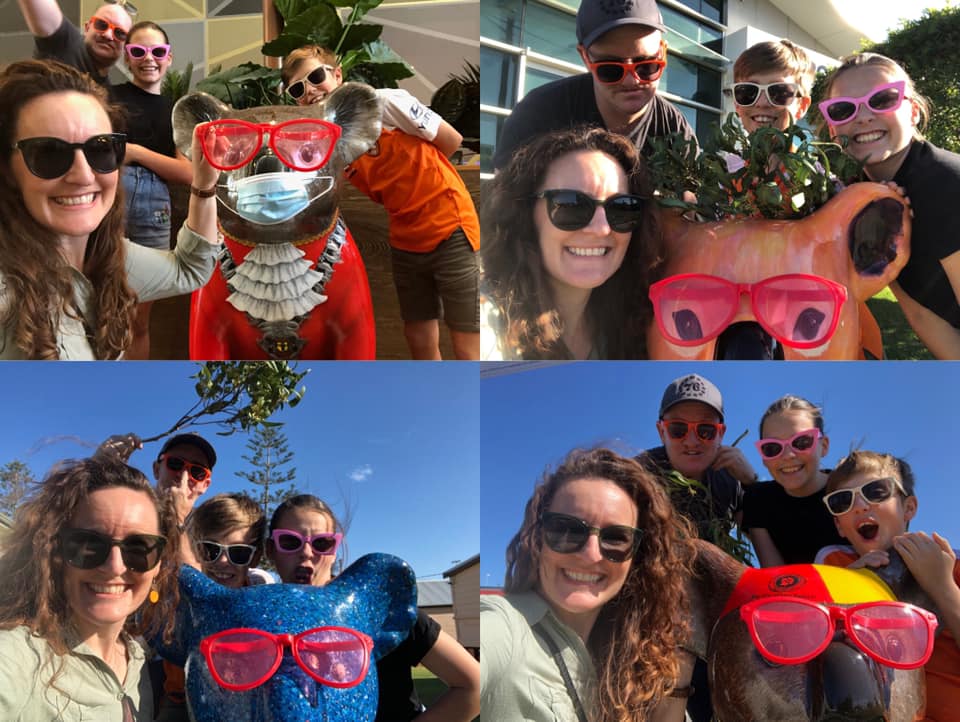 Photos thanks to Catherine Oehlman (from The Nature School) and family, with their own fun 'vision' for our 2020 Hello Koalas Festival Treasure Hunt!
HELLO KOALAS FESTIVAL TREASURE HUNT
Saturday & Sunday 24-25 September 2022

Our annual Hello Koalas Festival is the WORLD'S FIRST festival celebrating Australia's best-loved animal, the koala. And while the pandemic has forced some changes,  we go on raising awareness of the need to protect our koalas, to enjoy the outdoors, art and life in general.
It's free to follow the Trail and a large number of our 84 Hello Koalas sculptures are in outdoor locations, while others have homes at local businesses and community organisations. 
The key activity for the Festival event in 2022 is the Hello Koalas Festival Treasure Hunt – Here are the Details
Discover 30 specially selected Hello Koalas sculptures around Greater Port Macquarie including The Big Koala!
All participants receive a Hello Koalas Festival Treasure Hunt Certificate of Achievement, collectible from the Hello Koalas Gift Shop in Port Macquarie, the home of Hello Koalas Sculpture Trail, until the end of September.
Please take lots of photos and post on social with the tag #hellokoalas or #hellokoalassculpturetrail to spread the message around koala conservation.
Call in to the Hello Koalas Gift Shop when you have ticked off all 30 koalas and we will reward you with your certificate and each registered family, person or couple will receive a Hello Koalas magnet of their choice for their family fridge to display their Certificate of Achievement in pride of place.
The Hello Koalas Gift Shop address is Bellbowrie Park Business Centre, Shop 16  10 Bellbowrie Street, Port Macquarie.
We are open on Saturday 24 Sept and Sunday 25 Sept, 9am to 4pm or you can call us on 0416 641 482 or email info@hellokoalas.com with any enquiries.
It's exciting for all ages – discovering beautifully painted koala sculptures dotted across the landscape and learning more about the koala and how we can all protect and preserve Australia's most iconic animal.
Here are the Clues to discover the 30 special koalas selected for this year and a directory of all the 84 Hello Koalas so you can line up the answers to the clues and plan your adventure.
Printed editions of the Hello Koalas Sculpture Trail Guide & Map are freely available from the Gift Shop too and other key outlets including The Glasshouse Arts and Visitors Centre.
We will also have a printed sheet detailing the 30 Clues at the Hello Koalas Gift Shop.
Hello Koalas Festival Treasure Hunt this weekend – The Clues
Discover 30 specially selected Hello Koalas sculptures for 2022
1.     How many painted koalas can you find on the biggest Hello Koalas sculpture in town?
2.     This Aboriginal design captures the blue waters and white froth of the ocean
3.     There is only one tiger in Port Macquarie – where is it?
4.     Favourite Aussie animals are showcased to visitors to Timbertown and locals
5.     This young koala can be found outside a hospital and is learning to be a doctor
6.     Port Macquarie Museum has art making workshops for the Treasure Hunt weekend and the theme is koalas!
7.     Max is a gentle giant who reminds us that animals become extinct if they are not cared for
8.     This koala lives by the marina with a design inspired by Port Macquarie's ocean beaches and marine life
9.     Hello Koalas masked superhero is a champion for koala care and has just moved to a village near Innes Lake
10.   Wearing a bright red helmet, this koala is a trusted friend in bushfire regions and has a new "Place" he calls home!
11.   A koala who loves native stingless bees and floral emblems from around Australia
12.   Charlie Frazer visited Port Macquarie between 1816-1819 and collected plants for Sydney's Botanic Garden
13.   You'll find this Hello Koalas sculpture at home behind a glass window at its favourite bank everyday
14.   Painted by an artist from the Bunyah Aboriginal community, this lady loves shoppers who pass by and say hello
15.    A lifesaver enjoys the beach and reminds people to swim safely between the flags
16.   Historic sailing ships are featured in this blue and white classic Chinese willow pattern
17.   There are two marine koalas with names from Greek mythology.
One is the Greek God of the Sea – what's his name?
18.   It's black and white and has a tag in its ear with the Comboyne postcode 2429
19.   A treasure painted in gold and inspired by Chinese culture, hosted by an Asian inspired restaurant
20.  This dancing koala is the subject of a brand new children's book called "Lola had a Dream"
21.   A mascot for a mighty rugby football team in Port Macquarie.
22.   Times were difficult in the early days of settlement in Port Mcquarie especially for convicts
23.   One of the oldest koalas in history who lived in town and died at 22 years of age
24.   A beautiful koala which glows with vitality, featuring The Tree of Life in her design
25.   The ABC's koala is named after the last Tasmanian Tiger which died in 1936 and
the species became extinct.
26.   An underwater fairyland with creatures large and small, with welcoming ocean breezes
27.   A roaming ambassador for NSW National Parks in a littoral rainforest setting
28.   Decorated with pink gum blossoms, this koala is an "amazing" beauty
29.   There's a zebra in amongst the bushes – is that a koala?
30.   A koala as sweet as honey
Hello Koalas Sculpture Trail Map and Guide to all 84 sculptures