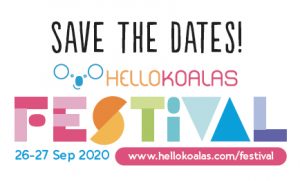 4th Annual Hello Koalas Festival is scheduled for Saturday 26 & Sunday 27 September 2020, the first weekend of the school holidays in NSW.
Sunday 27 September is World Tourism Day too!
It's a great time to visit Port Macquarie and join in the fun of the Hello Koalas Festival Treasure Hunt. This year we will be following the theme of "Search and Rescue" in collaboration with our new Festival partner, Westpac Rescue Helicopter Service.
It's free to participate in the Treasure Hunt for 30 specially selected Hello Koalas sculptures but please register online on the form below so we know you are coming.
Participants will receive a Certificate of Achievement, with prizes to be won too for best photos and stories.
It's exciting for all ages – discovering beautifully painted koala sculptures dotted across the landscape and learning more about the koala and how we can all protect and preserve Australia's most iconic animal.
Read about the latest news here – more details coming soon. https://www.portnews.com.au/story/6817760/giant-koala-new-treasure-hunt-sponsor-for-2020-koala-festival/?cs=257

Register Now!