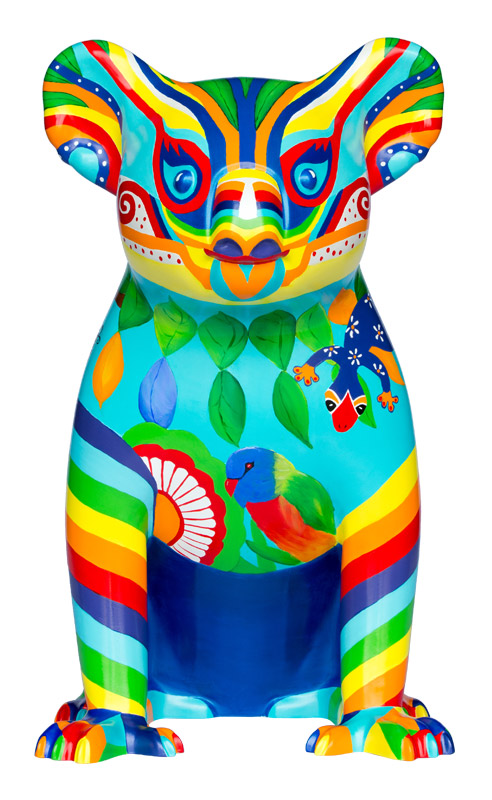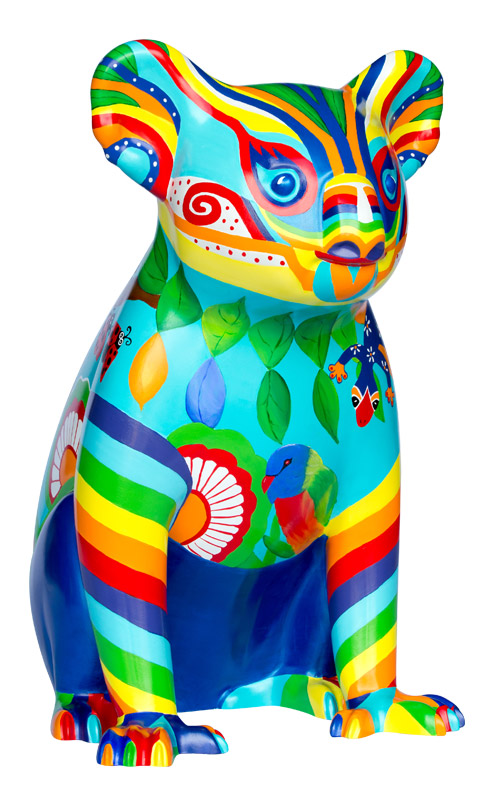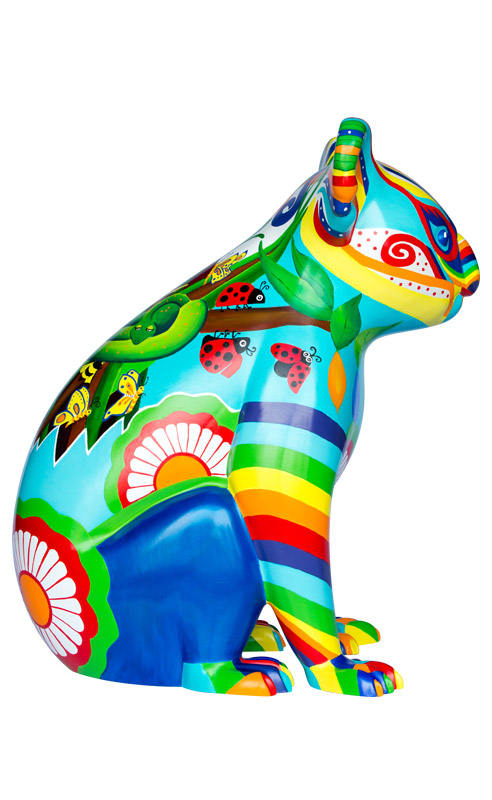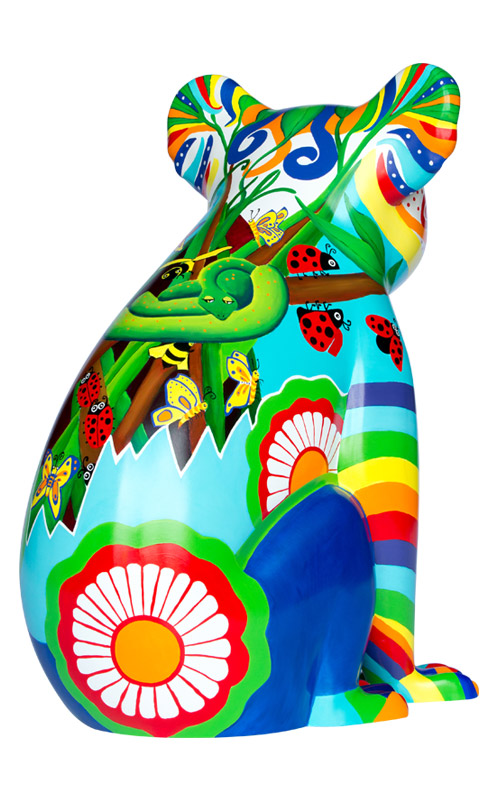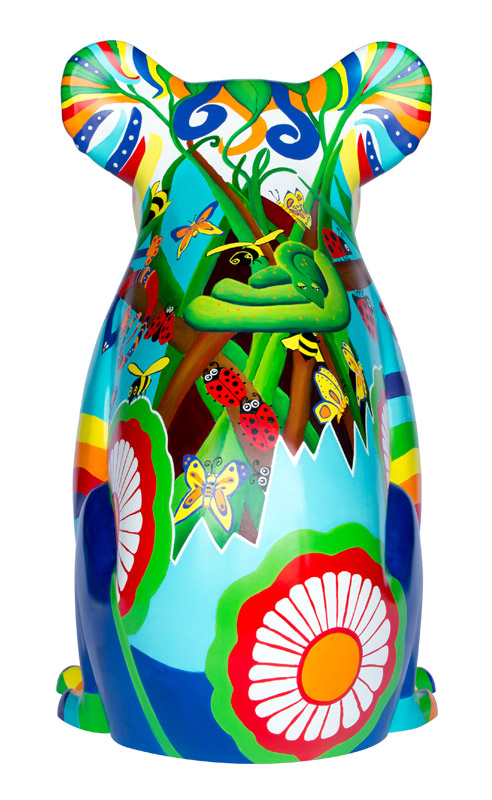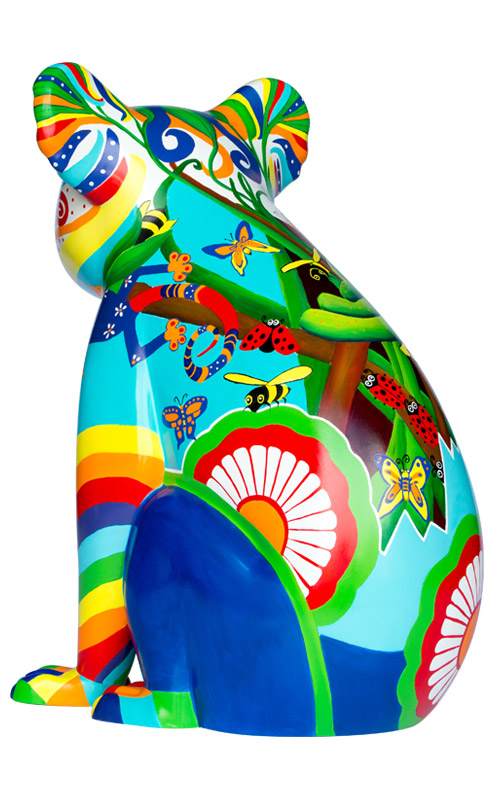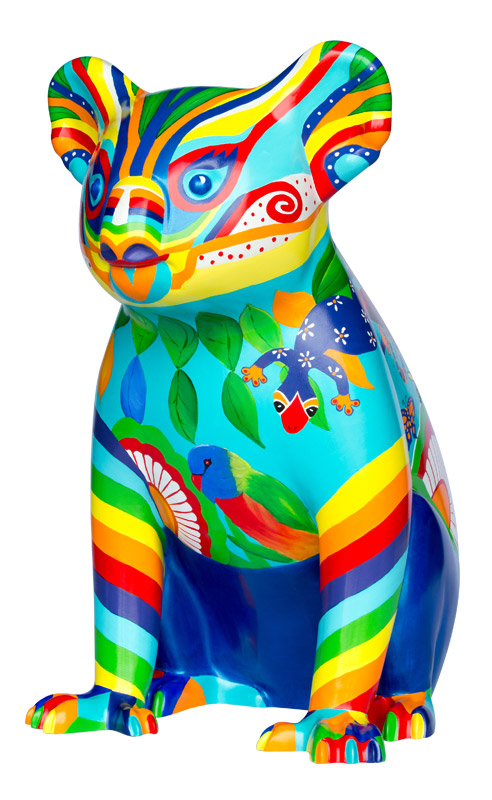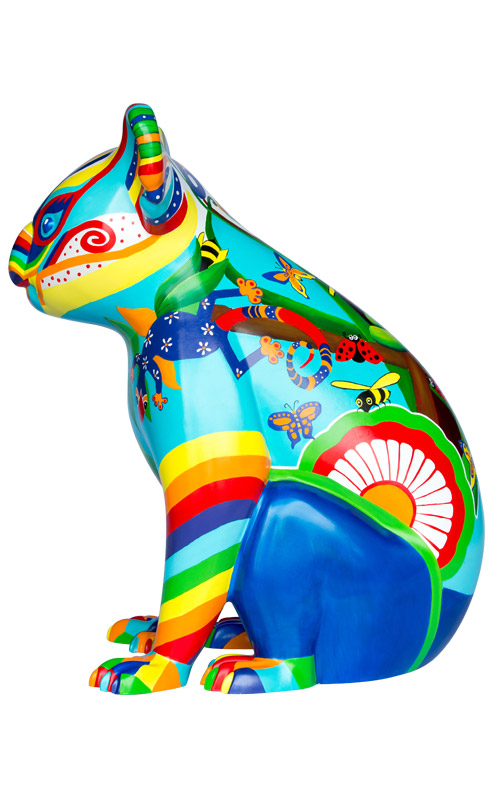 Artist : Kim Mclean
Sponsor: Webb's Mid North Coast BP
Location: Gateway Service Centre, Pacific Highway
Description / Inspiration
Wildlife Warrior has been a labour of love, created to remind everyone to get out there into nature, enjoy and protect it. The artist feels lucky to be living in an area so abundant in wildlife and so naturally beautiful and she wanted to express that gratitude and encourage others to feel grateful as well.

The artist would like 'Wildlife Warrior' to be enjoyed as a fun, happy and colourful little warrior for nature, with interesting things to find and look at as you walk around her.

The design was drawn and painted carefully by hand. The artist did not use any tapes or masking for the rainbow legs and jewelled feet, just a steady slow hand and as with most of her paintings it developed and changed as she painted it.

The Warrior told the artist what was she wanted to wear and she painted it on for her. In the artists words, "we developed a good understanding and my family and I were sad to see her go".

Artist Biography
Kim uses many different techniques and paints from the heart to create a variety of colourful, ethereal, dramatic, humorous or sometimes soft and subdued paintings.

Her style is constantly evolving. Although her main passion is watercolour for its luminous colours and vibrancy, she dislikes being limited in any way and also loves to use other mixed media like charcoal, pastel and acrylics, to realise a design idea.

Kim loves to use bold rich colour to capture the light, colours and mood of the subject, expressing the joy and beauty that is sometimes taken for granted and taking her inspiration from everyday life. Creating individual and emotive artworks by allowing the painting to develop as she paints is an important process to her.

Kim has developed her style over many years of study and experimentation. She tries to capture the emotions in moments of time to express the message 'enjoy life and live in the moment'.

Kim lives in Port Macquarie, with her husband and three small children. She is working and studying Fine Art and Visual Culture as well as Graphic Design, so life is very busy. Kim is a member and regular exhibitor of the Hastings Valley Fine Art Association. Her work can be inspected at her home Studio/Gallery where everyone is welcome by appointment or at the Hastings Valley Fine Art Gallery.


Location Info
Webb's Petroleum started business in March 1979 and now, as Webb's Mid North Coast, has 7 service stations plus two depot forecourts, including the BP at Pacific Highway Service Centre, Port Macquarie So you can say Hello to Wildlife Warrior at the same time as Oceania at McDonalds and Mr T at KFC.