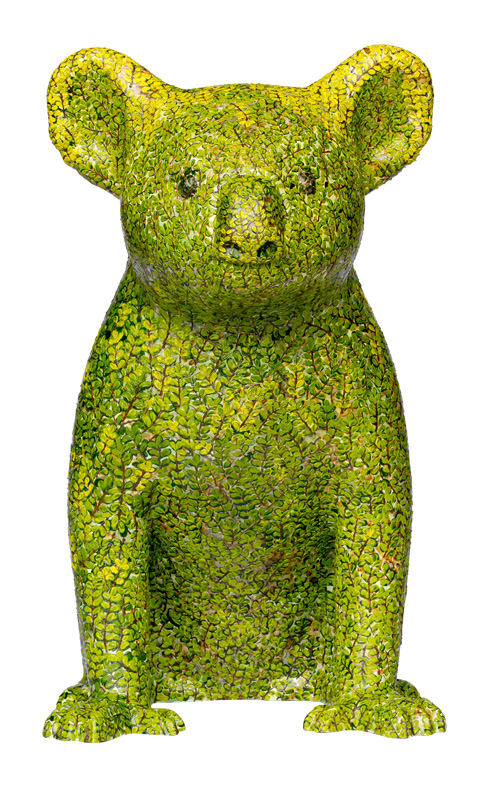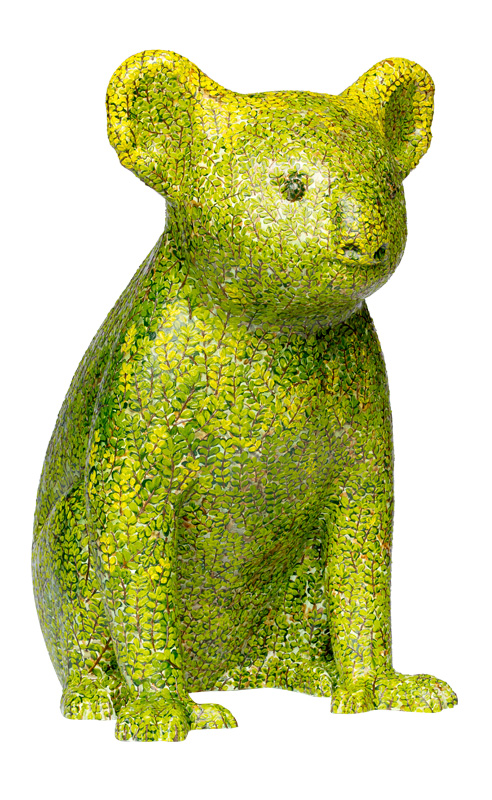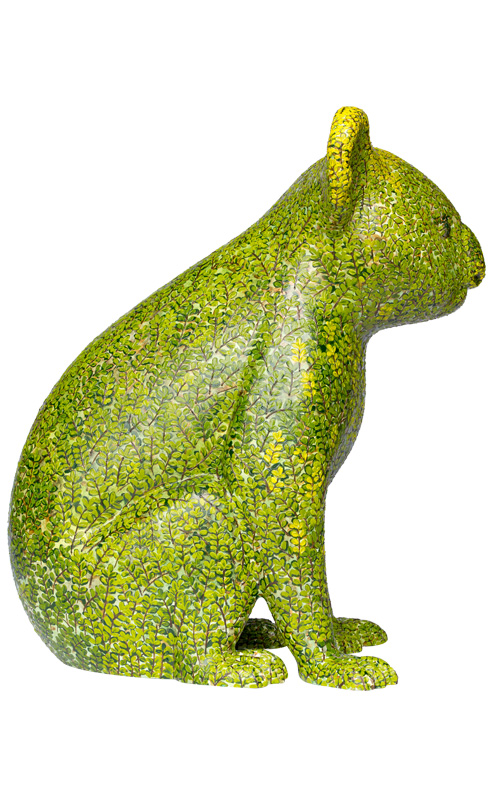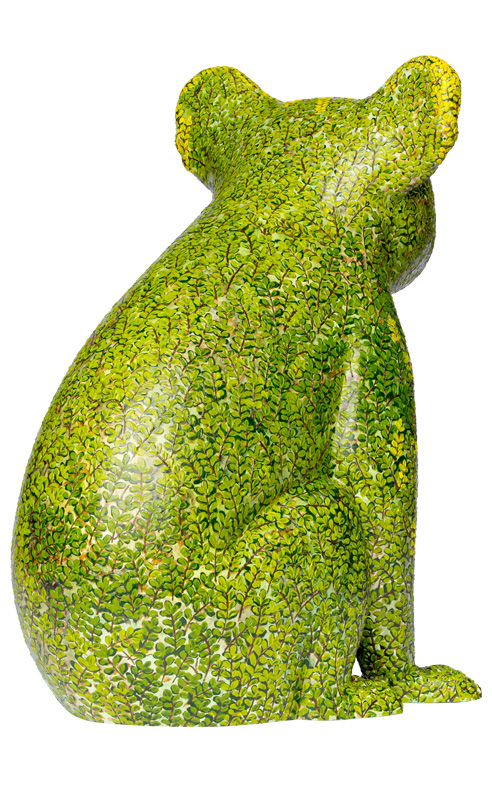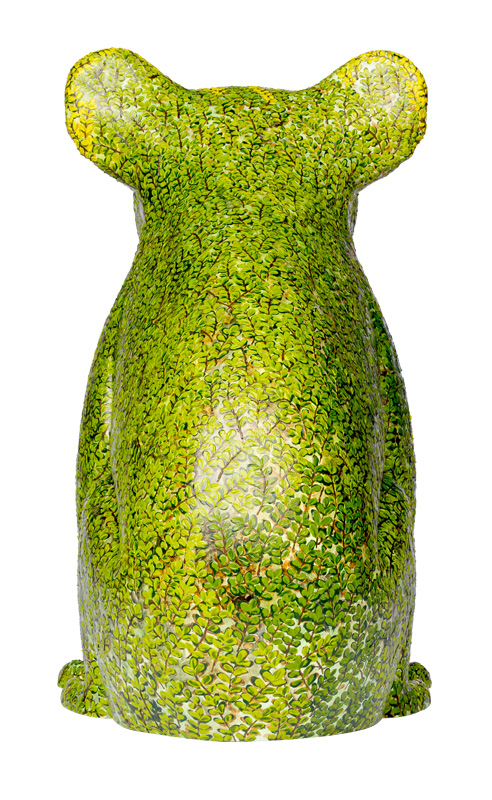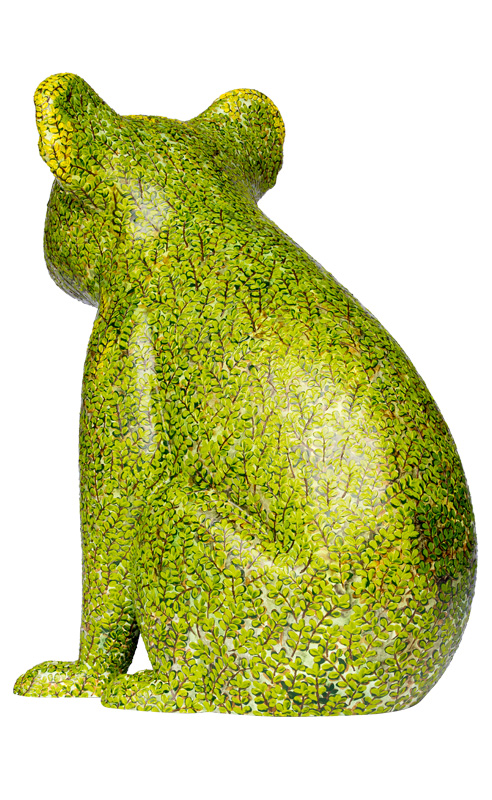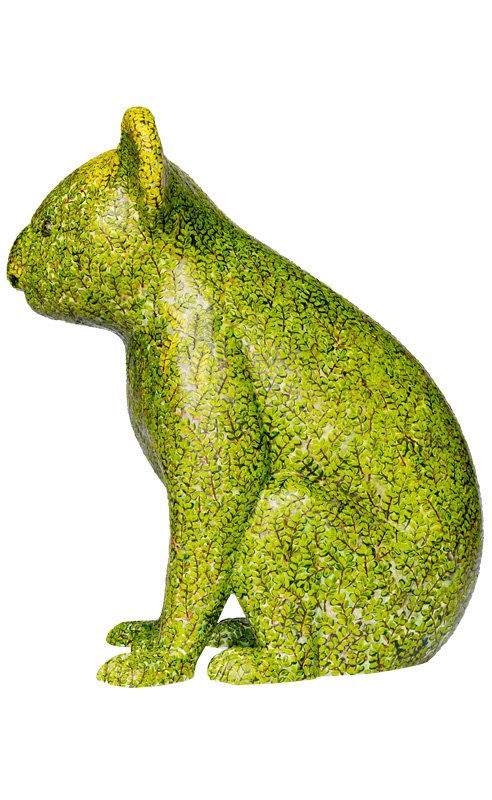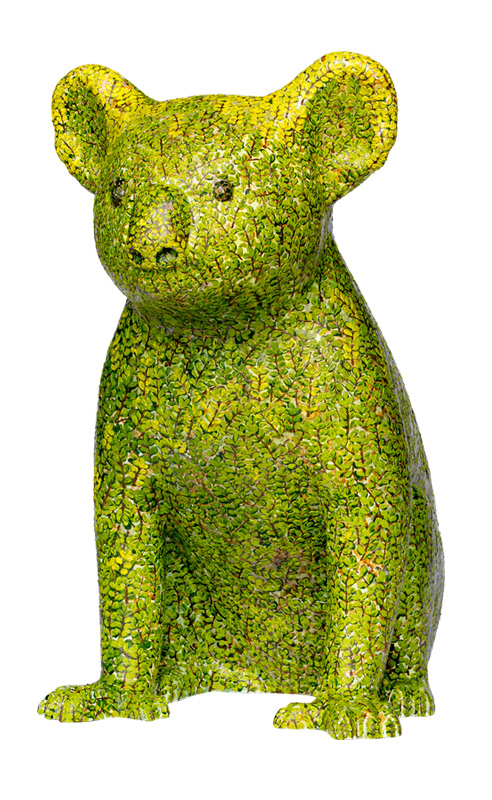 Artist : Nicole Lister
Location: From 1 to 30 April, Topiary will be on exhibition at the Australian Botanic Garden, Mt Annan, Campbelltown
Description / Inspiration
Topiary Koala features an all over, stylised design of the dense evergreen shrub, Buxus microphylla commonly known as Japanese Box.

In Australian gardens this shrub is often used as a clipped garden hedge. The shrub is also ideal for clipping into well-defined formal shapes and topiary. My painted sculpture has the shape, texture, colour and appearance of a topiary koala.

Topiary Koala is fun, playful and visually appealing. It encompasses ideas related to how we try to control and shape our environment through the taming of the unruly and the over grown so as to give order to the chaotic world in which we live. In the suburban gardens of Port Macquarie we often see this 'order' juxtaposed with bushland that is koala habitat. Topiary Koala is symbolic of habitat lost as more land is cleared for residential development.

As well as this environmental message Topiary Koala celebrates the garden and the fact that many people in the community get immense pleasure and satisfaction from pruning and shaping their plants.

The artist dedicated over 100+ hours from concept to realisation to create this beautiful design.
Artist Biography
The artist mainly work with clay, designing and making functional objects and sculptural installations. She is fascinated by clays' ability to mimic other material and often plays with this quality in order to express ideas about consumerism, the environment, memory and the place of the handcrafted object in the 21st Century.

Nicole is a visual arts educator and a ceramicist. She originally studied Visual Arts Education at City Art Institute in Sydney and later completed a Fine Arts degree (Ceramics) at the National Art School.

Throughout her career Nicole has made artworks and contemporary design objects for exhibition and sale. She has also taught visual arts in a range of settings and delivered specialist ceramic programs and projects to all age groups.

Nicole's work has featured in contemporary craft and design publications and she has exhibited in three solo, and numerous group and award exhibitions in Australia and overseas. Her work can be found in both private and public collections including the Powerhouse Museum, Sydney.