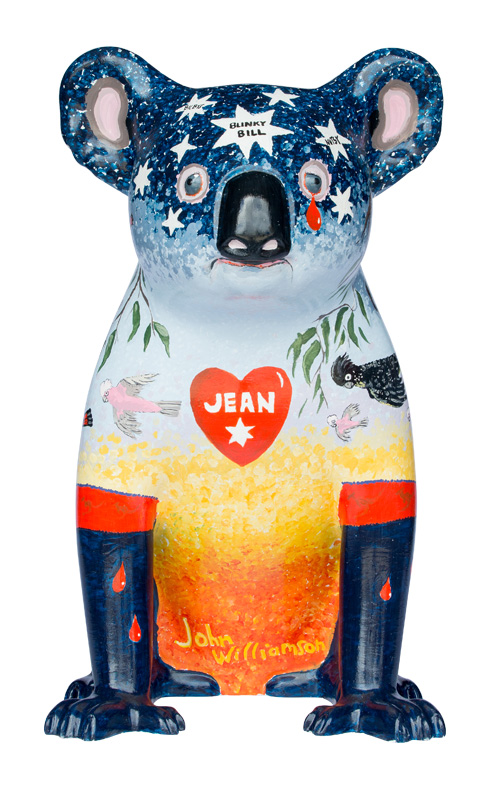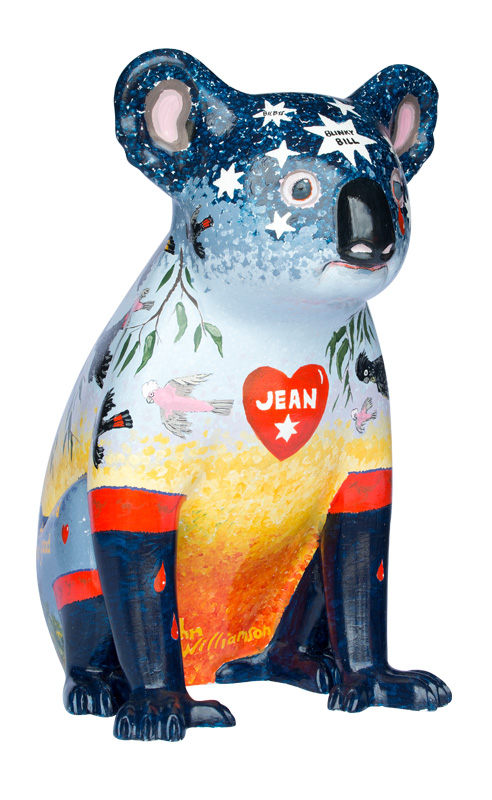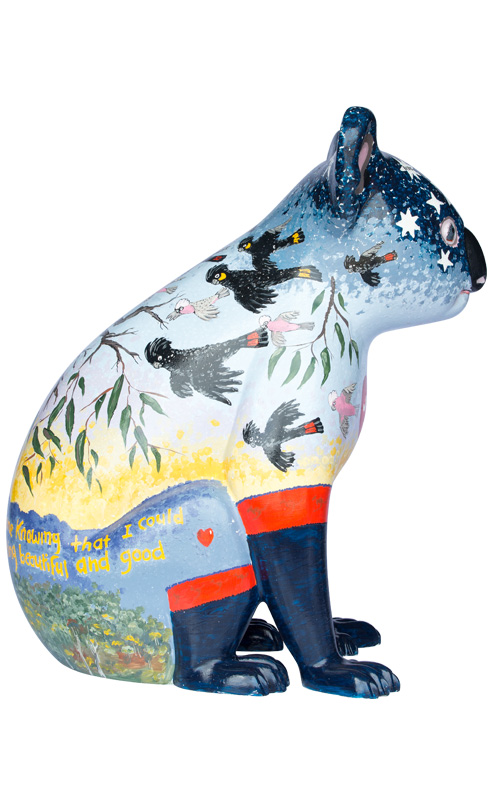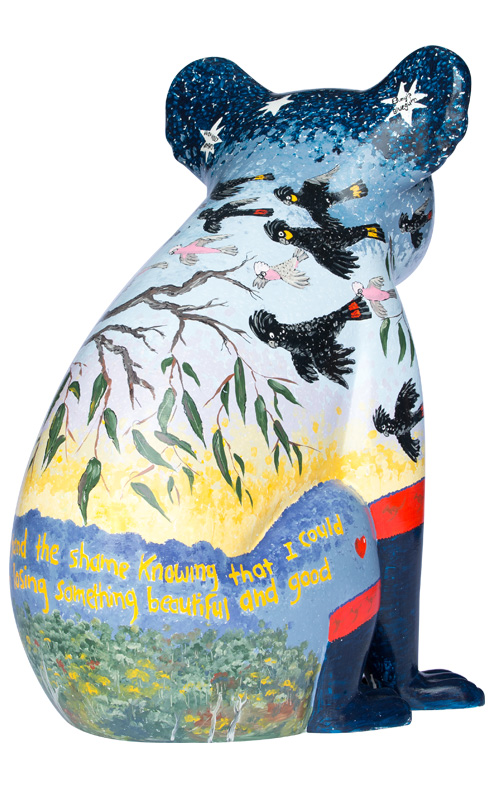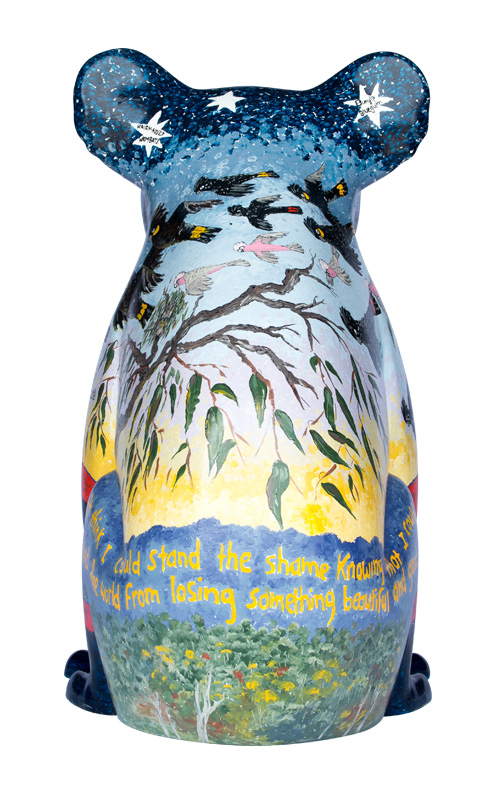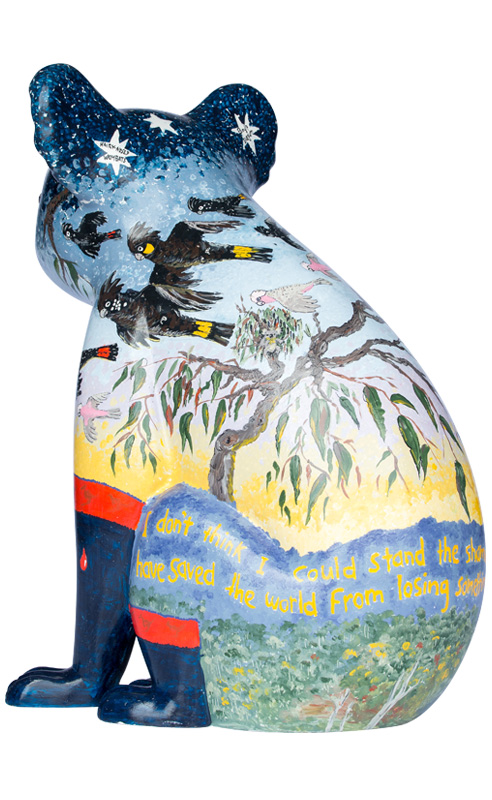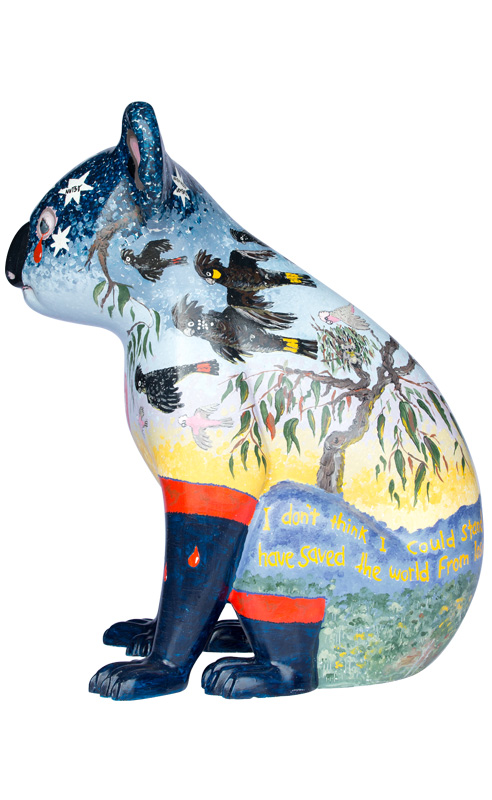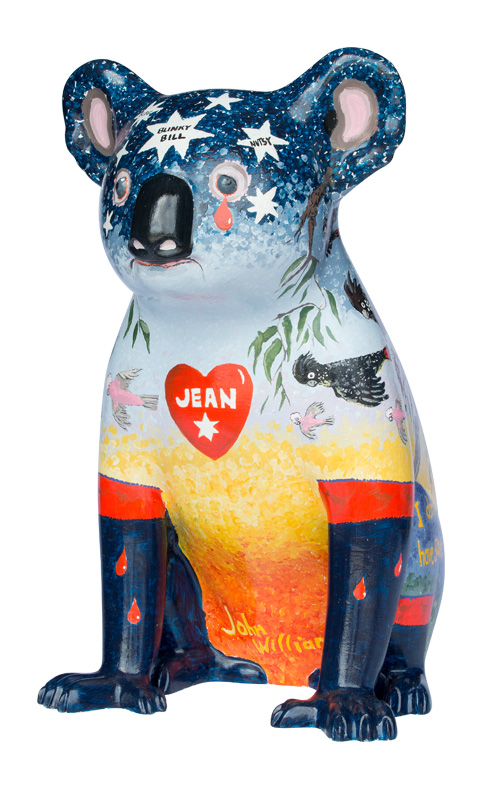 Artist : John Williamson
Sponsor: Hello Koalas Sculpture Trail
Location: Sunshine is a roaming ambassador for koala conservation.
Description / Inspiration
Sunshine's design celebrates the lives of Koala pioneers Jean and Max Starr who founded the Koala Hospital in 1973. They leave a legacy like no other through their fiery passion for an Australian icon.
While the plight of the koala had not been a happy one, even back then, an extremely far sighted couple, Jean and Max Starr (local shop keepers) set up the Koala Preservation Society as a not-for-profit association to run the Koala Hospital.
The Artist John Williamson, also has a special connection to the Koala Hospital. In 1990 the third stage of development of the Hospital took place with the construction of the John Williamson Wing housing 6 Intensive Care Units. John, a nationally known Australian Country Music Singer, happened to be in Port Macquarie and during a visit to the Koala Hospital, an emergency rescue call came in. The entire experience was so impressive for John that it inspired him to write the song, "Good Bye Blinky Bill", which became enormously popular throughout Australia. John very generously donated the proceeds from the song to the Koala Preservation Society.
According to John, the "stars" in his design are a reminder of Max and Jean Starr and the name of the sculpture - "Sunshine" - reflects the warmth and joy this couple brought to so many during their lives, and especially to our precious Koalas.
Artist Biography
Australian Music legend John Williamson is passionate about saving koalas. He is a Patron of the Koala Hospital in Port Macquarie and therefore it was a very easy decision for him to agree to paint the koala sculpture to be located at the Hospital as part of the Hello Koalas Sculpture Trail.

John has been a patron of the Koala Preservation Society Australia ever since he met one of their founders, the late Jean Starr, in the early eighties. John could not stand by and watch the demise of the precious marsupial around Port Macquarie so he began to pass the hat around his audiences at his concerts and also recorded the song 'Goodbye Blinky Bill'. He raised a considerable amount of money and that was donated to the Koala Hospital and enabled them to build a new wing which houses their intensive care unit.

Not many people would know that John Williamson is an accomplished visual artist as well as a musician. John says, "It seemed only natural that I have a go at painting a Koala sculpture. Ever since I was a kid I have dabbled in art. In fact I have designed and painted some of my album covers. If it weren't for my music career, I'm sure I would have pursued art more seriously. I hope I can do the koala justice. There will be stars in my painting, a subtle reminder of Jean Starr and her husband, Max, who were definitely stars in the effort of saving our cute icons. I have a cottage way above the Gold Coast and we are often blessed with the presence of koalas. So I think my creation will reflect the evening looking towards the west from our cliff top home."