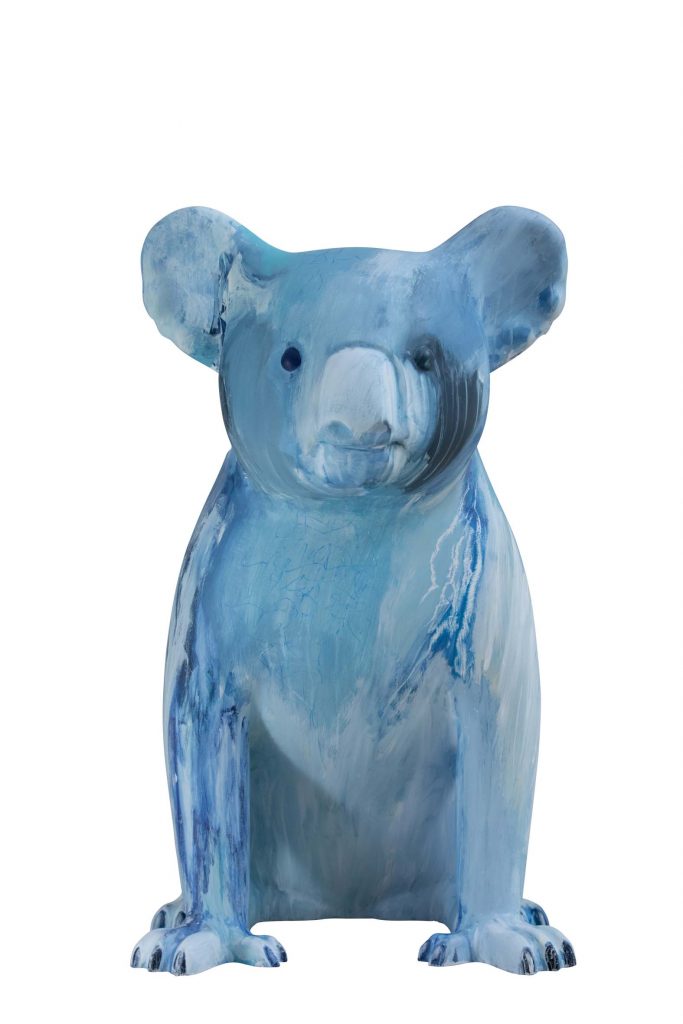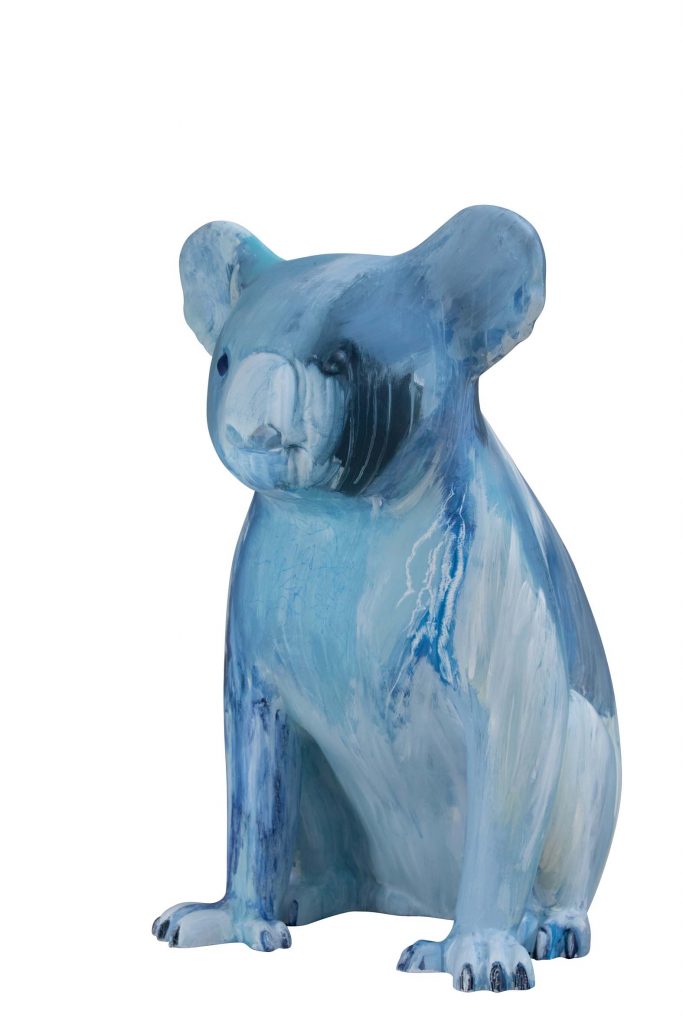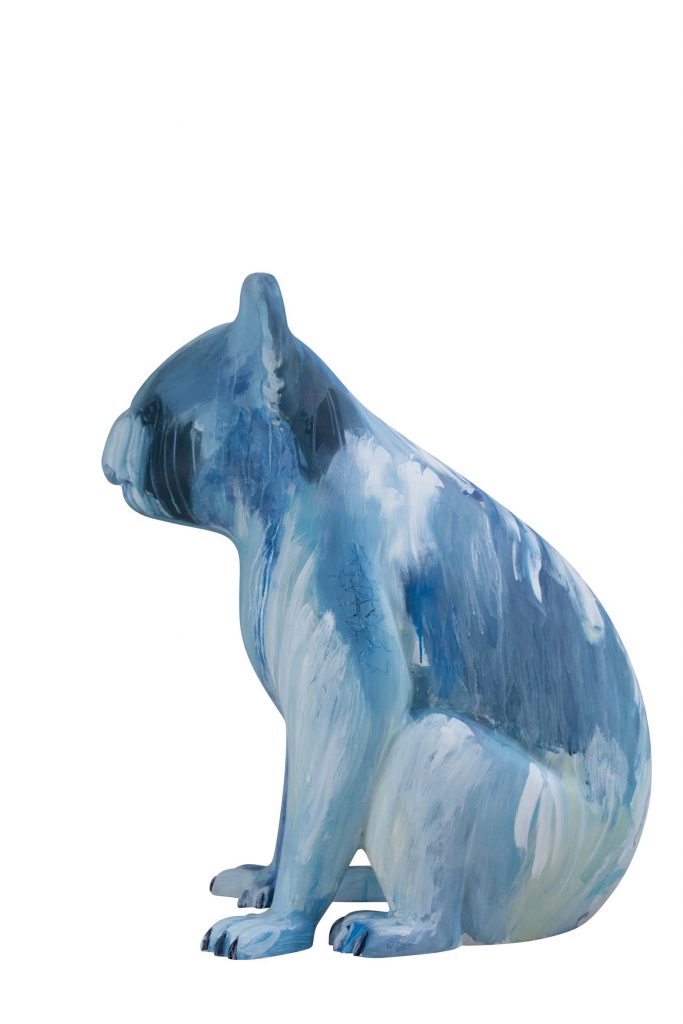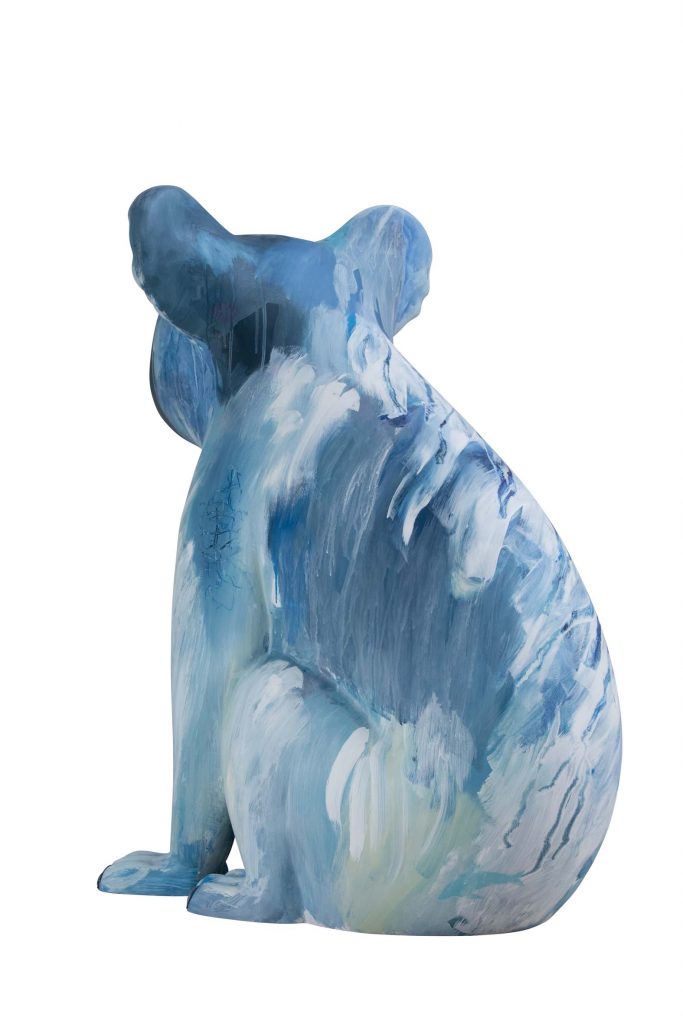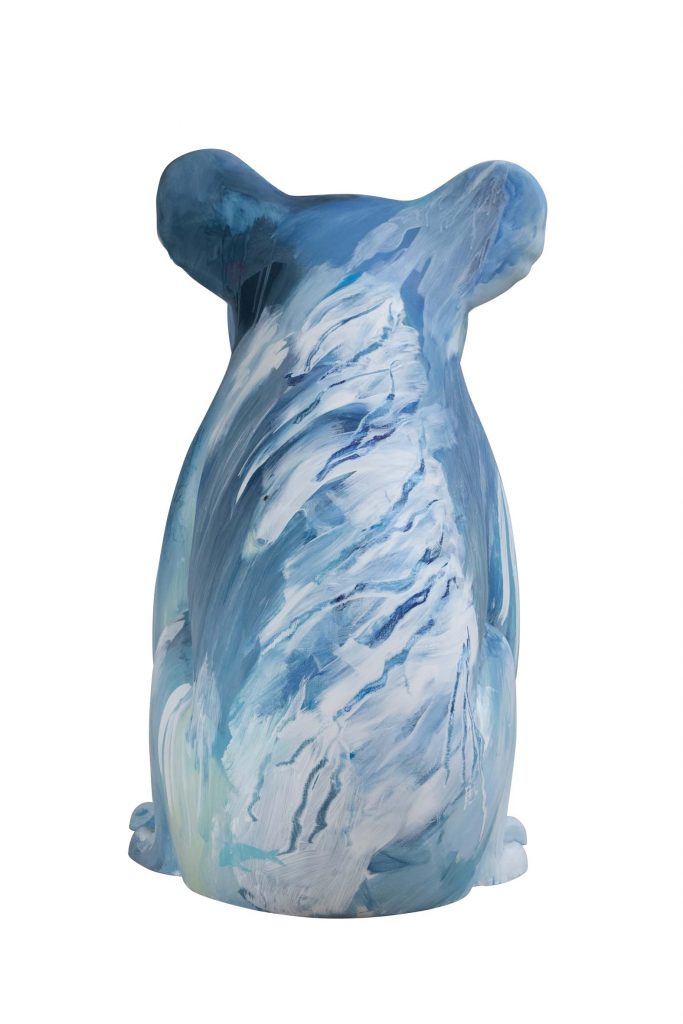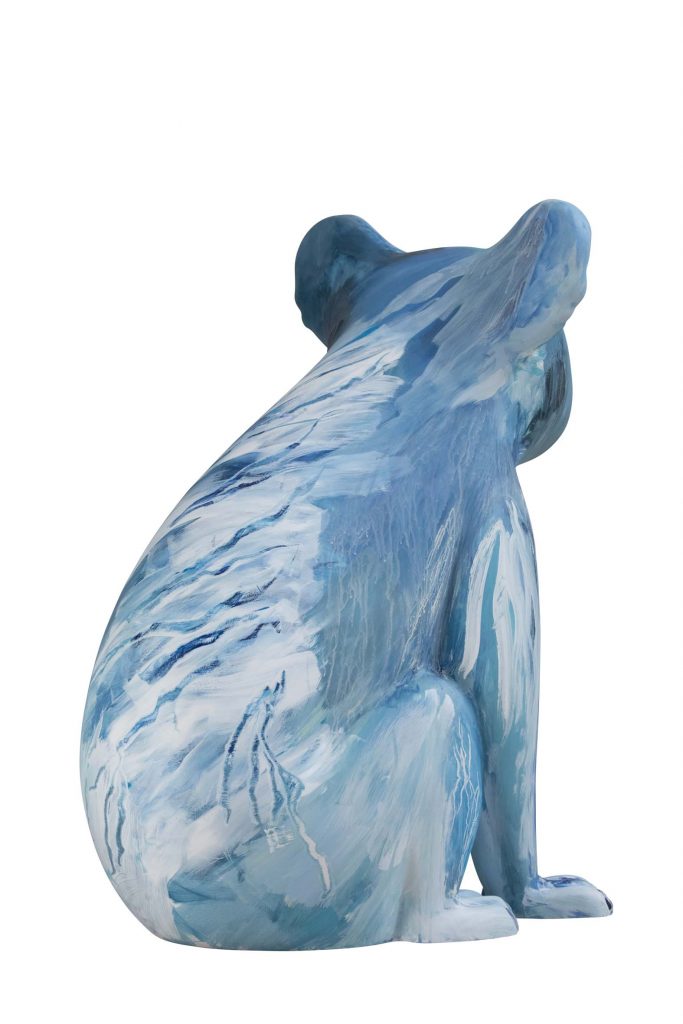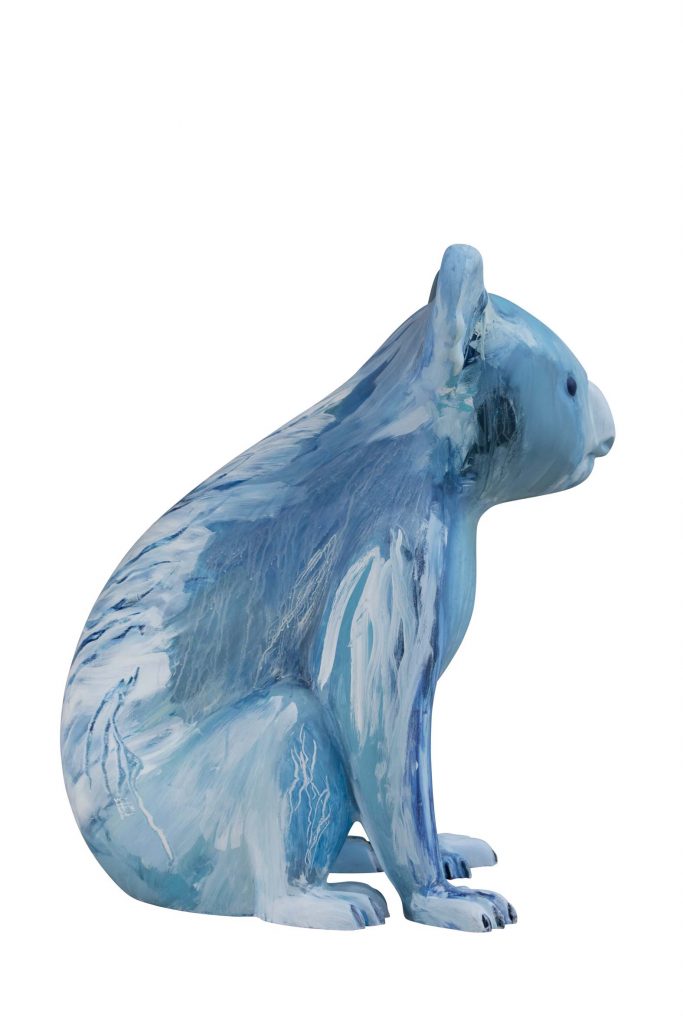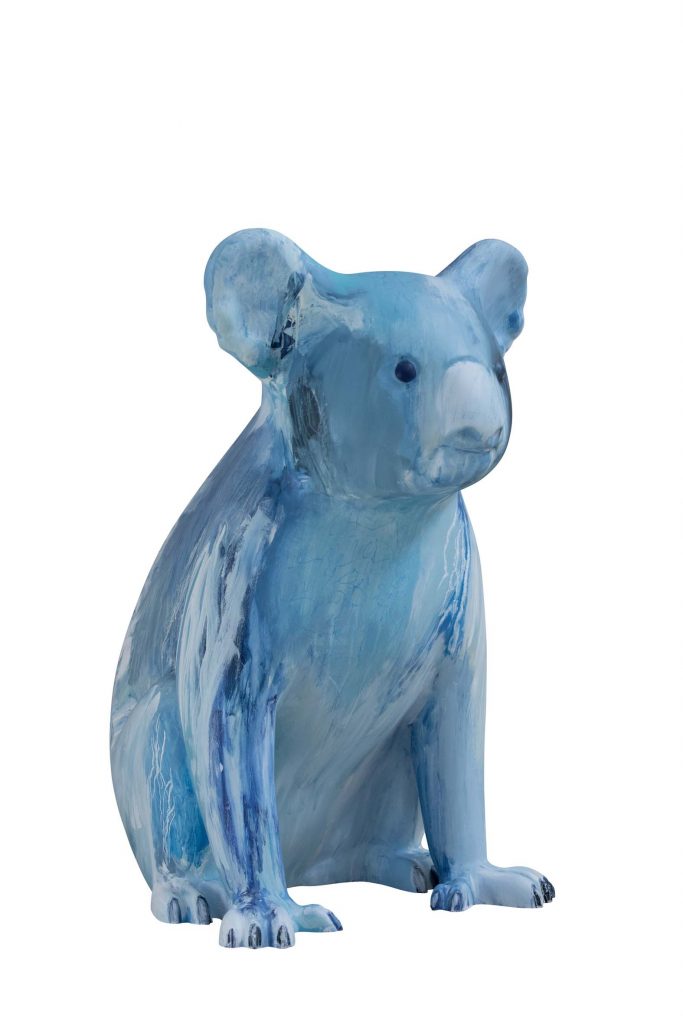 Artist : Wendy Stokes
Sponsor: Sails Port Macquarie
Location: Sails Hotel, Park Street, Port Macquarie NSW 2444
Description / Inspiration
I was thrilled to be included in this project. It provided the opportunity for an extension of my art practice drawing from my lifelong connection to the ocean and our beautiful coastline while touching on my connection to growing up in Port Macquarie, knowing Jean Starr and her insight and establishment for koala preservation in the 70s. Ever since childhood the koala has been a familiar inhabitant of my immediate surroundings.

I have considered these 2 koalas as a pair, a team that complement one another, echoing the serial approach in my painting practice.

My painting career spans a 4 decade preoccupation with our coastline, with its changeable atmospherics and mutable spaces while exploring nature, its strength, unpredictability and fragility as metaphors for the human condition. The 19th Century Romantic landscape artists, from Turner, Friedrich onwards have been inspired from the drama, immensity and forces of nature to stir and resonate emotion which continues today.

Borrowing from Greek mythology I named the koalas Poseidon and Athena. Poseidon Koala represents God of the Sea while Athena Koala, the Goddess of Wisdom. Mediterranean Greece not unlike Port Macquarie is saturated in sunshine, a myriad of blues and magnified through the beauty of the sea; often having a statue presiding over a vantage point overlooking the sea.

I see Poseidon and Athena as a pair, as sentinels uniting and complimenting each other. Poseidon koala echoes the weather, stormy skies and powerful ocean; embodying strength, change and resilience while Athena, provides the positive warmth of the sun breaking through, tenderness hinting at new beginnings; perhaps offering a fresh insight into how we see our environment.
Artist Biography
Wendy Stokes is an established Australian contemporary artist with a career spanning over 4 decades. Her signature works weave across and between painting, drawing and printmaking mediums. Wendy has been a long standing local resident of the Hastings Region contributing to our cultural community through her 15 years delivering the fine art programs at TAFE, being a long serving member of the then Port Macquarie Regional Gallery Advisory Board, is known for her informative artist talks and workshops through the Glasshouse.

Wendy completed post graduate studies from Sydney College of the Arts and earned an MFA through UNSW Art and Design (COFA). She is an active member of the Sydney Printmakers group and has been a finalist in major prize exhibitions; the Dobell Drawing Prize, the Glover Prize, The Fleurieu Landscape Prize, the JADA and the Alice Prize.

Wendy has exhibited widely in both museum gallery and commercial contexts in Australia and also in China, Korea, Canada, Chile, New Zealand and Norway. Wendy has her work in significant Government and private collections; NGA, Art Gallery NSW, Grafton, Coffs Harbour, Tamworth, Port Macquarie and Gosford Regional Galleries;and Parliament House Collection, Canberra.

Wendy has been a guest artist in residence in The Hamptons, New York in 1992 and was awarded the prestigious 3 month residency at Cite Internationale des Arts Paris, France in 2014.