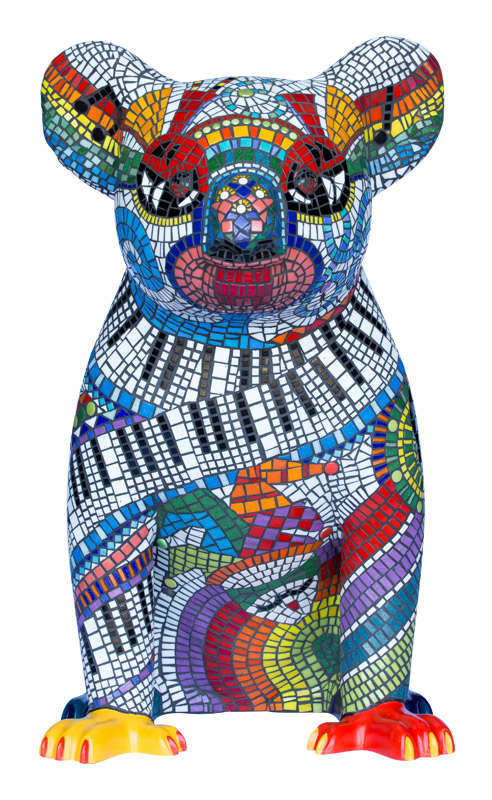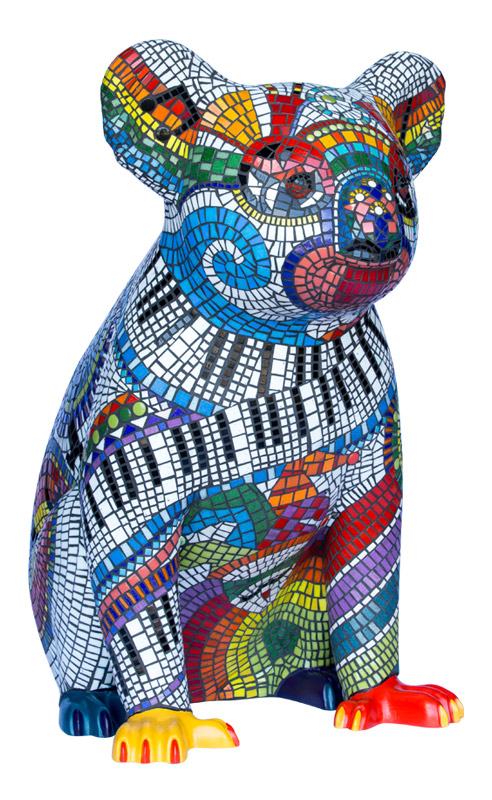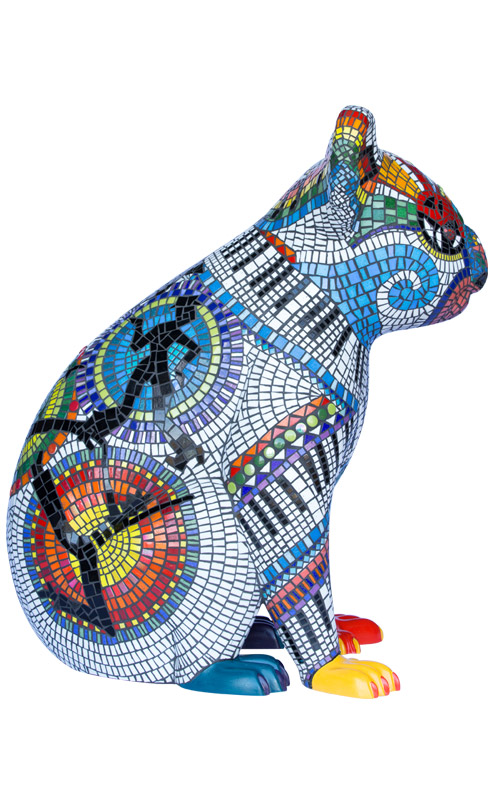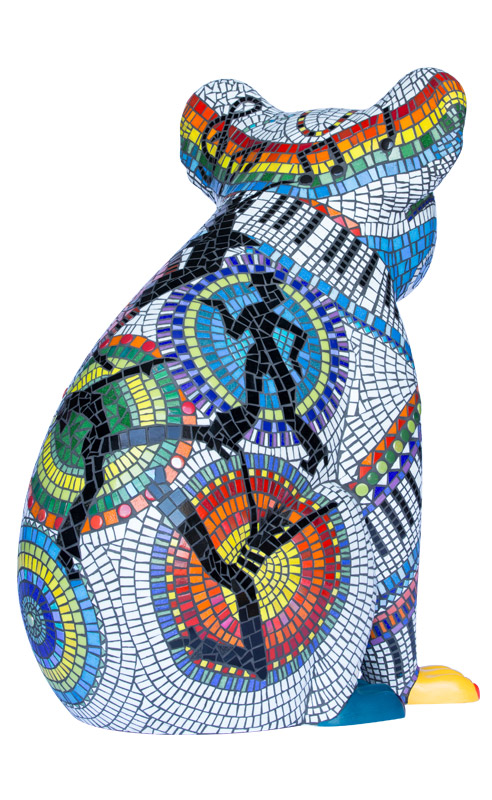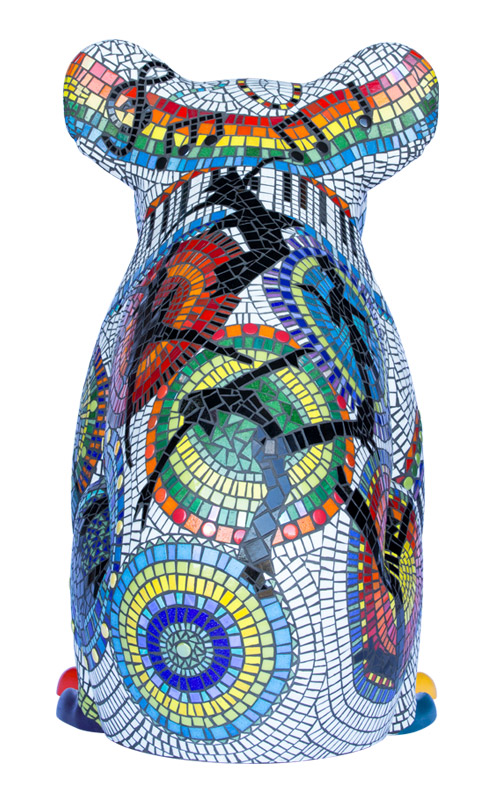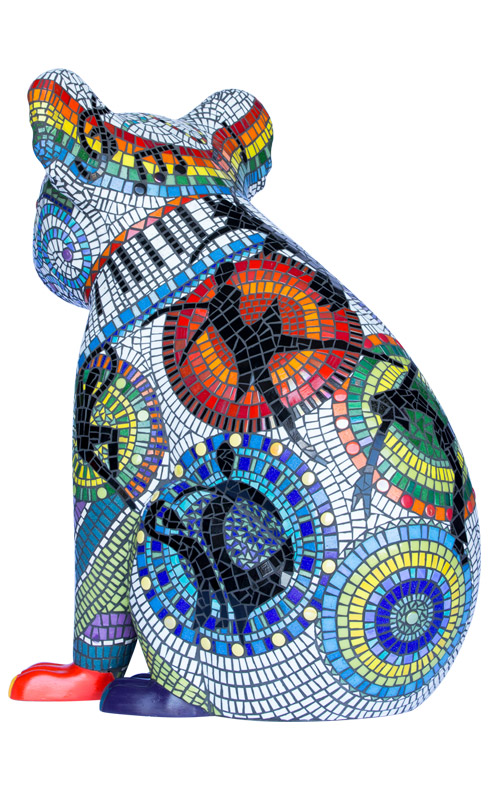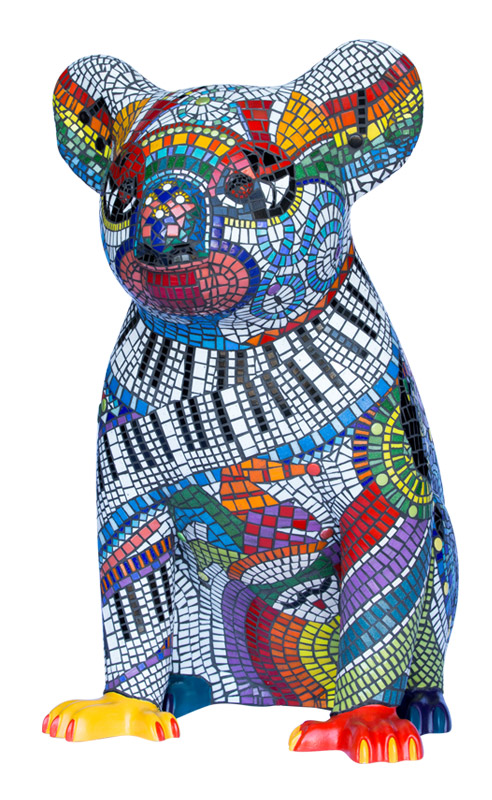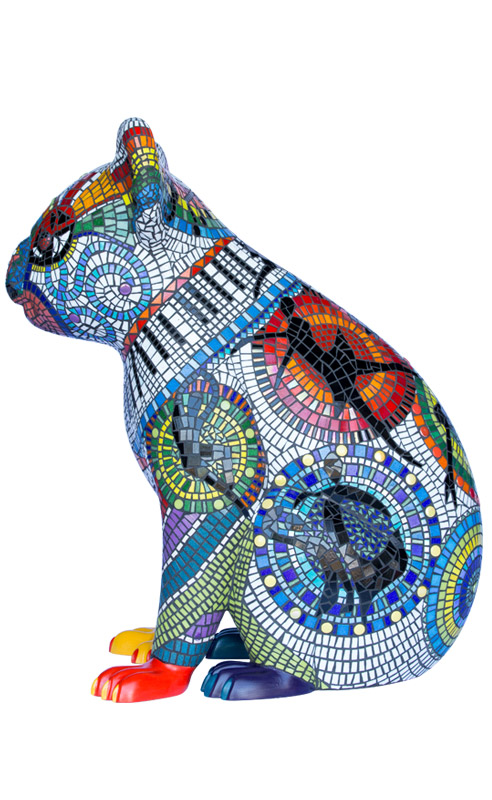 Artist : Francessca O'Donnell
Sponsor: Arts and Health Australia
Location: Inside the Glasshouse Arts and Visitor Centre, Cnr Clarence and Hay Streets, Port Macquarie NSW 2444
Description / Inspiration
PK Sparkles (Performing Koala) is cousin to Kalido.

PK Sparkles is covered in vibrant performing arts motifs dedicated to those involved in theatre, music, dance and singing, and woven into a patchwork of colour.
Artist Biography
Francessca has worked locally for over 30 years in the performing arts arena and has an international reputation as a teacher of dance. Her growing love of mosaic work more recently has captivated her and she is also currently writing and illustrating a children's book based around one of her other sculptures Lady Lola The Dancing Koala.

Francesca has completed two mosaic sculptures - Kalido and PK Sparkles the Performing Koala - and two painted sculptures Lady Lola and Retro Rita.

The mosaic sculptures were inspired by her desire to recognize the talent of so many young people that left the region to pursue outstanding careers in the performing arts, both nationally & internationally.

Francessca's vision was to create two fun-loving, colourful mosaic koalas that would inspire delight and wonder. The designs include vibrant performing arts icons of dance, drama and music and a bandaged leg in recognition of the wonderful work done by the Koala Hospital in Port Macquarie.

Francessca also wanted to pay respect to country and the indigenous community by the addition of particular colours & concentric circle symbols which appear on the back of the Koala.

Transferring the design from her A4 original drawing, to the larger 3D sculpture took Francessca longer than expected as the curves effected the shapes and design. Each sculpture was completed in 8 weeks.

Francessca's work covers mosaics in both 2D and 3D forms, jewellery, painting, etchings and sculpture. She loves to explore and experiment, try new materials, new ideas and play with different materials, colours and textures.

According to Francessca, inspiration for designs is largely from nature, exploring shapes and forms that intertwine and flow, with colour the driving force. Other themes she has explored are the curves of the human form and ancient symbols and shapes from Chinese, Maori, Mexican and Mayan mythology and the earth and its many layers.

Exploring various materials has added texture and a certain tactile quality to many of the pieces that draws people in to want to touch and explore the surfaces. The use of both flat and textured finishes and use of glass and reflective tiles also add a fascinating new dimension with the play of light and shadow. Francessca has also worked with pebbles, sea glass, wood and driftwood.

The rich colours of the various tile, pebbles, glass, beads and mirror are intensified by the choice of coloured grout which ties the final piece together.

As the founder of 'Out There Design & Mosaic", Francessca creates large murals, designer mirrors and 3D work exploring the human form and driftwood and mosaic sculptures.
Location Info
The Glasshouse Arts and Visitor Centre is located in the centre of town in what has become a cultural precinct for Port Macquarie. There are two of Francessca's sculptures located inside the Glasshouse, "PK Sparkles" and "Lady Lola The Dancing Koala". There are a further 7 Hello Koalas sculptures located in close proximity, including "Forest" and "Lachlan Macquarie", (artist Pauline Roods), at the Port Macquarie Museum, "Garage Girl" (artist Leanne Prussing) and "Con the Convict Koala" (artist Jill Williams), both in the Historic Courthouse gardens, saluting Port Macquarie's heritage and Aboriginal culture. Two outstanding cafes nearby are Urban Grain Bakery, the home of "Dame Koala" (artist Tracy Smith), and Four Espresso cafe, which hosts "The Cyclist" (artist Suzanne Fischer), acknowledging Port Macquarie's fascination with cycling and sports in general. "Ziggy" (artist Kim Staples) is a rare breed of barista and is to be found at Rydges Hotel on the Hastings River foreshore.