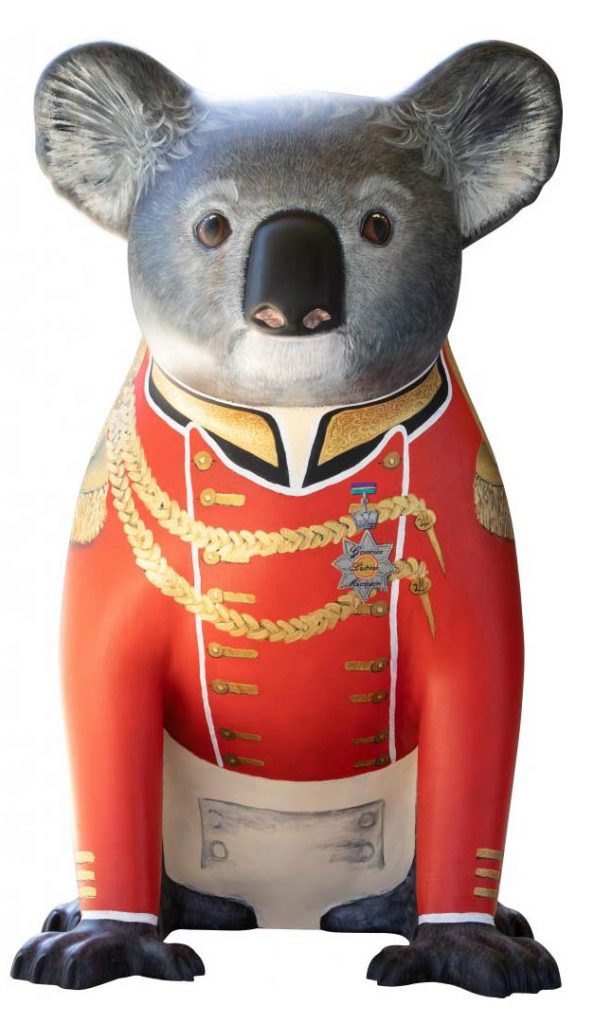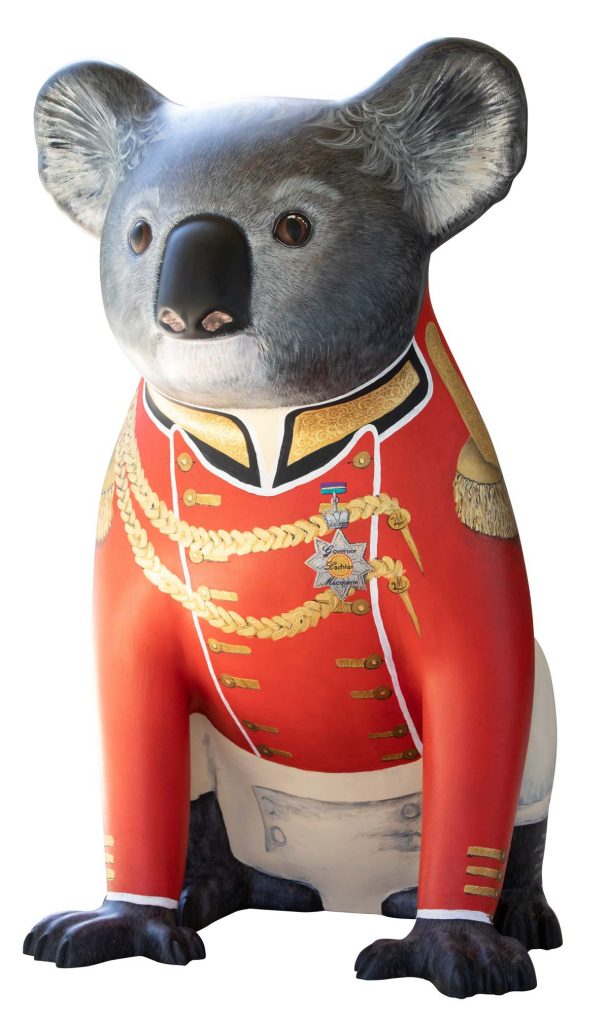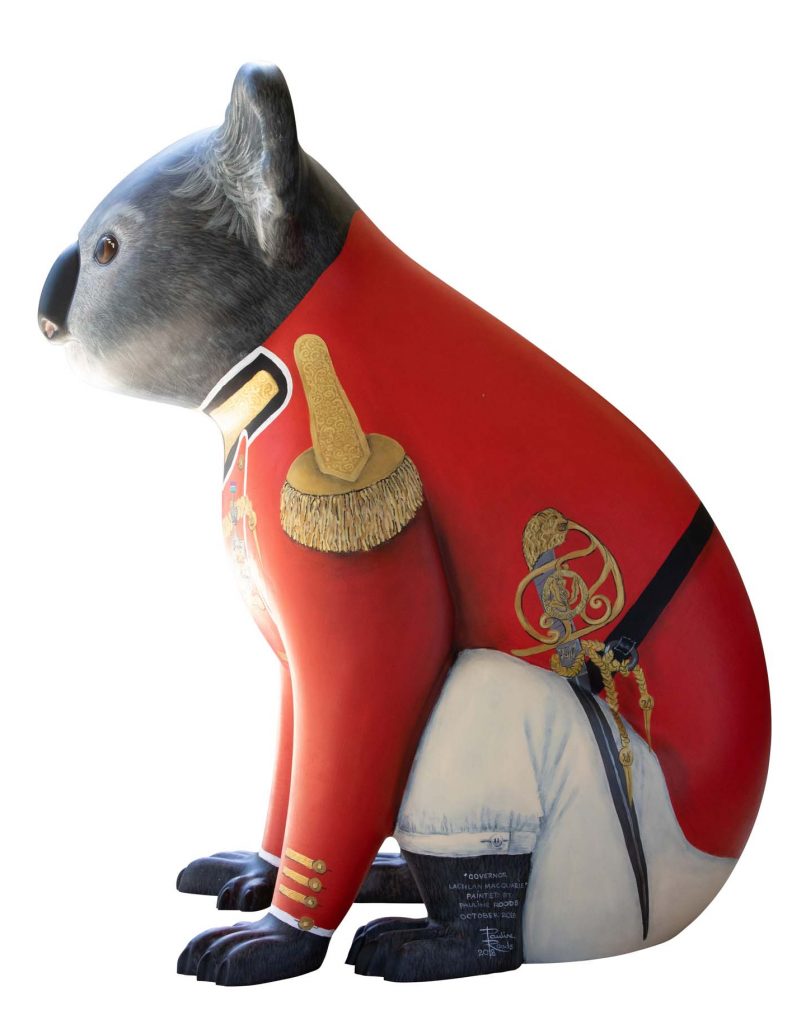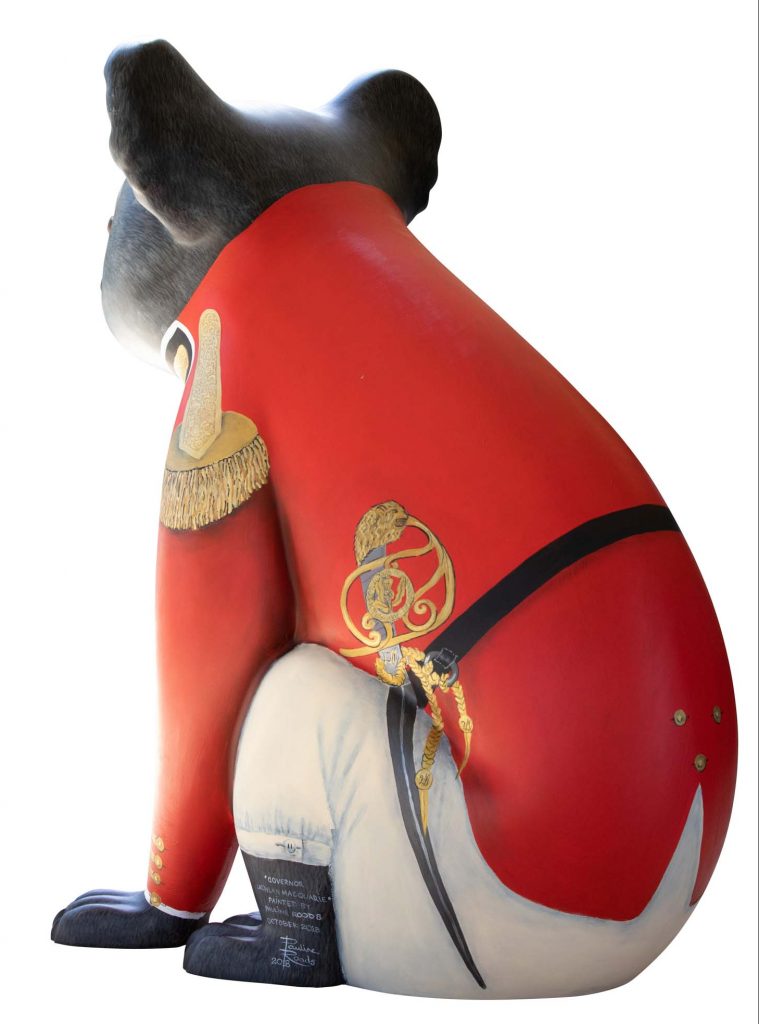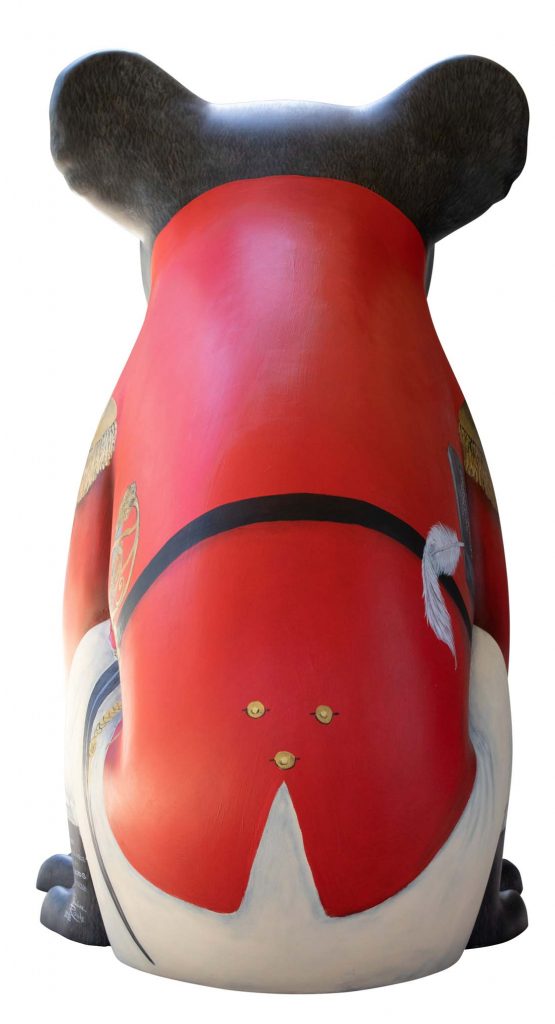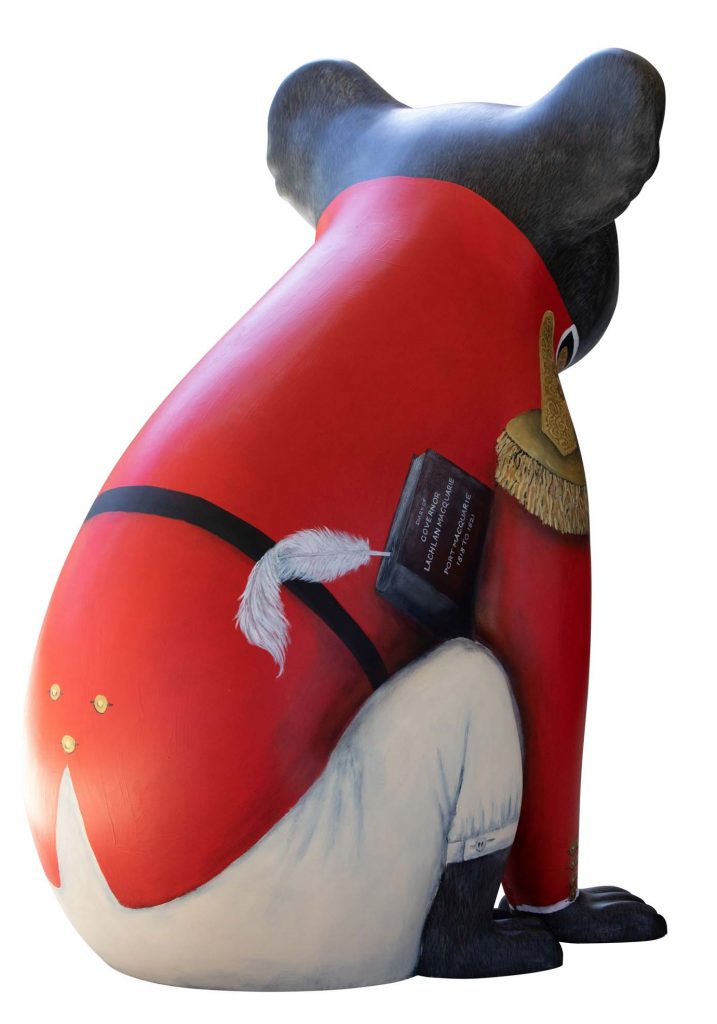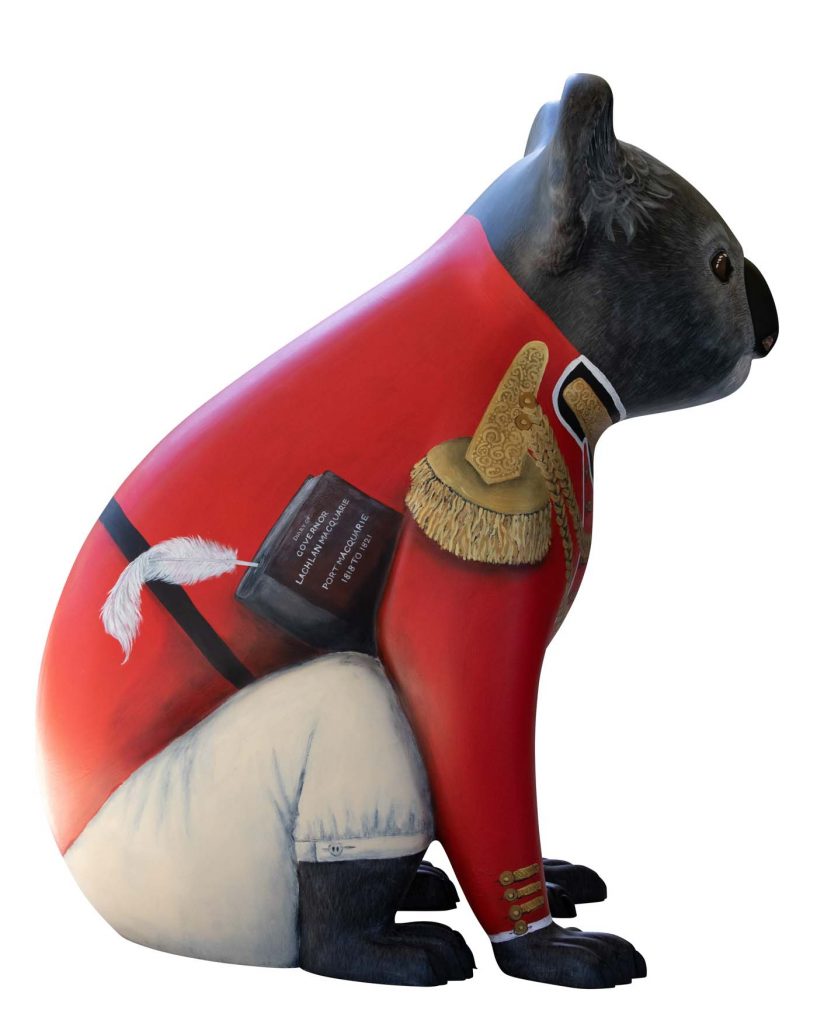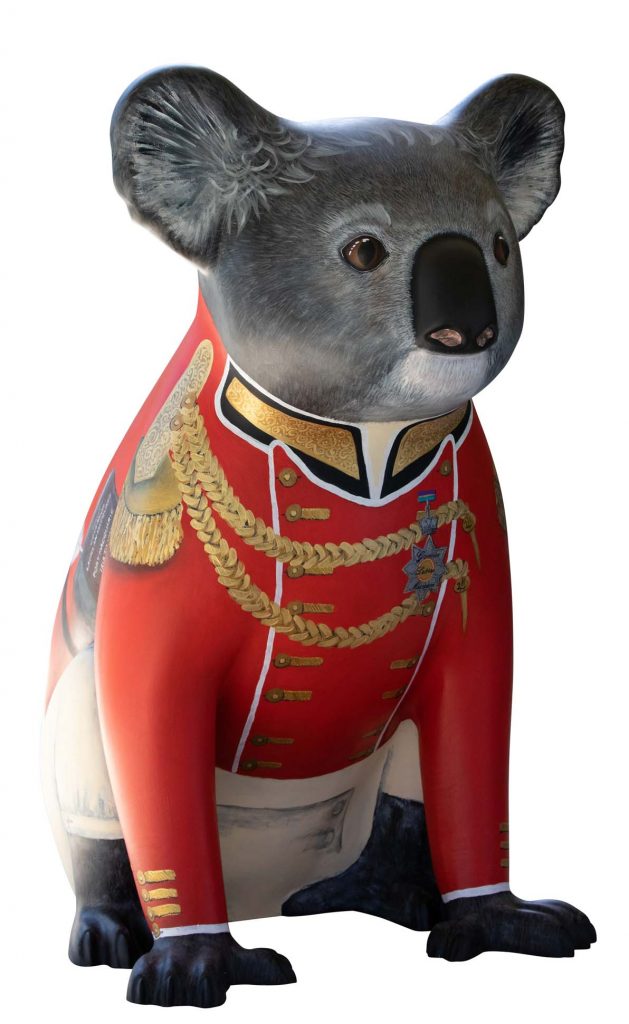 Artist : Pauline Roods
Sponsor: Mid North Coast Maritime Museum
Location: Port Macquarie NSW 2444
Description / Inspiration
Celebrating the 200 year anniversary of the discovery and settlement of Port Macquarie, I have created a hello Koala in the image of "the Father of our Nation", Major-General Lachlan Macquarie.

Major-General Lachlan Macquarie CB (31 January 1762 – 1 July 1824) was a British military officer and the fifth and longest serving, Governor of New South Wales from 1810 to 1821. He had a leading role in the social, economic and architectural development of Australia.

Historians say he changed New South Wales from a penal colony to a free settlement. This was very important in making the future of Australian society.

The style of dress being worn by this Hello Koalas sculpture is the Military dress Uniform, worn by high ranking Officers of the British Military. These were always, very grand with copious amounts of Gold Braiding, epaulets, buttons and medals.

The Colour Patch is for the 54th Battalion (Lachlan-Macquarie Regiment) of Purple and Aqua represents the purple of the Scottish thistle and the aqua Australian waters.

Macquarie celebrated his Scottish heritage by choosing a sword with a Scottish-type or half-basket hilt with a decorative thistle relief and the number of his new regiment engraved on the main knuckle-bow. Governor Macquarie's sword is on show in the National Museum's Landmarks Gallery in Canberra.

Macquarie's hair style was his fashion statement and was common to the gentry of the Napoleonic era. His wife Elizabeth also wore a similar hair style.

A collaboration between the National Museum of Australia and Macquarie Group Limited presents a permanent exhibition on the legacy of Governor Lachlan Macquarie. It highlights Governor Macquarie's lasting contribution to social reform, exploration and urban development in Australia. On show 9am to 5pm weekdays at Macquarie Group Limited, 50 Martin Place (enter via Elizabeth Street), Sydney.
Artist Biography
Every painting is individual, placing the viewer within that scene. Pauline's original artworks are created to awaken the viewer's imagination and stimulate their senses. Pauline's paintings are highly sought after and hang in private, commercial and public collections in Australia and around the world.

Pauline has had 5 recent exhibitions in Italy, has numerous awards, and is a regular guest artist in various art publications. Pauline has been commissioned to paint 9 Hello Koalas Sculptures.

Location Info
Every month there is the Artist and Artisans market in the gardens of the Mid North Coast Maritime Museum. The next market will be Saturday 26 September from 8am to 1pm for the Hello Koalas Festival on 26 and 27 September.