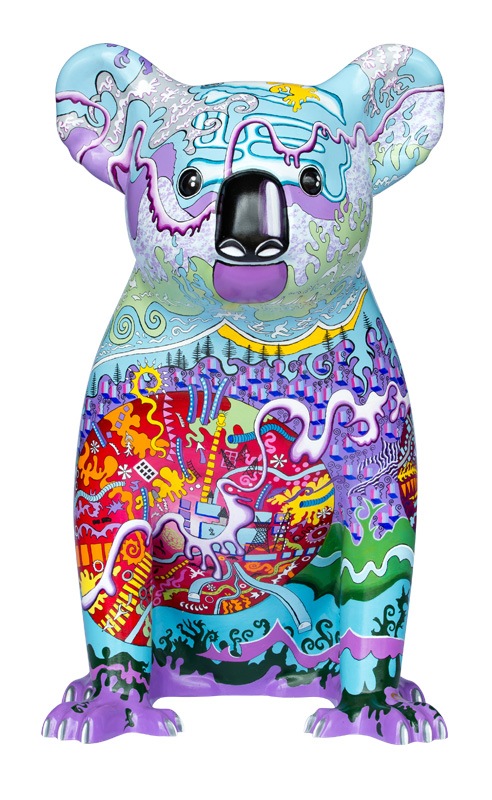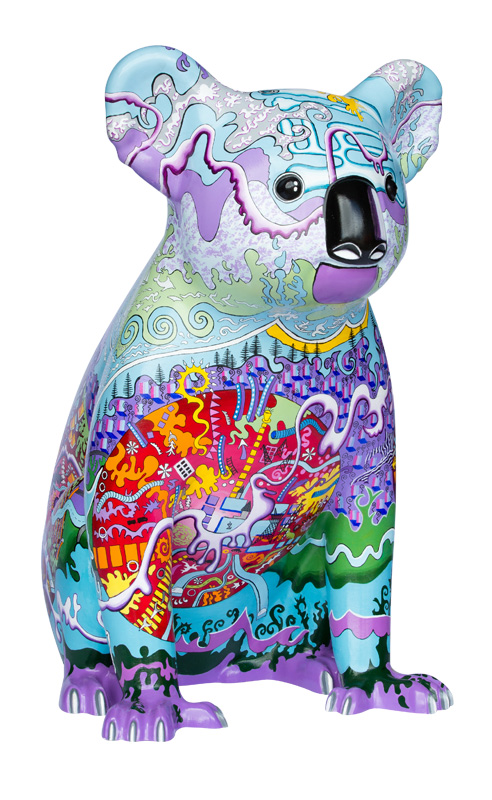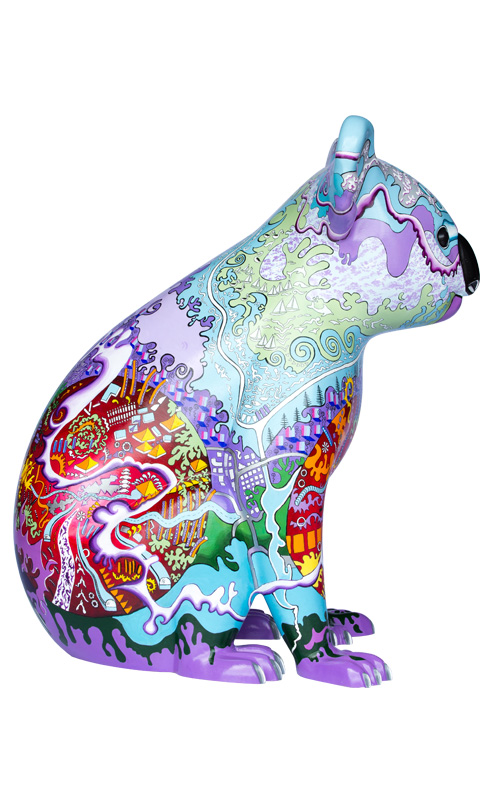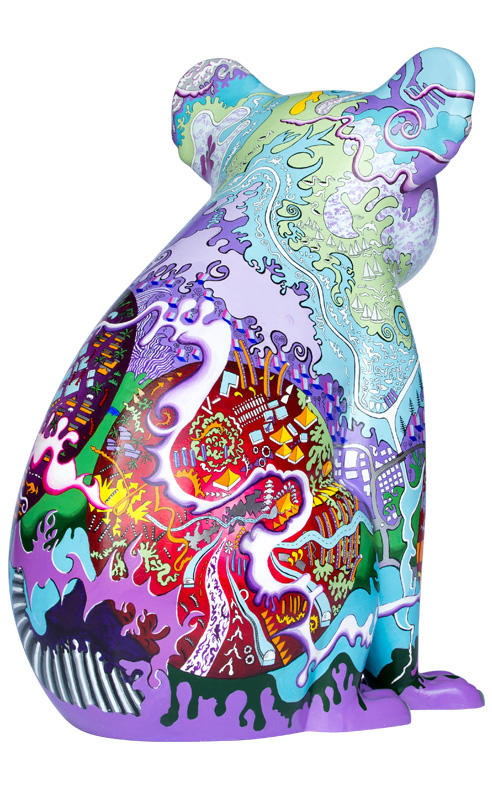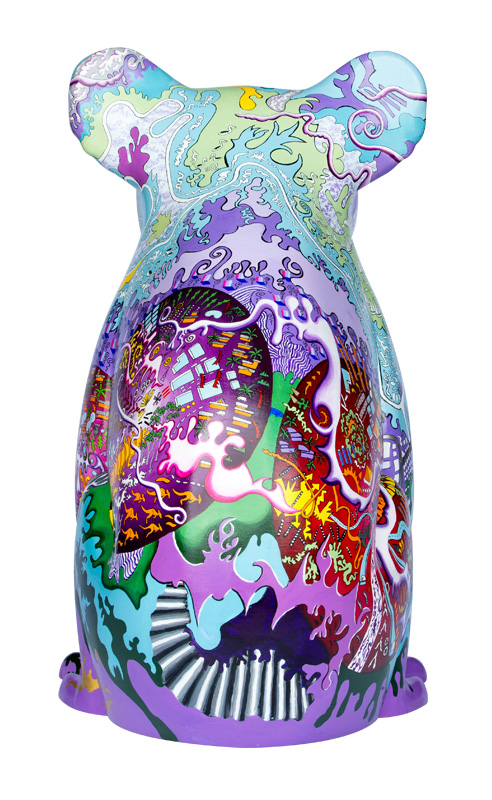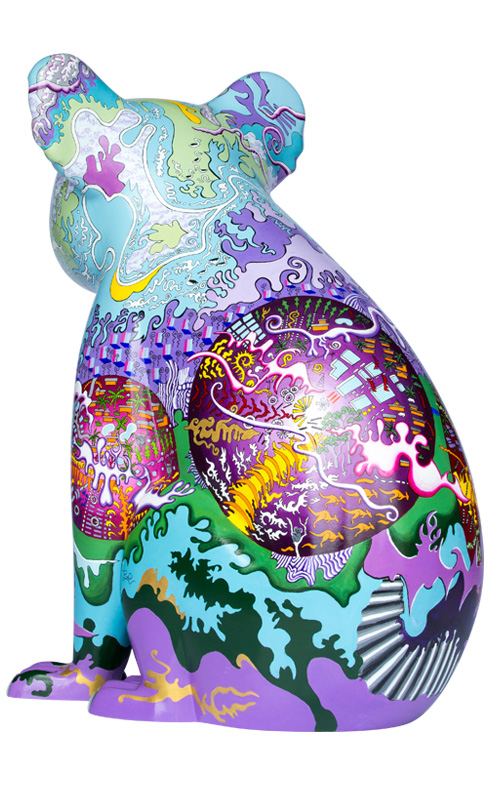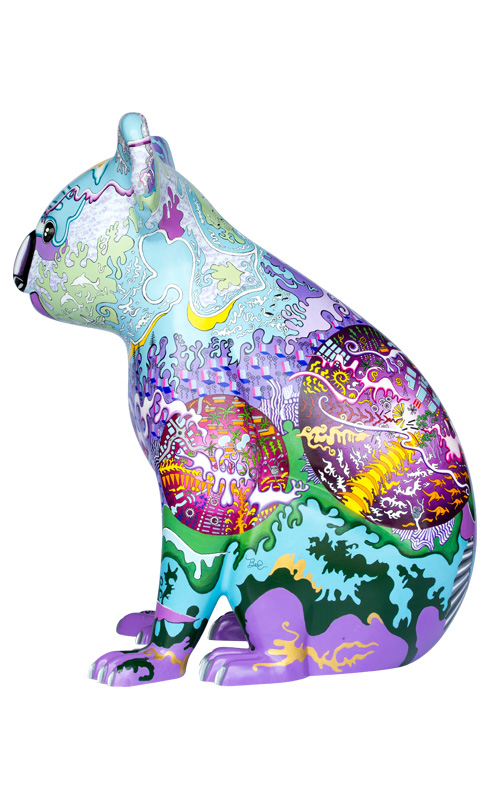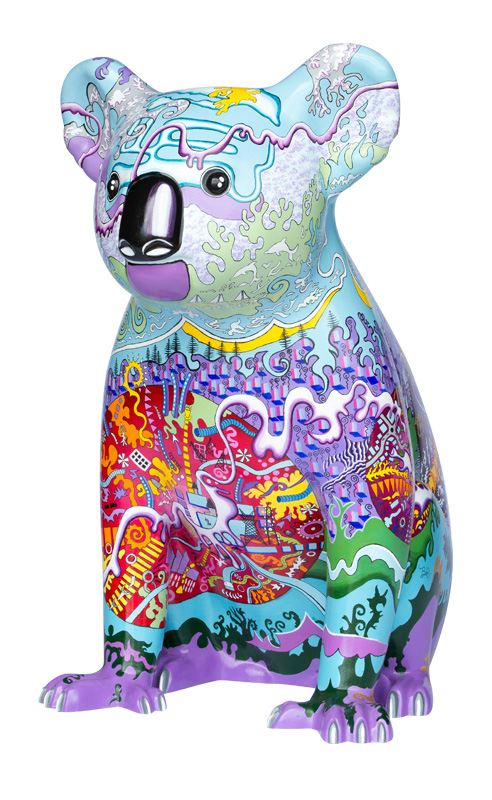 Artist : Beverley Coleman (1953-2019)
Sponsor: Regional Australia Bank
Location: Regional Australia Bank, 41 Horton Street, Port Macquarie NSW 2444
Description / Inspiration
"Kirralee", designed by Port Macquarie artist Beverly Coleman (1953-2019), is an abstract version of a birdseye view of Port Macquarie and includes many motifs representing local trees, buildings, houses, swimming pools and people engaged in activities (surfing, swimming, sailing), with diverse waterways, ocean beaches and wildlife such as kangaroos, koalas, pelicans, dolphins, birds.

Above the sculpture, Regional Australia Bank displays a framed set of 3 prints of a triptych (180cm x 90cm) that the artist, Beverley painted in 2008 titled "Port Macquarie".

Bev entered the three paintings for an Easter Art Competition in 2009 on exhibition at Port Macquarie Panthers and received a "highly commended" notation.

It is fascinating to view this large 2D painting and how skilfully the artist has transferred the design to a 3D sculpture.

Thanks to the artist's husband Ed Coleman and their daughter Estelle Coleman for making the paintings available for our photographer, Lindsay Moller to capture. And well done to Canvas Momentz for a beautiful print and framing job.

The design is such a vibrant and colourful representation of the diversity of life in Port Macquarie and the wide range of natural and cultural attractions available to the community and to visitors. Can you identify the beaches along the coastline from Town Beach, Oxley Beach, Flynns Beach, Nobbys Beach leading to Shelly Beach in the distance? The CBD is the large circle in the middle of the framed prints. Can you find the CBD circle on the sculpture Kirralee?

Thank you Regional Australia Bank for giving Kirralee such a splendid home where Kirralee can be enjoyed by literally thousands of people each day.
Artist Biography
Artist Profile- Beverley Coleman (1959 - 2019)
1972 -1976 Studied at the National Art school Sydney, attaining a Degree of Art Education.
1976- 1977 Art teacher Camden High School
1977- 1979 Travelled and studied in South East Asia, learning Art, Dance and Language.
1979- 1981 Art teacher - Reiby Training School NSW
1981 Moved to Port Macquarie where Bev was able to create a pleasing balance between teaching and producing art works.

For several years Bev painted card designs for John Sands, butterfly cards, mobiles and souvenirs for the Butterfly House in South Australia, plus undertook many commissions, mostly for portraits and landscapes.
Beverley wrote and produced 7 pantomines/plays for the NSW Education Deptartment, as well as illustrating booklets and learning materials.
Beverley won the art competition "Australia celebrates the end of war in the Pacific" and the work is on permanent display at Laurieton Servicemans Club.

Beverley also wrote and illustrated children's books and held 4 solo exhibitions, 2 at Palettes café, 1 at Sunset Gallery, 1 at Longpoint Vineyard, and 2 in partnership with artist Shana Rowe.

Detail and colour are the driving elements in Bev's artwork. The paintings and 3-D works are lively, energetic and often playful.
Influences on the artist's style and content were many and varied and described in this quotation:
"The Surrealists, esp. Yves Tanguy were my first love, contributing to my spatial sense and dreamlike imagery. Working in S-E Asia inspired me to produce highly decorative and symbolic paintings, crowded with contemporary motifs and symbols of my own design, giving my work a narrative quality. Colin Lanceley has also been a strong influence, I relate to his strong bright colour and inventive shapes."

Port Macquarie gave Beverley Coleman inspiration and endless material for her artwork and Hello Koalas is privileged to include one of her designs in the Hello Koalas Sculpture Trail.


Location Info
"Kirralee" is in pride of place in the front window at Regional Australia Bank's brand new branch right in the heart of Port Macquarie, not far from Town Green and Clarence Street. Above the sculpture, Regional Australia Bank has put on display a framed set of prints of 3 large paintings on canvas that the artist, Beverley painted in 2008 titled "Port Macquarie". Bev used this painting to create her sculpture design for Kirralee. Visit other Hello Koalas sculptures nearby including "Chi" at Chop n Chill with a lovely outdoor dining area overlooking the Hastings River. Wander down Clarence Street and say hello to "Forest" designed by artist Pauline Roods at Port Macquarie Museum and "Lady Lola The Dancing Koala" and "PK Sparkles", both by artist Francessca O'Donnell, at the Glasshouse Arts and Visitor Centre. Just opposite the Museum in the garden of the Historic Courthouse are two more Hello Koalas sculptures - "Con the Koala" by Jill Williams and "Garage Girl" by Leanne Prussing. And for a great cup of coffee, a delicious pastry and a chat with Hello Koalas sculpture Dame Koala, visit Urban Grain Bakery in Hay Street, around the corner from the Glasshouse near the Peachtree Arcade.