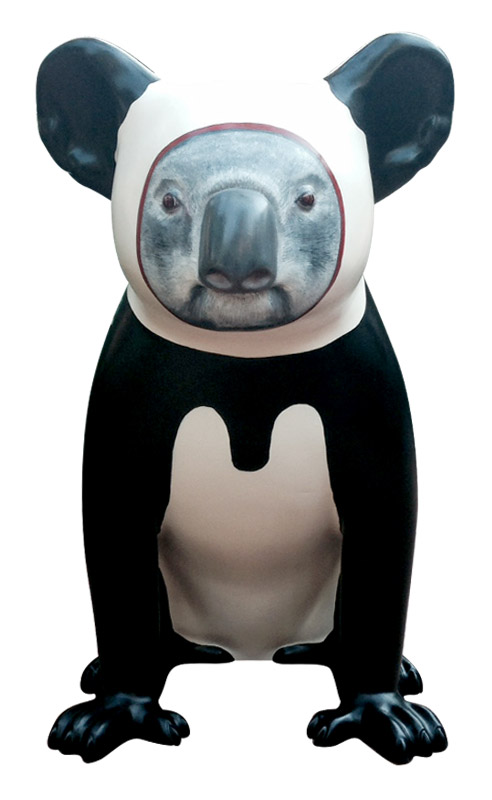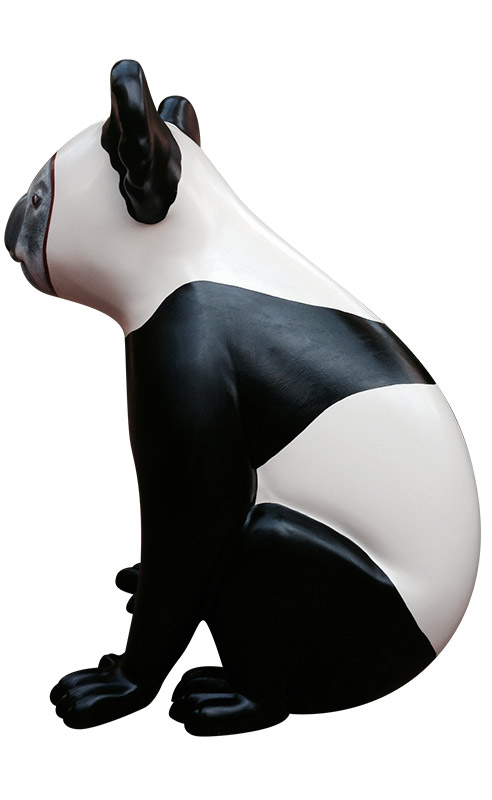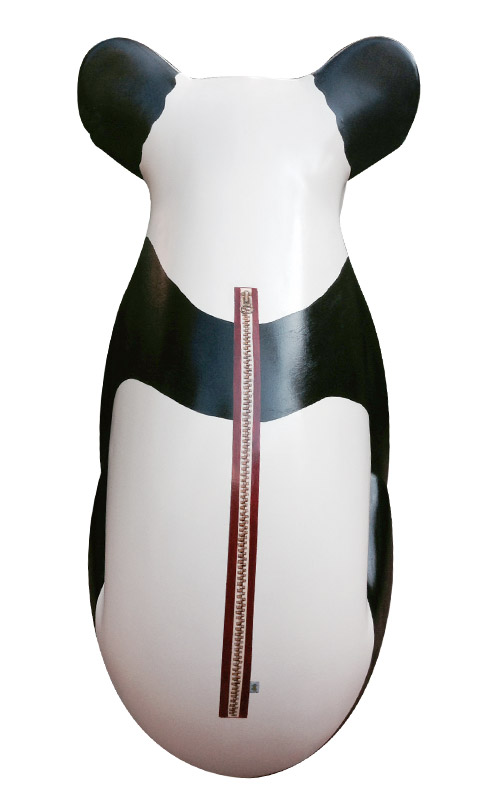 Artist : Brigid Vidler
Sponsor: Hello Koalas on Tour
Location: Koalas Tree Gift Shop, Unit 16, 10 Bellbowrie Street, Port Macquarie
Description / Inspiration
The Koala is simply a koala painted in a panda suit, with a zip going up his back. Unlike the panda which has become synonymous with the idea of conservation due to its dwindling population, the Koala still has a chance not to become endangered. Currently classed
as "vulnerable" the koala like the Panda is threatened by habitat destruction, deterioration and fragmentation.
Artist Biography
Brigid Vidler is a sculptor/performance maker. She trained in Metal casting in Spain and Scotland and woodcarving in Turin, Italy after completing her BA/BArTh at COFA/UNSW. Her sculpture takes on many forms including carved wood, casting, modeling, installation, puppetry and up-cycling old objects. While she has been working between Australia and Europe for the last 8 years her work is closely linked to issues concerning Australia today, including health, the environment and politics. She is currently working as a freelance sculptor and fabricator in London. From November 2013-May 2014 she completed a residency with Loopart in London, in 2012 she undertook a technical internship combine residency at the Scottish Sculpture Workshop in Aberdeenshire and in 2008 she completed a yearlong residency with Shopfront Contemporary Art Space, Sydney. In 2013 she was awarded an Ian Potter Scholarship to travel to and study under master marionette carver Mirek Tretjnar in Prague.

Exhibitions include 2014- LAST ONE TO LEAVE, TURN OUT THE LIGHTS Loopart Collective, Deptford/London, UK, 2013 - ARTIST ZOO, London, UK, TRUCIOLI D'ARTISTA. Rivoli, Turin, Italy MAIL ART, AREA CREATIVA 47, Rivarolo Canavese, Italy, 2012 HUMAN RIGHTS, CONCORSO D'ARTE CONTEMPORANEA, Turin, Italy (First Prize and People's Choice Award) RASEGNA N.8, Savona, Amici della Ceramica Italy, ECOARTS AWARDS, North Carolina USA, FRAGILIDADES II, Valencia, Spain, 2011 SSW Group Exhibition, Aberdeenshire, Scotland, FRAGILIDADES HUMANAS, Valencia, Spain, 2010 - URBAN ARTS ILLUSTRATED, Sydney, Australia, (First Prize)
PIEDRA, Alcira, Spain, METAL I FOC, Algemesi, Spain, METAL Y FUEGO, Cheste, Spain, 2008 -IMAGENATION I, Shopfront Contemporary ArtSpace, Sydney.