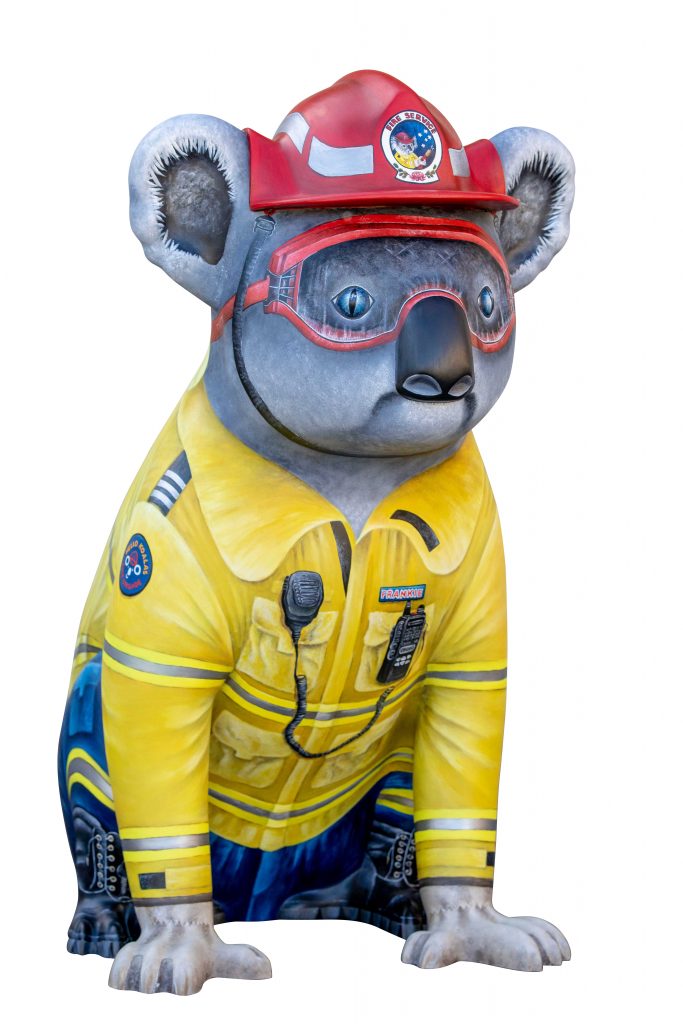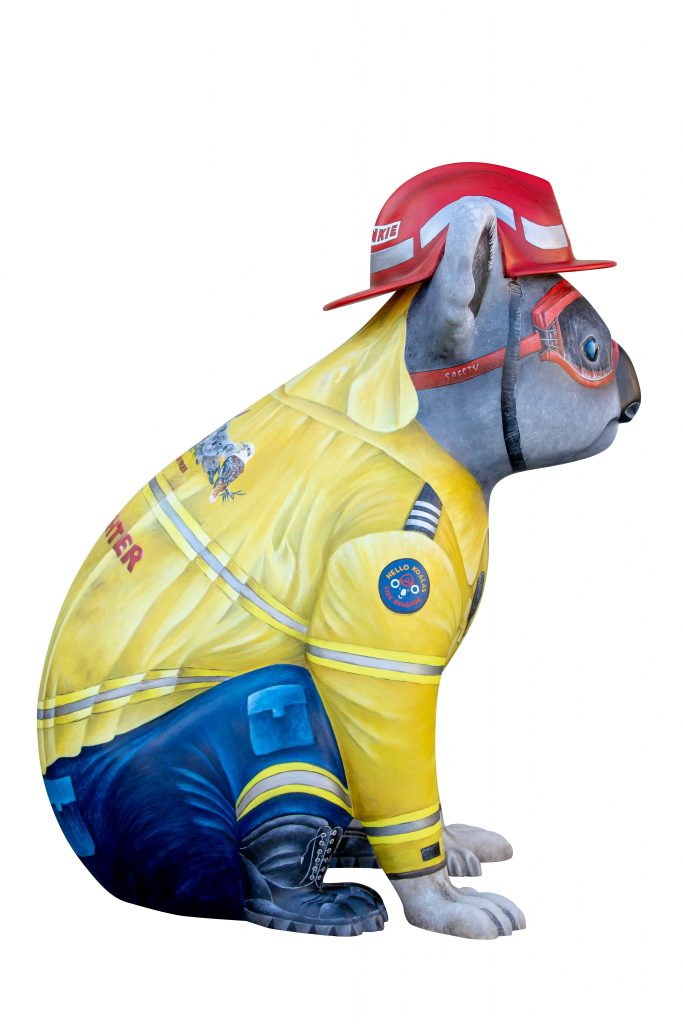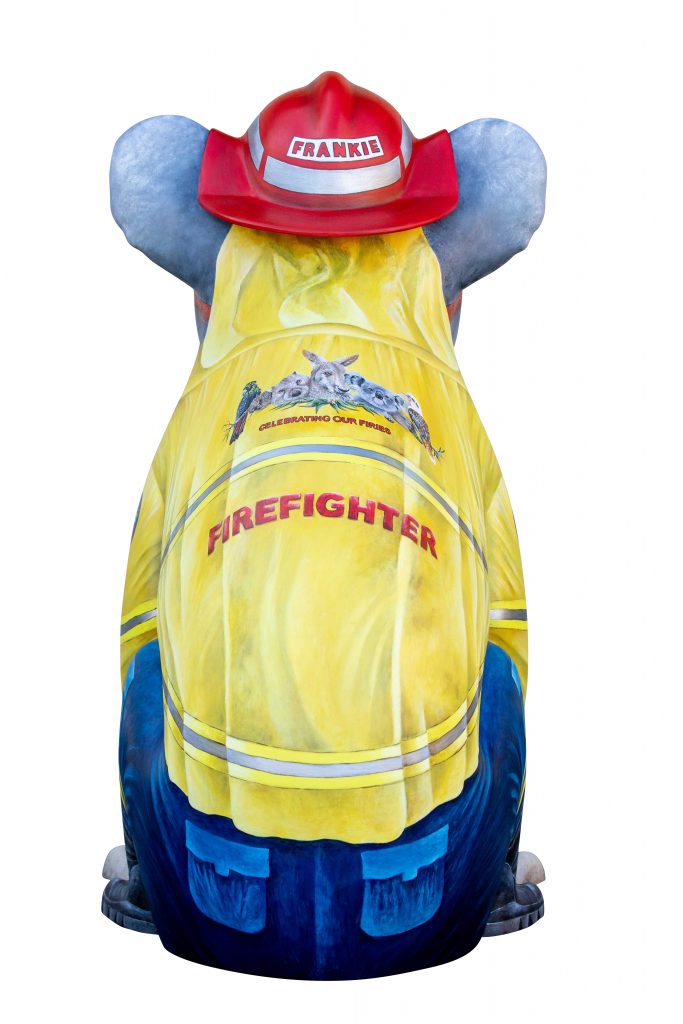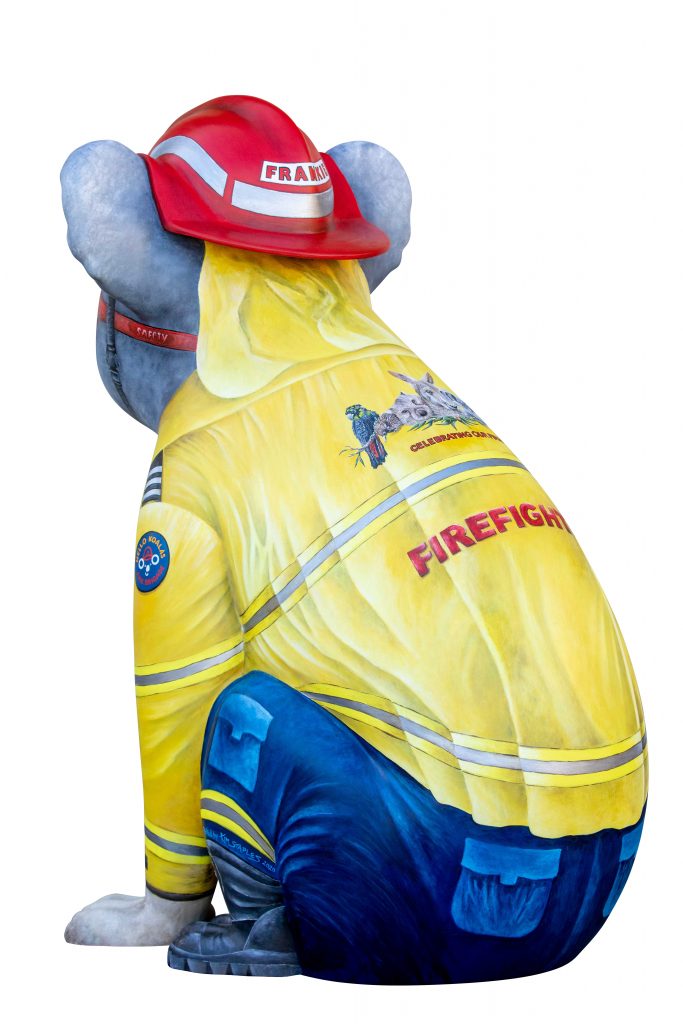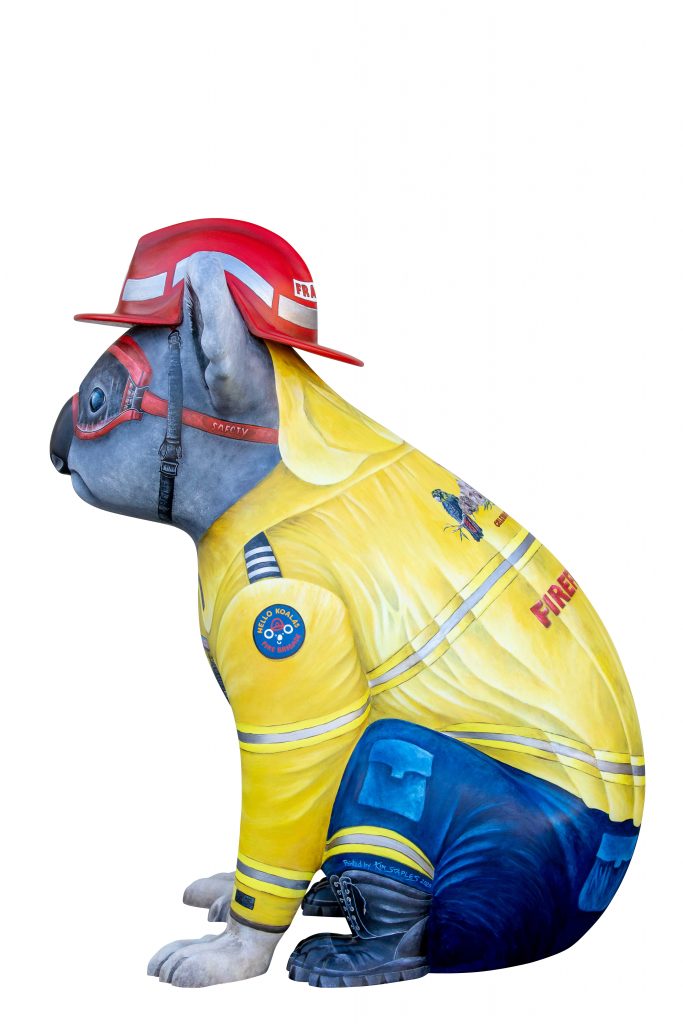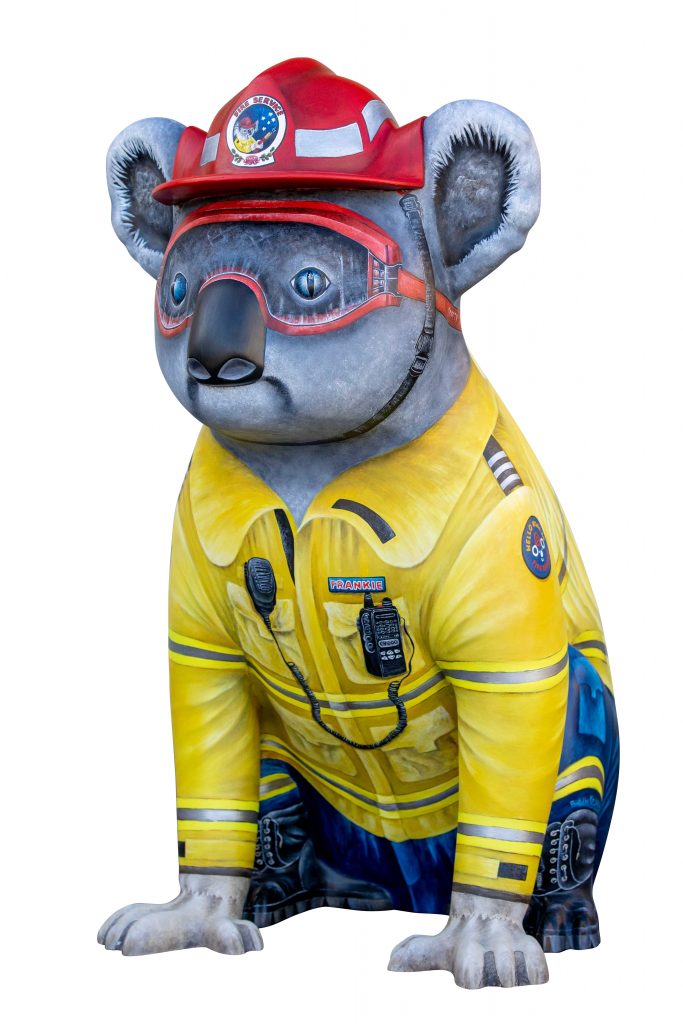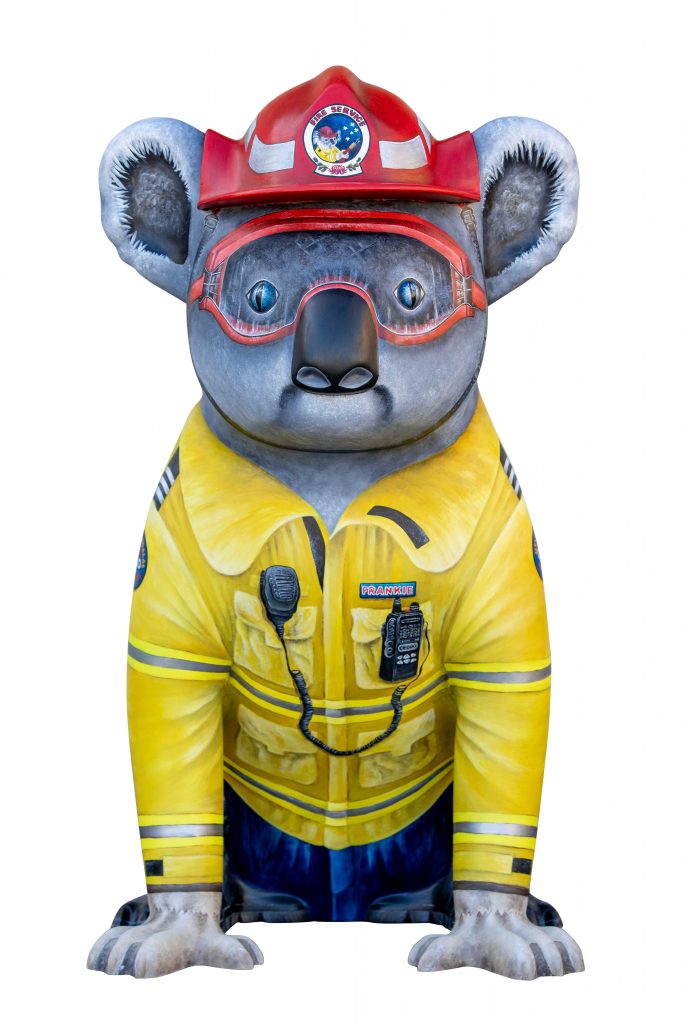 Artist : Kim and Wayne Staples
Sponsor: Sovereign Place Town Centre
Location: Sovereign Place Town Centre
Description / Inspiration
The 2019/20 bushfires that ravaged the east coast of Australia resulted in a huge loss of life, property, animals and their habitat.
Frankie Firefighter is a tribute to all the fire services that worked tirelessly to save what they could. Frankie's uniform and insignia is generic and intended to represent a number of fire services rather than single out any one agency.
The flora and fauna depicted on the back of Frankie's fire-fighting jacket suffered greatly during the fires. However fire, regeneration and re-growth in the Australian bush is as old as time and hopefully our animals and bush will return to sustainable levels.
Kim and Wayne created the design for Frankie Firefighter and Kim painted the sculpture.
Wayne made the helmet by hand. He was a Fire Rescue NSW firefighter for 36 years and as with the uniform, the aim was for a helmet recognizable as a fire fighting helmet, but not one belonging to any particular service.
The artists aimed to show their sincere gratitude to all the firies that risk their lives on a daily basis to help the needs of others.

Artist Biography
Kim Staples is an awarded Australian visual artist and art tutor living in Port Macquarie. Qualifications in visual arts, training and facilitation are the foundations stones that she uses to build her world of creativity.

Kim's practice embraces a broad spectrum of media, styles and subjects. She takes inspiration from the colours and beauty of the natural world. Her work evokes emotion and invites the viewer to engage in a story.

Kim's artworks are in a number of private collections both nationally and internationally. Her works have been displayed locally, in regional galleries and published in Art Edit, Artist Palette and Australian Artist.

Kim's involvement as an artist with Hello Koalas started in 2014. Since 2017, Kim and husband Wayne have been involved with the operational side of the Hello Koalas Sculpture Trail too. They help to maintain, deliver, install and set up exhibitions and also build many of the timber bases used to display the Hello Koalas sculptures.
The Hello Koalas public artworks are at various locations in Port Macquarie and participate in travelling exhibitions.

Location Info
Frankie is a roaming ambassador to celebrate the bravery and dedication of firefighters everywhere. He has just moved to Sovereign Place Town Centre and during summer will be reminding to stay safe from bushfires. Sovereign Place is the place to be around town with excellent cafes like Brooklyn's Burger Bar Espresso, The Hill Cafe and PeakFace Lifestyle Cafe with delicious salads to takeaway. Bungalow & Co is a sleek modern florist for special occasions or just the place for a bunch of fresh flowers as a nice surprise for someone special. CoLab is a great spot to open up the computer in quiet comfort and have a business meeting in a well appointed space. Triple Two is an inviting gift shop and it's hard to leave without spying something perfect for a gift for someone you love! There is also a Discount Chemist and Physio Haven. For those who want to feel pampered visit Salty Hair and the Beauty Collective. And the large IGA has one of the best deli sections in Port Macquarie.