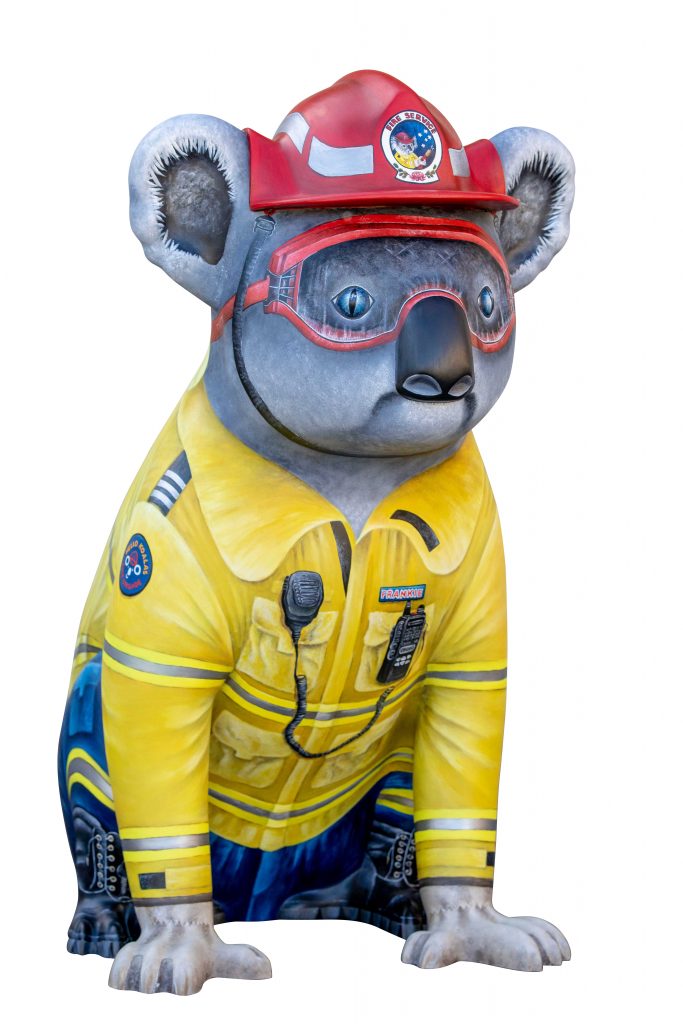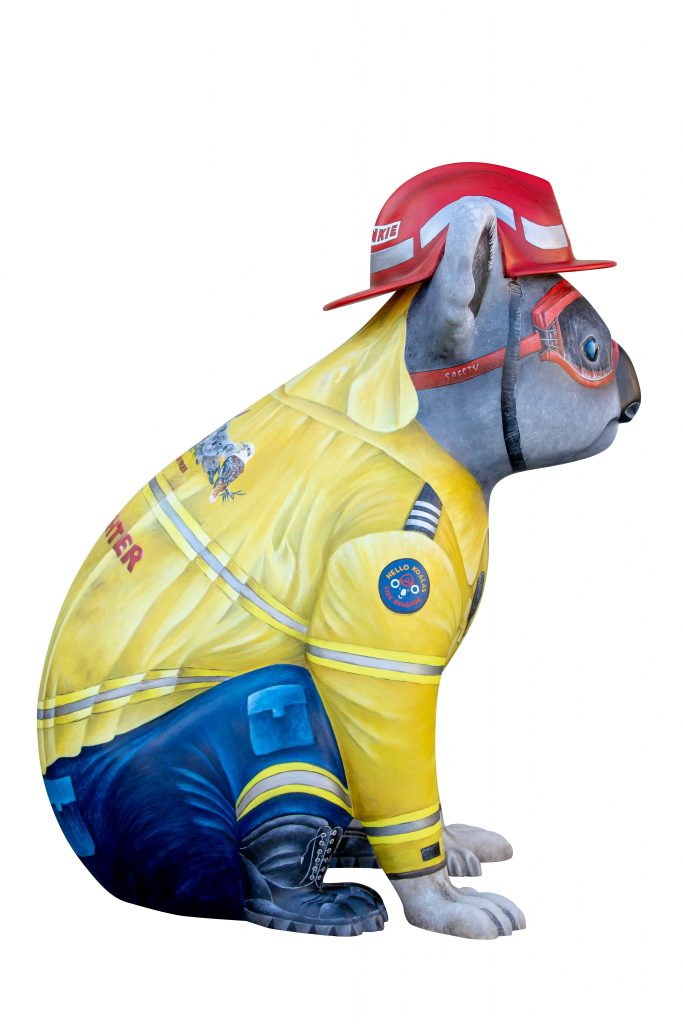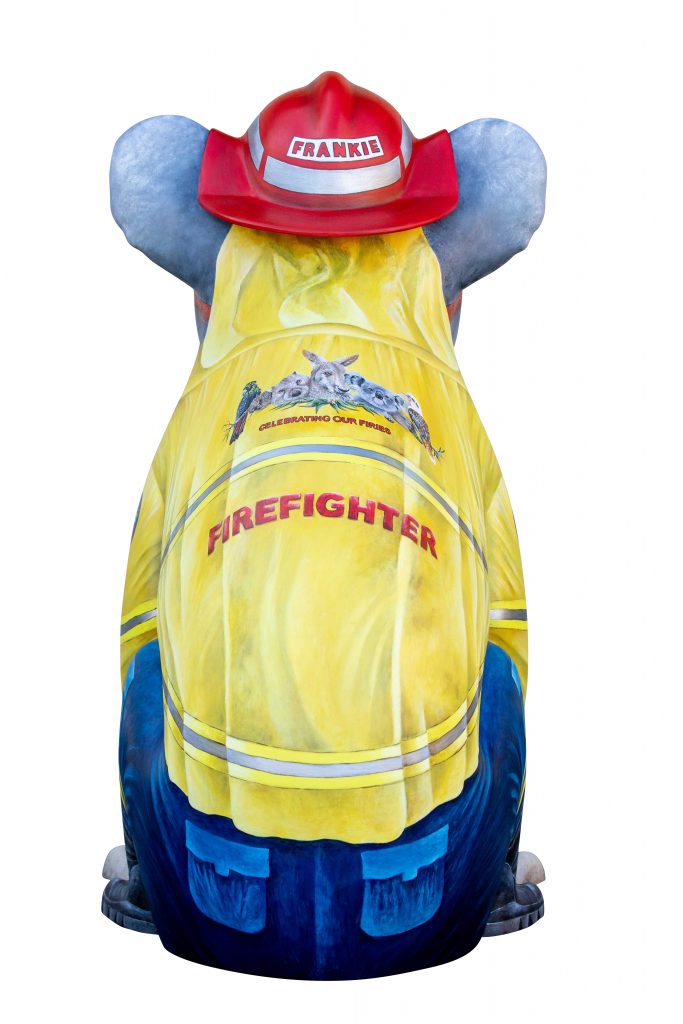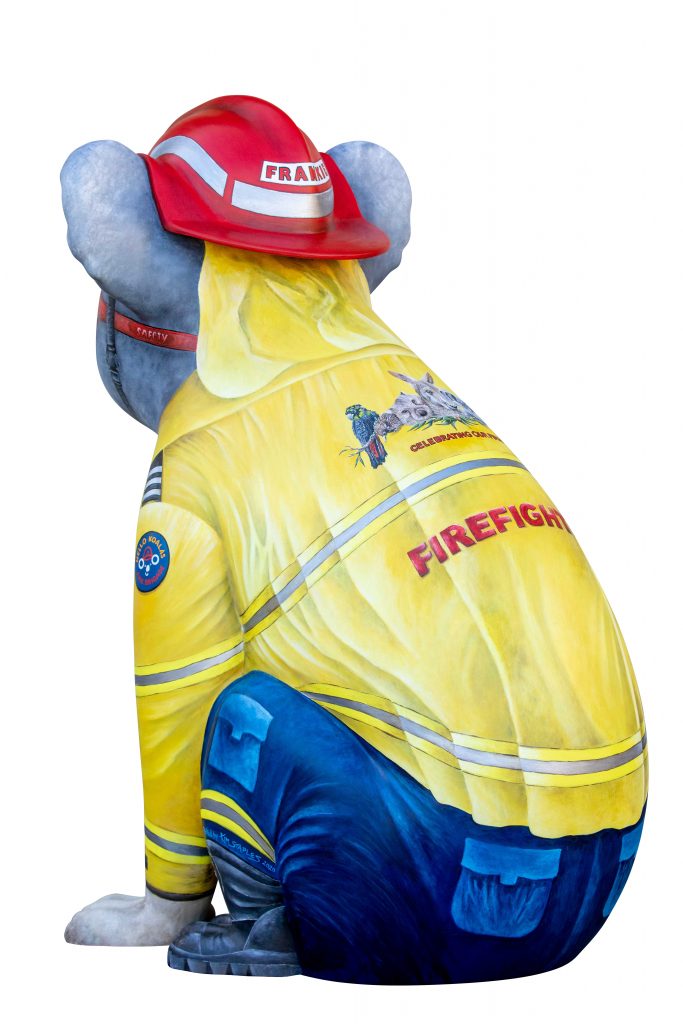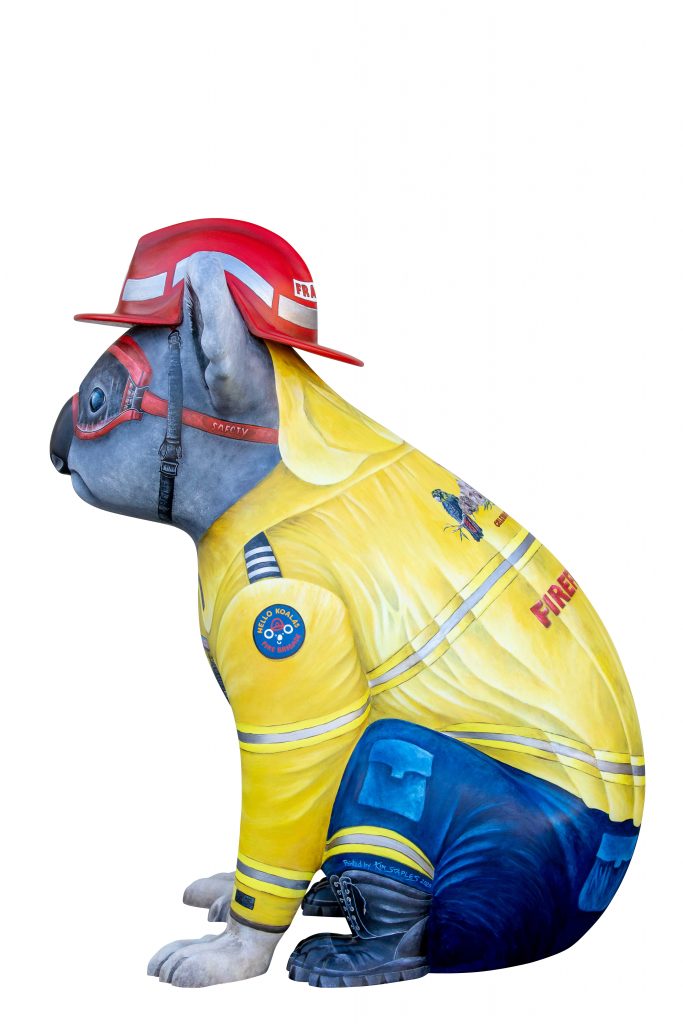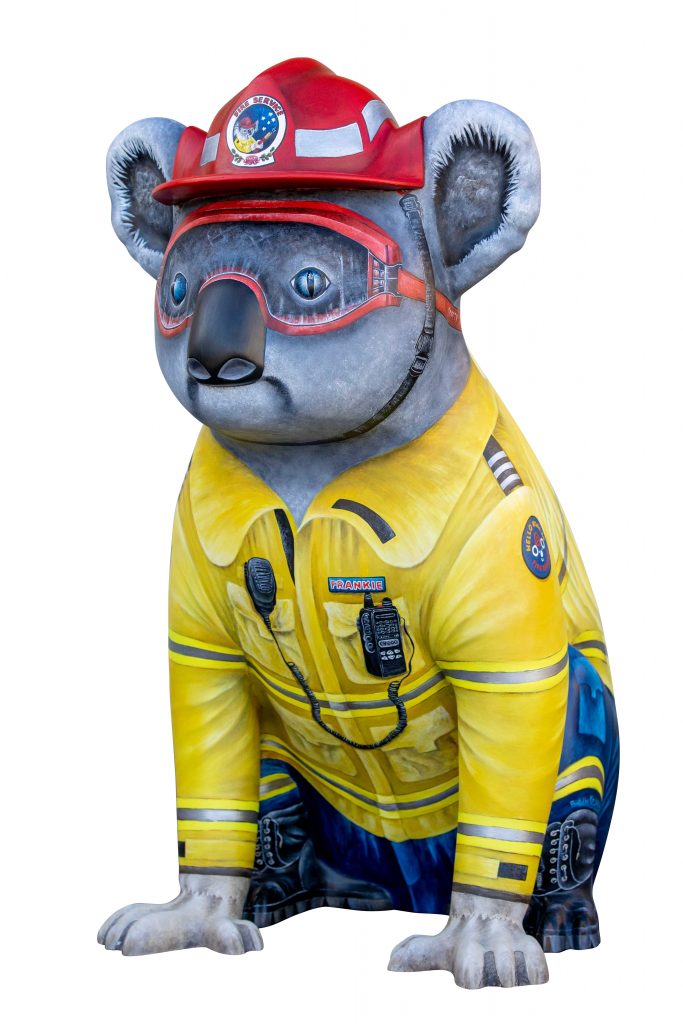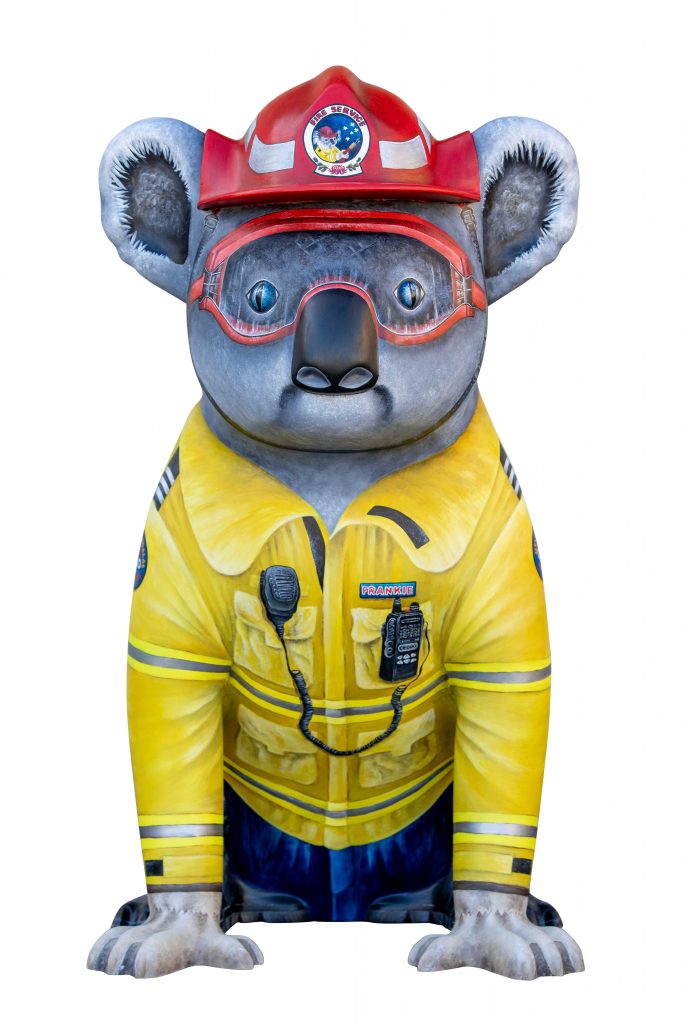 Artist : Kim and Wayne Staples
Sponsor: NSW Government
Location: Hello Koalas Tree House, Unit 16, 10 Bellbowrie Street, Port Macquarie
Description / Inspiration
The 2019/20 bushfires that ravaged the east coast of Australia resulted in a huge loss of life, property, animals and their habitat.
Frankie Firefighter is a tribute to all the fire services that worked tirelessly to save what they could. Frankie's uniform and insignia is generic and intended to represent a number of fire services rather than single out any one agency.
The flora and fauna depicted on the back of Frankie's fire-fighting jacket suffered greatly during the fires. However fire, regeneration and re-growth in the Australian bush is as old as time and hopefully our animals and bush will return to sustainable levels.
Kim and Wayne created the design for Frankie Firefighter and Kim painted the sculpture.
Wayne made the helmet by hand. He was a Fire Rescue NSW firefighter for 36 years and as with the uniform, the aim was for a helmet recognizable as a fire fighting helmet, but not one belonging to any particular service.
The artists aimed to show their sincere gratitude to all the firies that risk their lives on a daily basis to help the needs of others.

Artist Biography
Kim Staples is an awarded Australian visual artist and art tutor living in Port Macquarie. Qualifications in visual arts, training and facilitation are the foundations stones that she uses to build her world of creativity.

Kim's practice embraces a broad spectrum of media, styles and subjects. She takes inspiration from the colours and beauty of the natural world. Her work evokes emotion and invites the viewer to engage in a story.

Kim's artworks are in a number of private collections both nationally and internationally. Her works have been displayed locally, in regional galleries and published in Art Edit, Artist Palette and Australian Artist.

Kim's involvement as an artist with Hello Koalas started in 2014. Since 2017, Kim and husband Wayne have been involved with the operational side of the Hello Koalas Sculpture Trail too. They help to maintain, deliver, install and set up exhibitions and also build many of the timber bases used to display the Hello Koalas sculptures.
The Hello Koalas public artworks are at various locations in Port Macquarie and participate in travelling exhibitions.

Location Info
Frankie Firefighter is resident at Hello Koalas Tree House and Shop, at Unit 16, Bellbowrie Business Park, 10 Bellbowrie Street, Port Macquarie, off Hastings River Drive. Opening hours are 10am - 3pm, on Tuesday, Wednesday and Thursday or by appointment. There is often someone there so just knock on the door if you see the lights on! Frankie is also be a roaming ambassador to celebrate the bravery and dedication of firies everywhere and will make special visits to spread this message to the NSW community. At the Hello Koalas Tree House, you will find a number of other Hello Koalas sculptures having a rest off the Hello Koalas Sculpture Trail while they wait for their next travelling exhibition. In April 2021, over 20 Hello Koalas sculptures will be visiting Mt Annan Botanic Gardens in Campbelltown and other touring exhibitions are planned for 2021 too. In the Hello Koalas Tree House & Shop, be tempted by the tantalising display of Hello Koalas memorabilia - 2021 calendars, 2021 colouring books, tea towels, magnets, badges, postcards, stickers, bookmarks, notebooks, T shirts, totes and more. Treasured ways to remember a visit to Port Macquarie too! Directly opposite the Hello Koalas Tree House is Casseras Pastry and Bakehouse. Wonderful sour dough, excellent coffee and pastries and freshly filled baguettes, pies and small pizzas for morning tea and lunch. Open Monday to Friday from 6.30am to 2pm. Closed weekends. A short drive around the corner you will find more Hello Koalas sculptures at Settlement City Shopping Centre (Alira, Bindi, Koala Boy), Panthers Club Port Macquarie (Sandy Paws & The Mayor of the Koala Republic), McDonalds (Mack The Surf Lifesaver), Bay Park Plaza & Pipeworks Cafe (Willow), Sails Hotel (Athena & Poseidon), Seasalt Cafe and Restaurant (Shelly), Port Macquarie Marina (Koalasaurus-MAX) and Percival Property (Percy Crossingsafe).