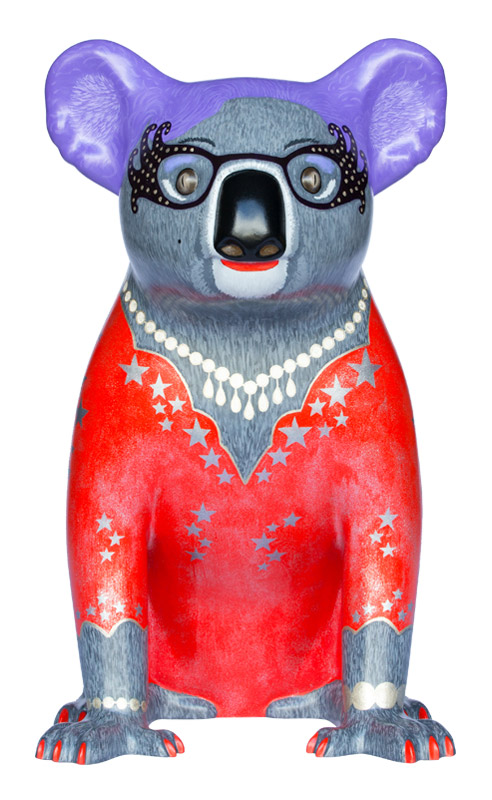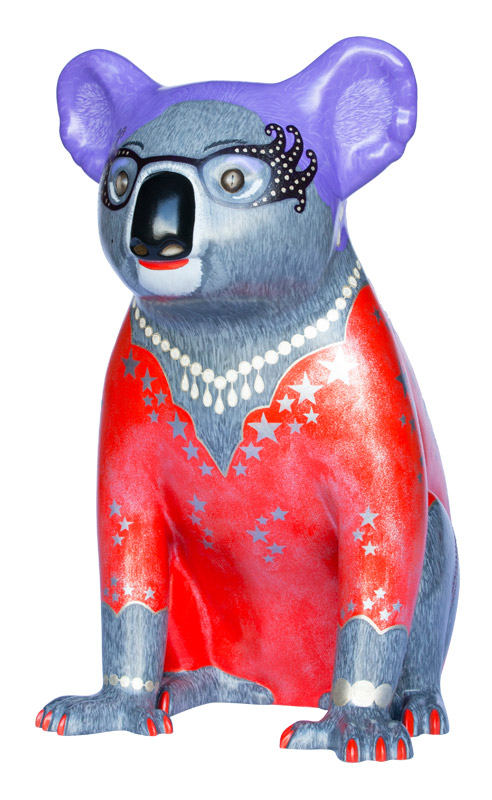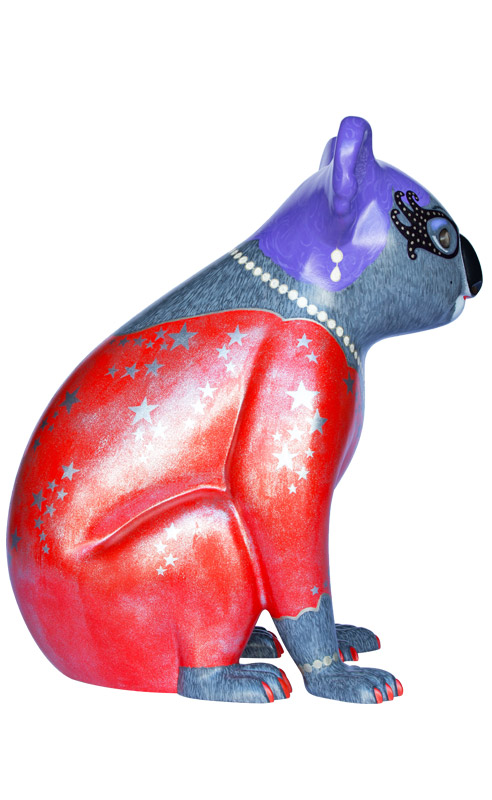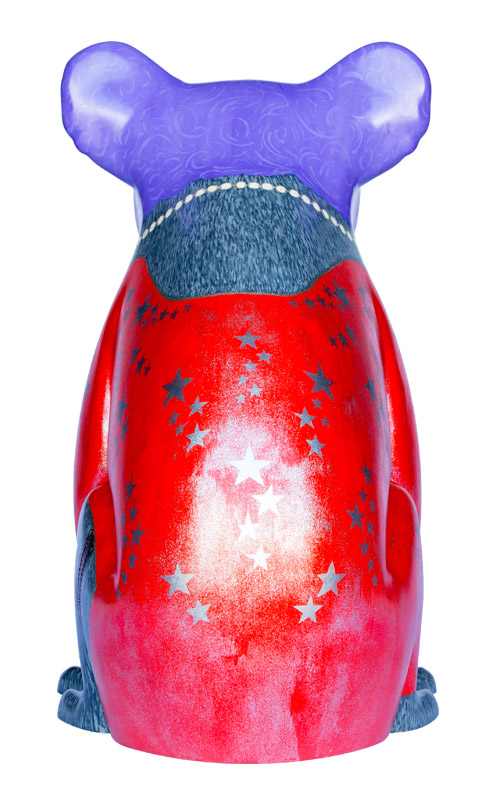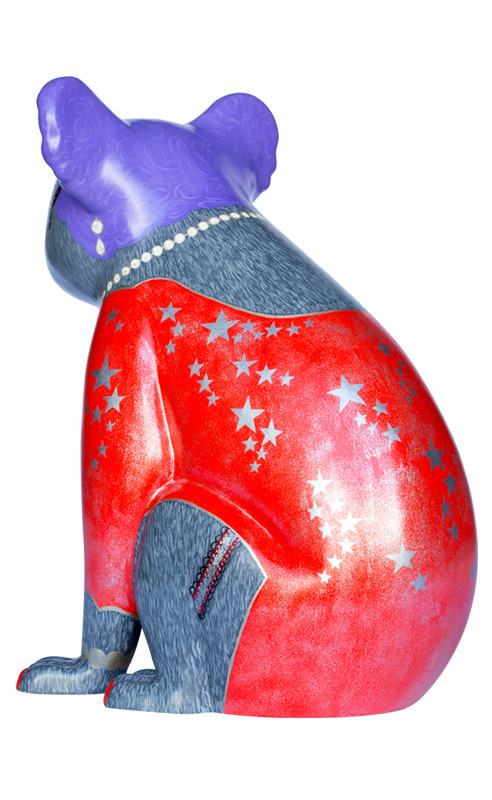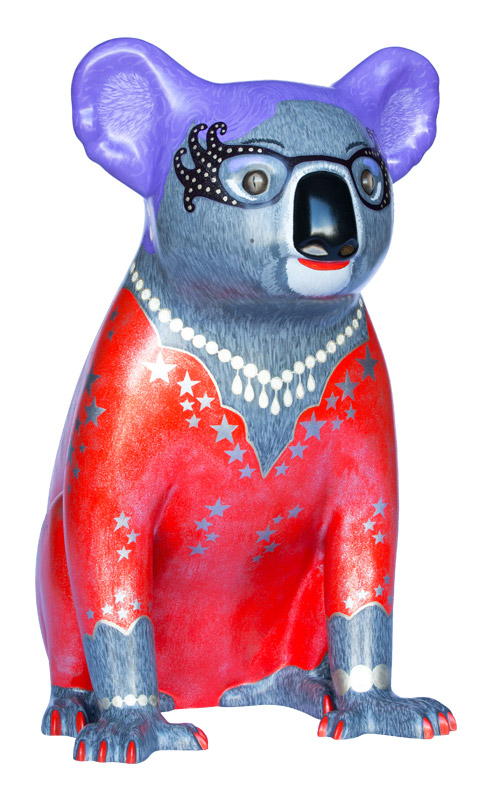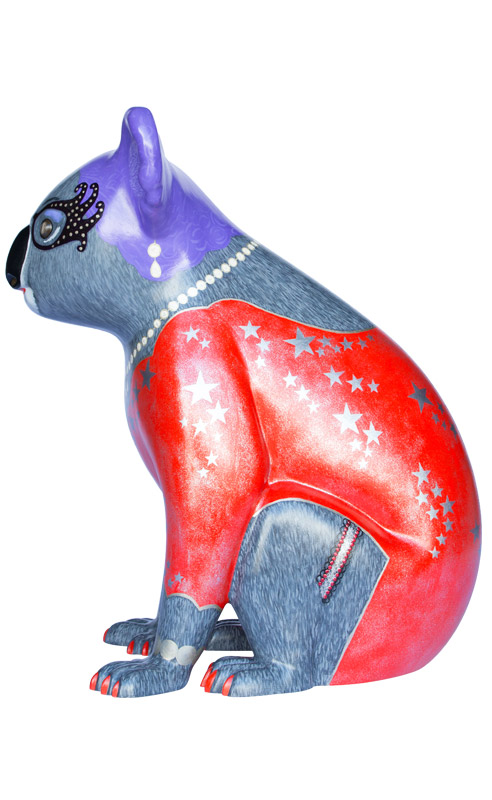 Artist : Tracy Smith
Location: Mercure Hotel, William Street, Port Macquarie NSW 2444
Description / Inspiration
This is Dame Koala. Dame Edna is a great Australian icon and this design is quirky and fun just like Dame Edna. Dame Koala brings a bit of glamour and diversity to the Hello Koalas Sculpture Trail (established 2014) which now boasts 87 Hello Koalas with 6 more underway!
Artist Biography
Tracy migrated to Australia in May 2013 from London, England. She is originally from Hull in Yorkshire. Hull is where the 'Larkin with Toads' sculpture trail was held and that is what inspired her to enter the Hello Koalas artist submission process. Tracy is a graphic designer who has always had a passion for art and design. Tracy lives to travel and likes to explore other cultures and this is where she found inspiration for her design work. She also enjoys photography, especially wildlife photography. Before migrating to Australia Tracy worked for Penguin the book publishers as a designer for 5 years. Tracy now works freelance here in Australia.

Location Info
"Dame Koala", by Wingham artist Tracy Smith, is resident at the Mercure Hotel in William Street, opposite the historic St Thomas Church. She is a sassy lady with loads of bling. A stone's throw away is Hello Koalas favourite bookshop called 'Bookface' which helped Hello Koalas launch its first children's book 'Lola had a Dream' written and illustrated by local artist Francessca O'Donnell, in November 2022. Hello Koalas has just launched a French edition too! Two of Francessca's Hello Koalas sculptures can be seen at The Glasshouse Arts and Visitor Centre 2 minutes stroll away ... 'Lady Lola The Dancing Koala' and a mosaic koala called 'PK Sparkles' (PK stands for 'Performing Koala'). Both sculptures celebrate the rich artistic life of Port Macquarie and its local communities in towns and villages across the region. Another wonderful attraction nearby is Port Macquarie Museum in Clarence Street which hosts the Hello Koalas sculpture called 'Forest' in its very own courtyard, sponsored by Forestry Corporation of NSW. Painted by Pauline Roods, 'Forest' depicts scenes of life in the Burrawan State Forest. Pauline also painted Hello Koalas Big Koala, 2.5 metres high, and located in Cowarra State Forest called 'Guulabaa, Place of Koala, in pride of place to welcome visitors to the precinct which is also home to Hello Koalas sculpture 'Crusader Koala' by Queensland artist Dale Leach and is near The Big Koala and the adventure park 'WildNets' .. "a must do" when in Port Macquarie.