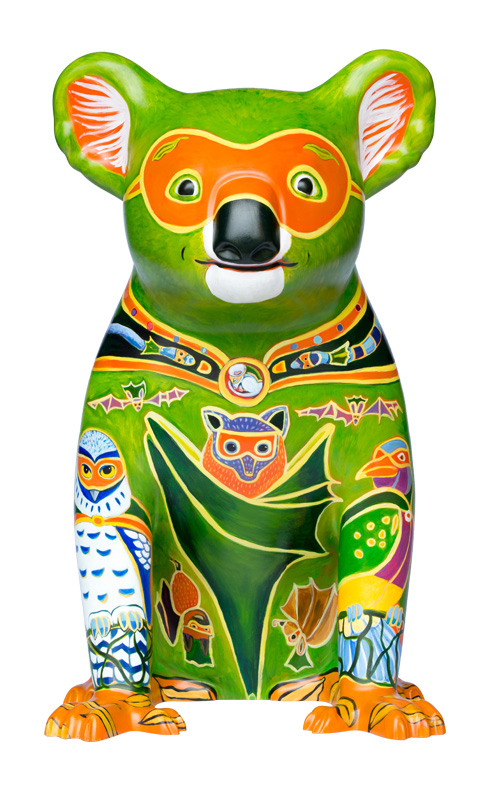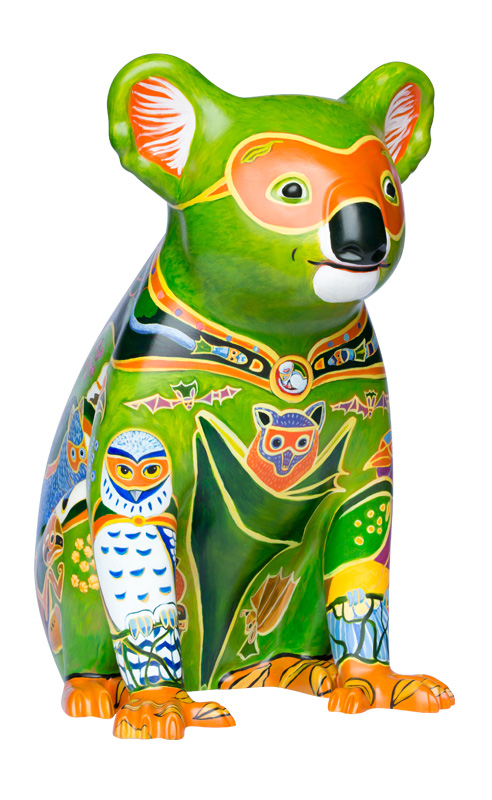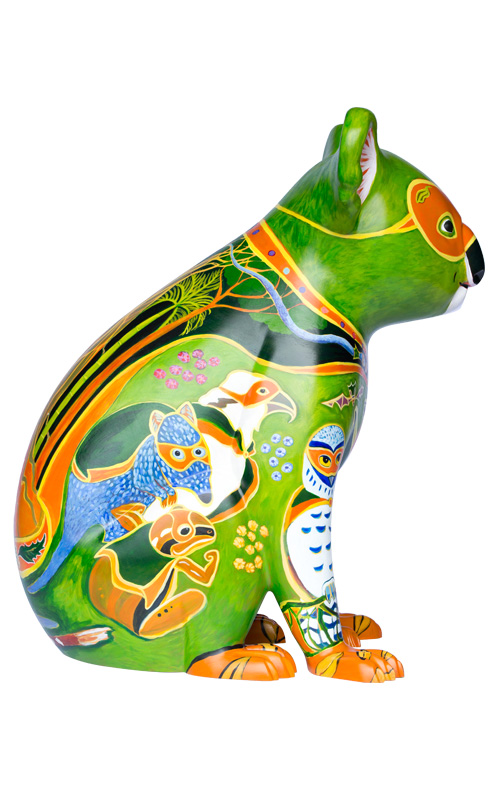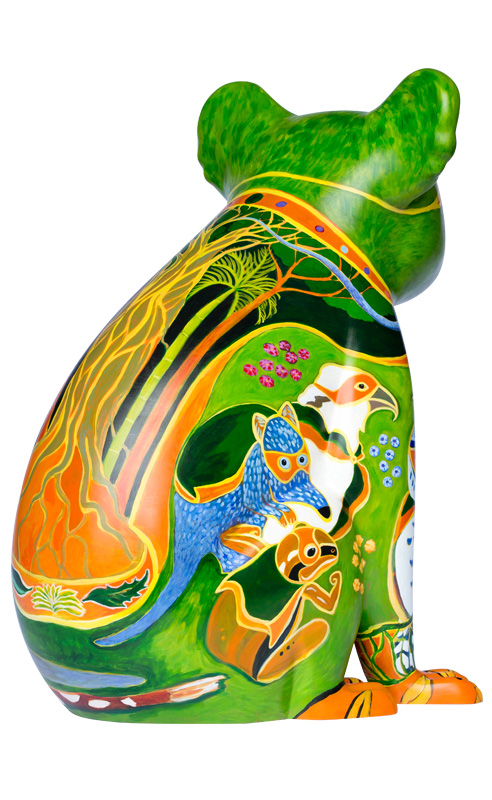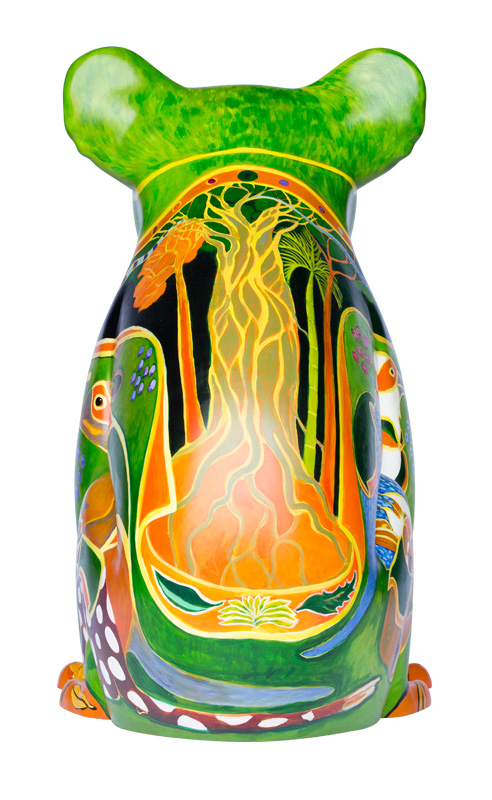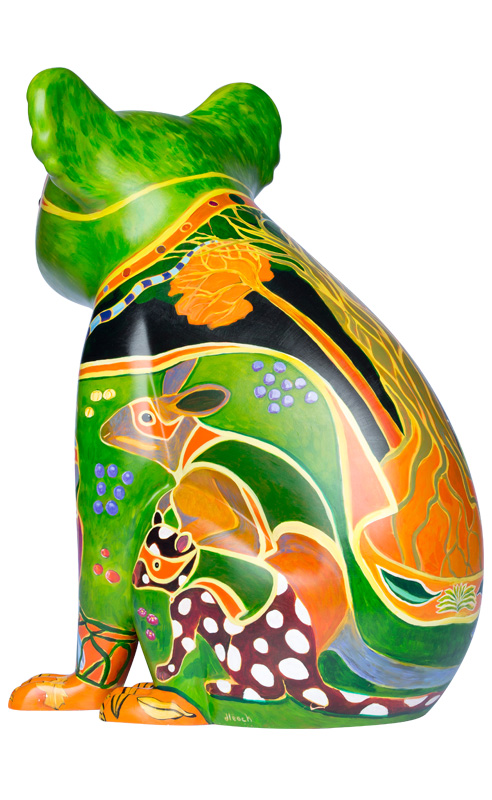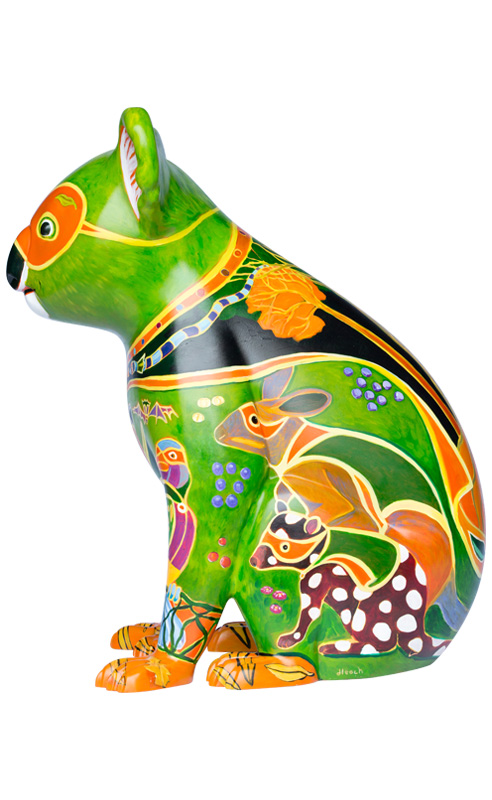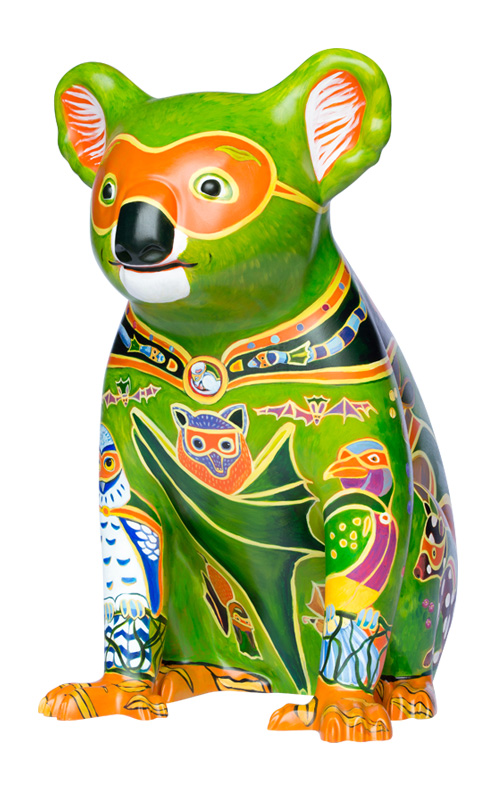 Artist : Dale Leach
Sponsor: WildNets Adventure Park
Location: Corner of Burrawan Forest Drive & Oxley Highway, Lake Innes
Description / Inspiration
WildNets (www.wildnets.com.au) is the new sponsor of Crusader Koala! And we love the synergy between Crusader Koala's design and WildNets branding - there is even a flying fox on Crusader's chest. It was a marriage meant to be. Welcome to the Hello Koalas Sculpture Trail!

Back in 2013, Crusader Koala resulted from a collaboration between Dale Leach, artist illustrator and Sea Acres Rainforest Centre in Port Macquarie.

Crusader Koala was designed to be the champion of threatened species in the endangered littoral (coastal) rainforests of the Macleay-Hastings area on NSW's mid north coast. The masked Crusader protects rainforest animals under the shelter of a living cape of lush subtropical rainforest.

Twelve of the thirty-one threatened species in the area's littoral rainforests are represented. The Grey-headed Flying Fox and the Common Blossom Bat. The Red-legged Pademelon, the Spotted-tail Quoll, the Long-nosed Potoroo and the Eastern Pygmy Possum. The Powerful Owl, the Wompoo Fruit Dove and the Eastern Osprey. Stephen's Banded Snake, the Green-thighed Frog and the Pale-headed Snake.

The trees and leaves on the cape and the fruits scattered in the background, represent the diversity of rainforest plants found in Sea Acres National Park. The Black Apple, White Beech, Bangalow Palm and Strangler Fig.

The fruits of the Tuckeroo, Elderberry Panax, Blue Lilly Pilly, Black Apple, Cheese Tree and the Cunjevoi.

Now Crusader Koala has moved home to be amongst the trees at WildNets Adventure Park in Guulabaa, Place of Koala in the Cowarra State Forest and to join The Big Koala, the new 2.5 metre sculpture on the Hello Koalas Sculpture Trail (www.hellokoalas.com)
Artist Biography
Dale was born in Geelong, and grew up travelling between, Frankston and South East Queensland with her parents. After backpacking through Europe and America, visiting London, Paris and New York, she was determined to go to an art school and make art her career.
In 1982 Dale completed a Diploma of Art and Design (Painting). Then in 1984 Dale completed a Graduate Dip of Education and worked as an art teacher at Hamilton Technical School for the next four years. She then travelled through SA, WA and arrived in the NT and lived and taught in Darwin for ten years as part of Sanderson High School's Art Dept. On returning to Queensland Dale set about undertaking a number of professional development short courses including Marketing your Art and joined a number of Art Associations and began exhibiting her work on a regular basis.

Dale's work is quirky, vibrantly colourist, narrative driven, usually drawn from personal experience and surroundings.
More recently Dale was one of five Australian artists invited to design a poster to hang alongside The Book About Death Australia exhibition at the Tweed River Art Gallery, which opened on the 18th of October 2013.
In April 2014 The Road Across the Range show opened at Harbourside Gallery in Tewantin.

Location Info
Unleash your Wild Self at WildNets in the Cowarra State Forest. Fun for Everyone! WildNets Adventure Park is a fun day out for the entire family From the adventurous teen, energy-filled youth to the young at heart and one-year-old tots. Discover the Cowarra Forest's flora and fauna from a completely different perspective. Get access to all activities with each ticket. Bookings are essential online - www.wildnets.com.au The Big Koala is there too to welcome you from the car park to Guulabaa, Place of Koala and to lead you towards WildNets Adventure Park.