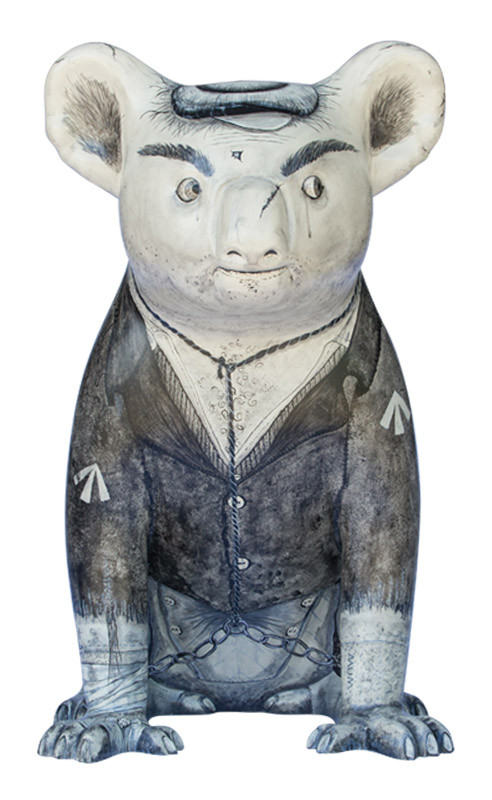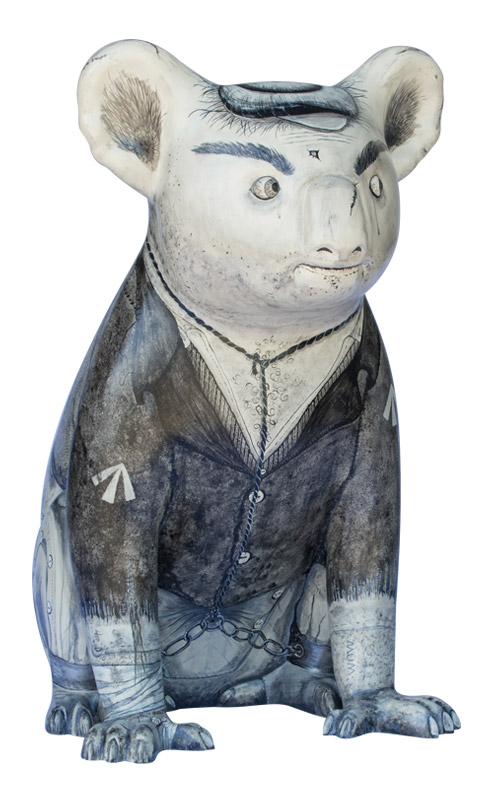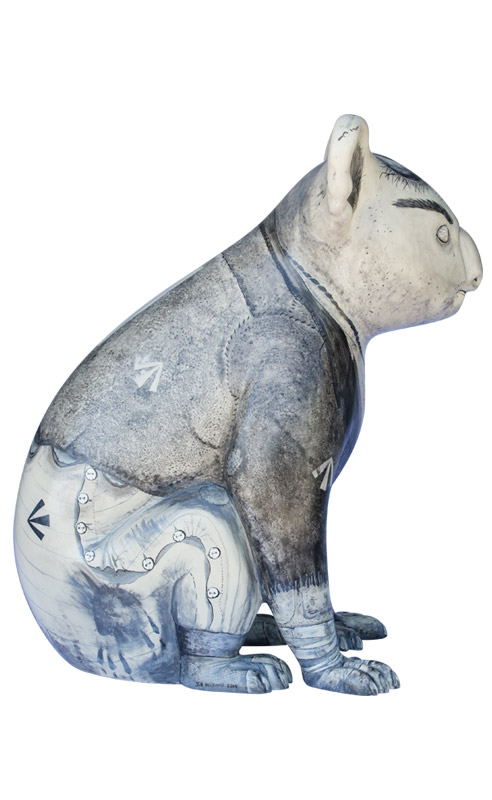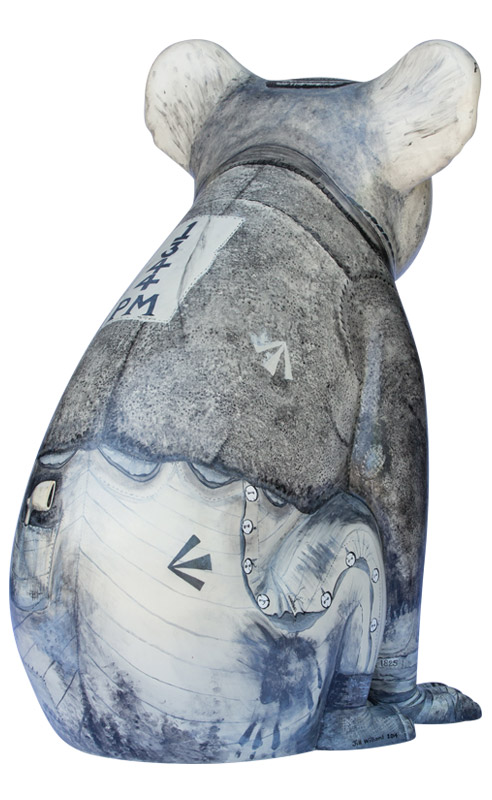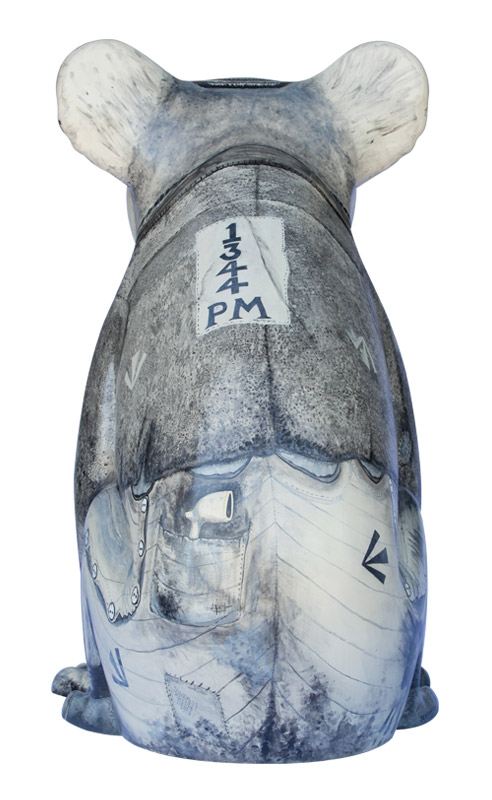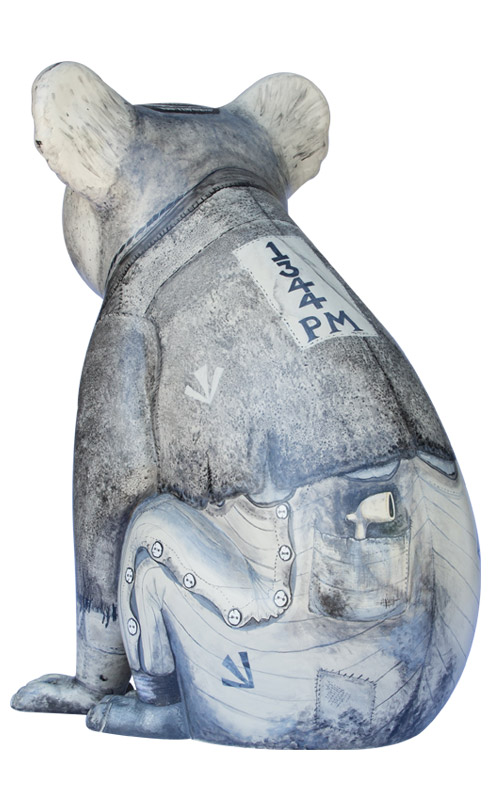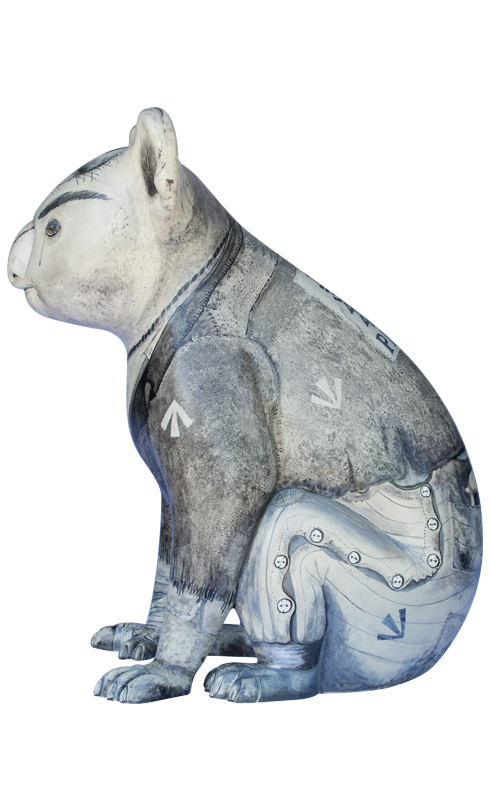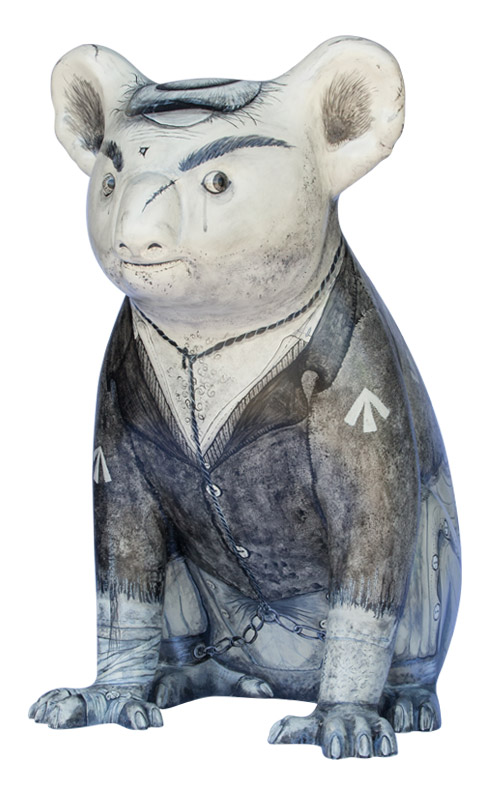 Artist : Jill Williams
Location: Historic Courthouse, Cnr Hay & Clarence Streets & Clarence Streets, Port Macquarie NSW 2444
Description / Inspiration
"Con" the koala comes from the early 1821 Colony of Port Macquarie where he was a convict. Con was assigned to the PM road building chain gang. He worked from daylight to dark, shackled, with his feet covered only by stockings.
He asks that you please excuse his grubby and dishevelled appearance. He was not issued with a changes of trousers, and with a bandaged hand and wrist personal hygiene was too difficult.
Con begs that if any of you gentleman could spare a "twist of baccy" he would love a puff on his "borrowed" clay pipe which he keeps in his back pocket. The question is: where did he get it from ? Con claims he "found it in the bog", whatever that means!
Artist Biography
Jill Williams is Con's creator. Now based in Melbourne, Jill was a frequent attendee at U3A classes and Convened U3A's Textile Art course. Jill attended Eric Graham's Early Australian History Course at U3A and it was Eric who suggested Jill submit a design of her choice on behalf of U3A. Jill immediately connected the dots between U3A's Early Australian History course with Port Macquarie and its convicts.

Jill has purposefully painted Con in blacks, greys, and on a cream background to give the impression that Con has just stepped out of an early Australian History book. Con is a loveable villain!
Location Info
"Con the Koala" is located at the Historic Courthouse, corner of Hay and Clarence Streets, which is one of the focal points of Port Macquarie-Hastings Council's planned cultural precinct branded as the "creative heart" of Port Macquarie. (https://haveyoursay.pmhc.nsw.gov.au/port-macquaries-creative-heart) The award-winning Port Macquarie Museum is directly opposite where they host the Hello Koalas sculpture "Forest" which depicts life in the Burrawan State Forest. The Glasshouse Arts Centre is diagonally across Clarence Street where two Hello Koalas promote the arts in the region - "PK Sparkles" (aka Performing Koala Sparkles) and "Lady Lola The Dancing Koala" designed by local artist Francessca O'Donnell.