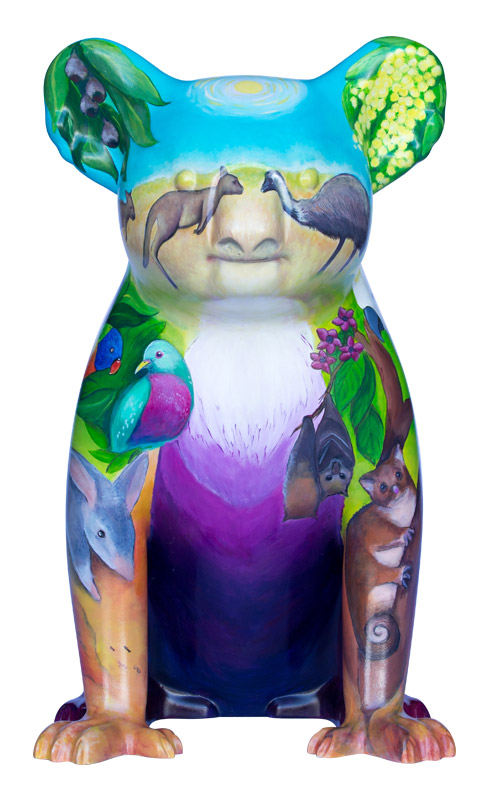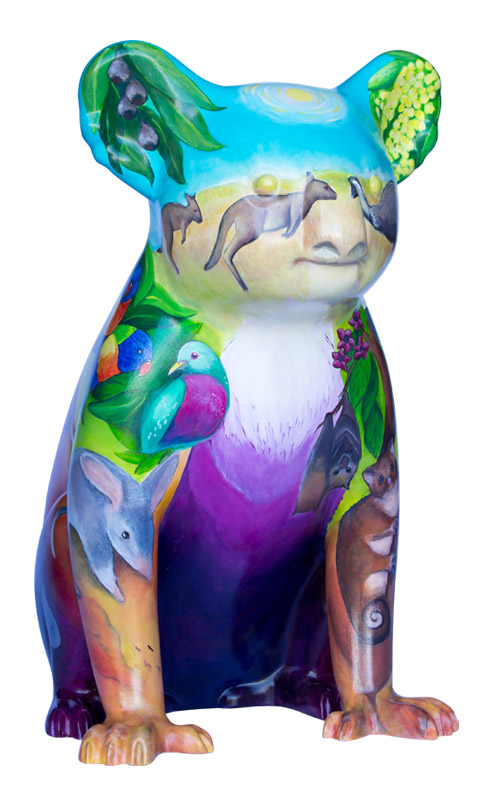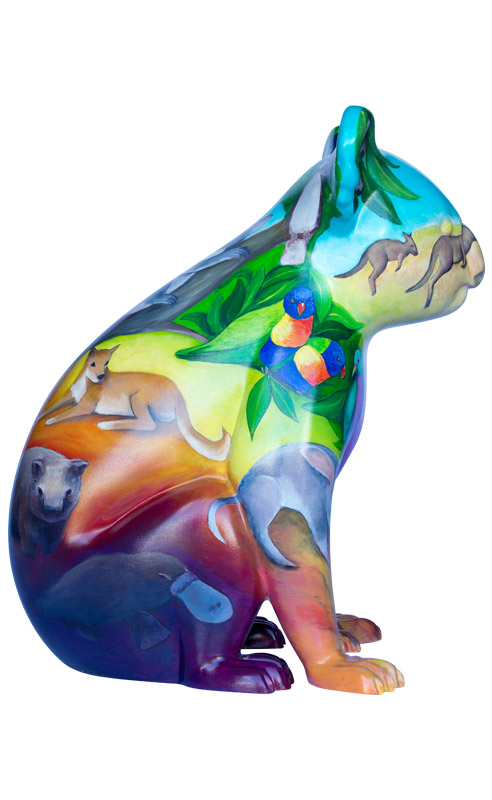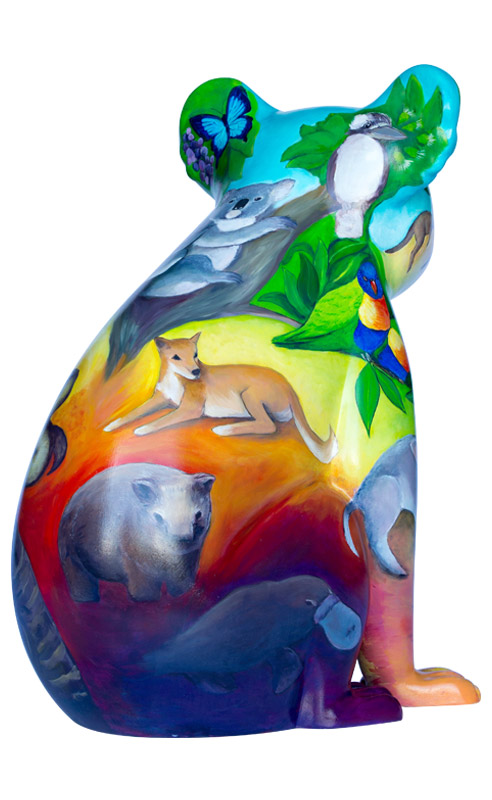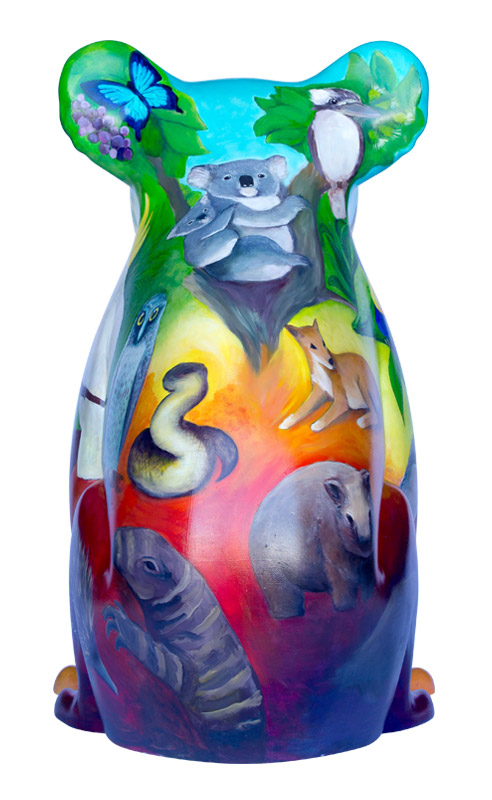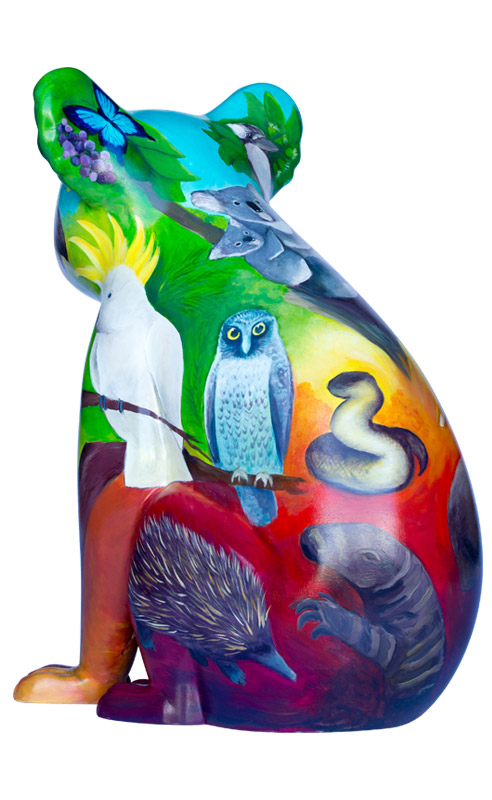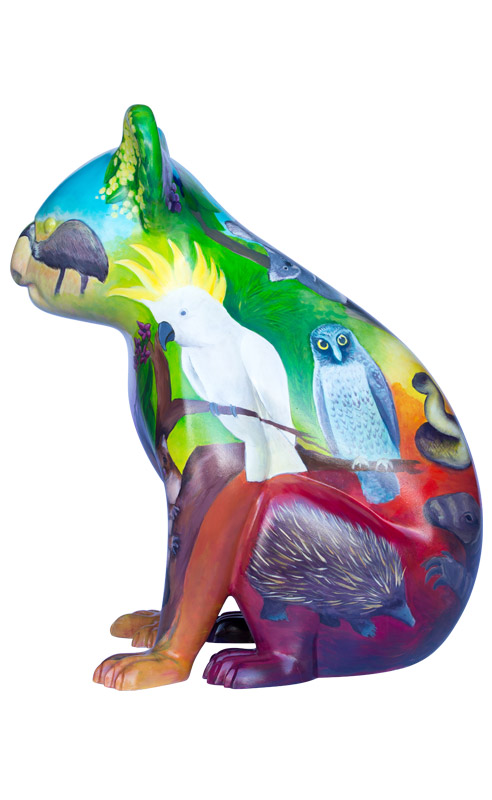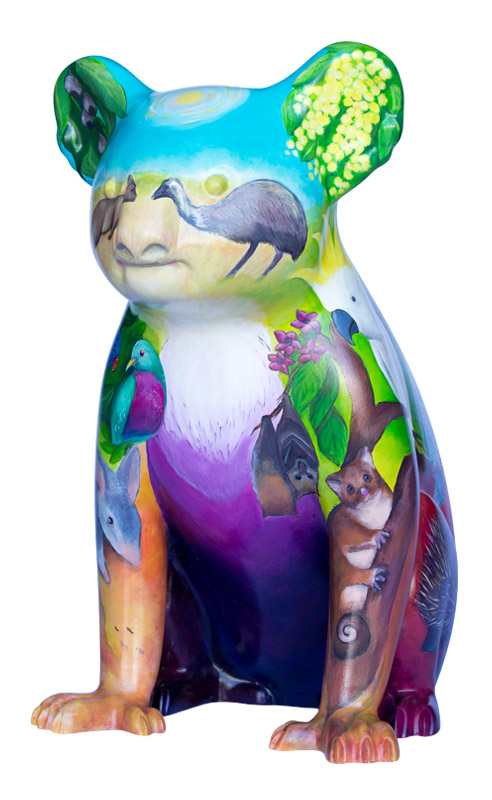 Artist : Chantelle Ferri
Sponsor: Timbertown Motel
Location: 226 High Street, Wauchope NSW 2446
Description / Inspiration
This design celebrates native flora & fauna of the Australian Outback, using iconic imagery such as animals from the Australian Coat of Arms to develop the theme. The artist likes to use heightened colour and saturation of hues to create dreamlike qualities in her work, taking inspiration from fantasy to visionary art.

Look for the kangaroos, emu, echidna, dingo, sulphur-crested cockatoo, rainbow lorikeets, snake, koala and her joey, powerful owl, wompoo dove, wombat, dingo, platypus, kookaburra, goanna, bilby, flying fox, ringtail possum, butterfly, wattle, native plums, gum leaves and gumnuts.

Some of these prized Australian animals are threatened species. Can you tell which ones?

Artist Biography
Born in Sydney in 1985, Chantelle began her creative journey from a young age.

Her Italian background saw an early introduction to the world of art and she was encouraged to continue her studies in art throughout her youth.

She maintained her interest through high school winning an art award in her senior year and followed on to complete a Bachelor of Fine Arts at the College of Fine Arts in Sydney from 2003-2006, later completing her Honours Degree in 2008.

After a few years of travel and self-discovery, Chantelle relocated from her home in Sydney's Northern Beaches to Melbourne where she completed her Masters in Fine Arts at RMIT in 2012.

She has taken part in several exhibitions in Victoria and New South Wales over the last decade and completed two commissions for the Hello Koalas Sculpture Trail in Port Macquarie in 2014.

"Australiana Down Under" and "Australiana Below the Surface" feature designs of Australian wildlife and marine life and are vibrantly coloured and joyful, drawing the viewer into the landscape and the ocean at a personal level.
Location Info
Hello Koalas is delighted to welcome Timbertown Motel to the Hello Koalas family with the residency of "Australiana Down Under" by Australian artist, Chantelle Ferri on High Street next to reception. Owners Rob and Jenny and manager Jo-Ann are the most welcoming people. They offer a relaxing getaway for families and cater for the single corporate traveller to larger group bookings too. Choose from motel style rooms, spa suites or self contained cabins. Timbertown Motel is one of the best value for money holiday accommodations on the NSW Mid North Coast. Located a few minutes from both Wauchope and Timbertown, the Motel has a tennis court, pool, free wifi and ample parking. A walk to the Timbertown shops is just 5 minutes away - with an IGA supermarket and liquor store, pharmacy, medical centre, specialist butcher, Thai restaurant, Bago Tavern and a Services NSW shopfront. One of the highlights of this shopping strip is one of the region's best - Greenbourne Nursery - where you will find another Hello Koalas sculpture called "Koala Z". The Nursery has one of the best gift shops in the area too.