Asha The Tree of Life Koala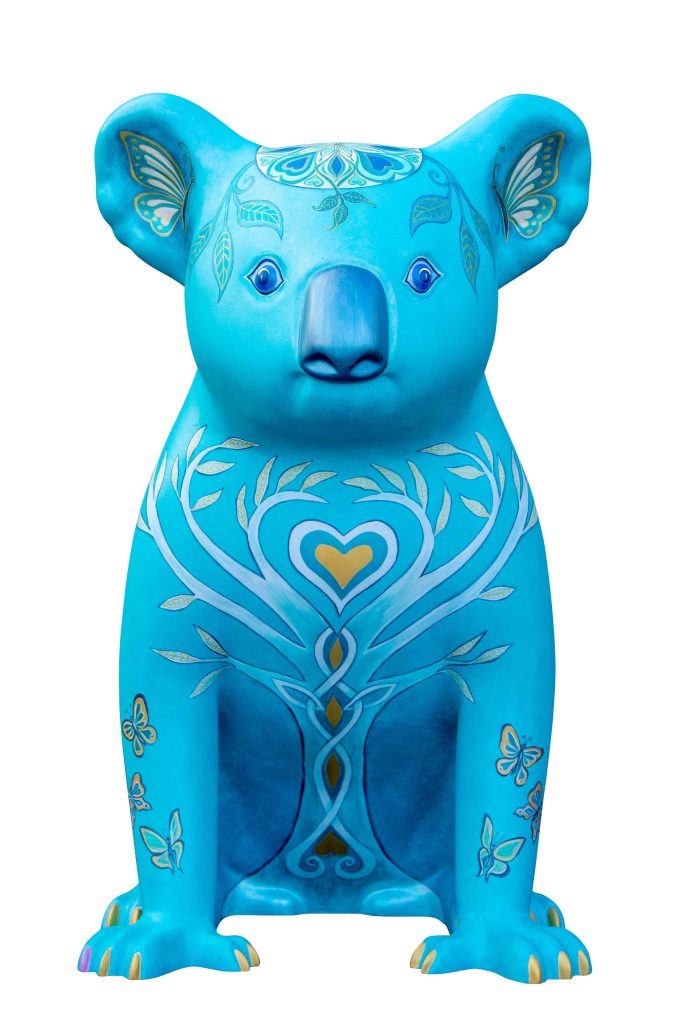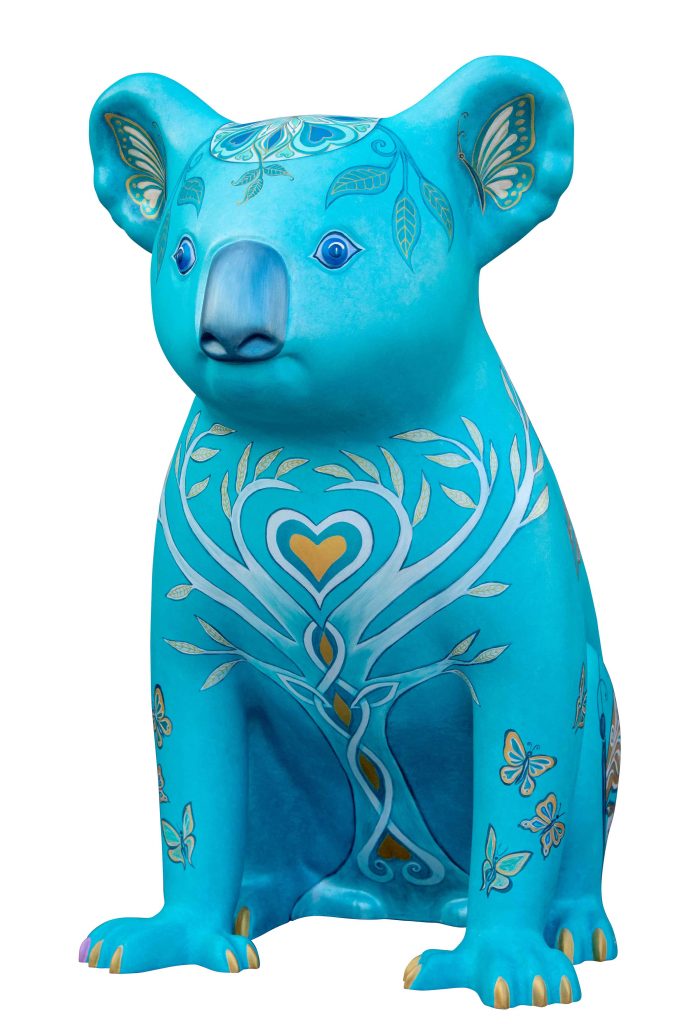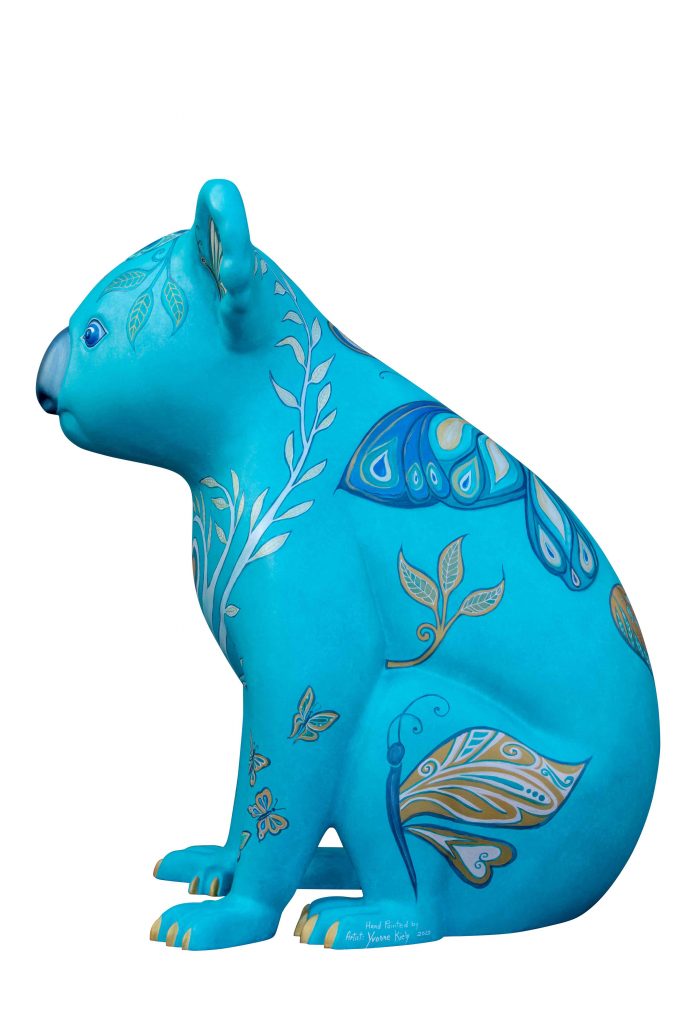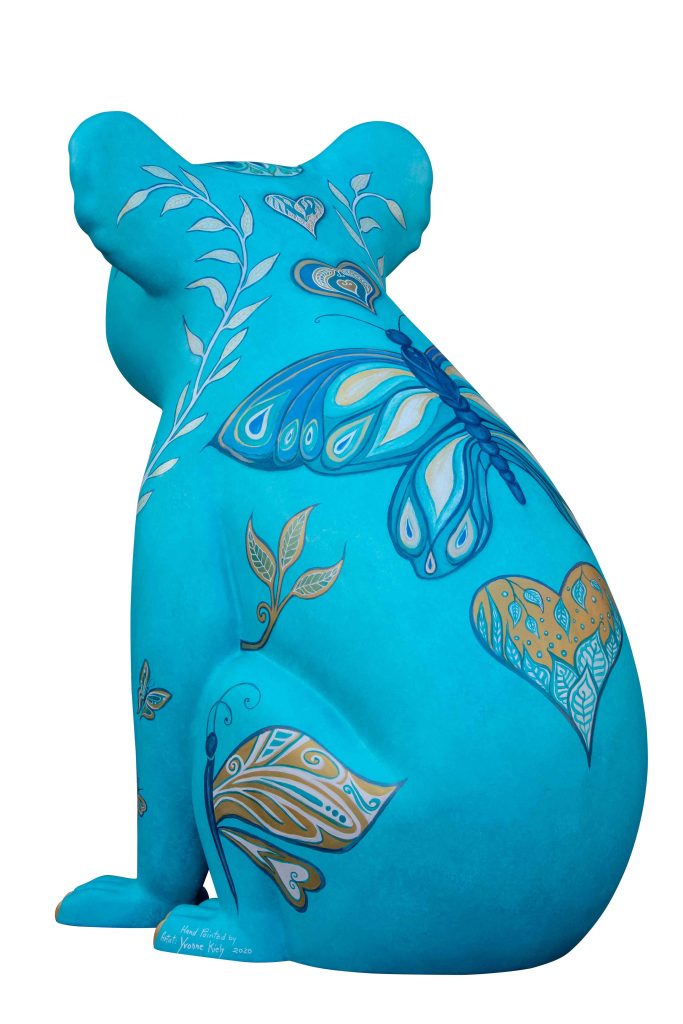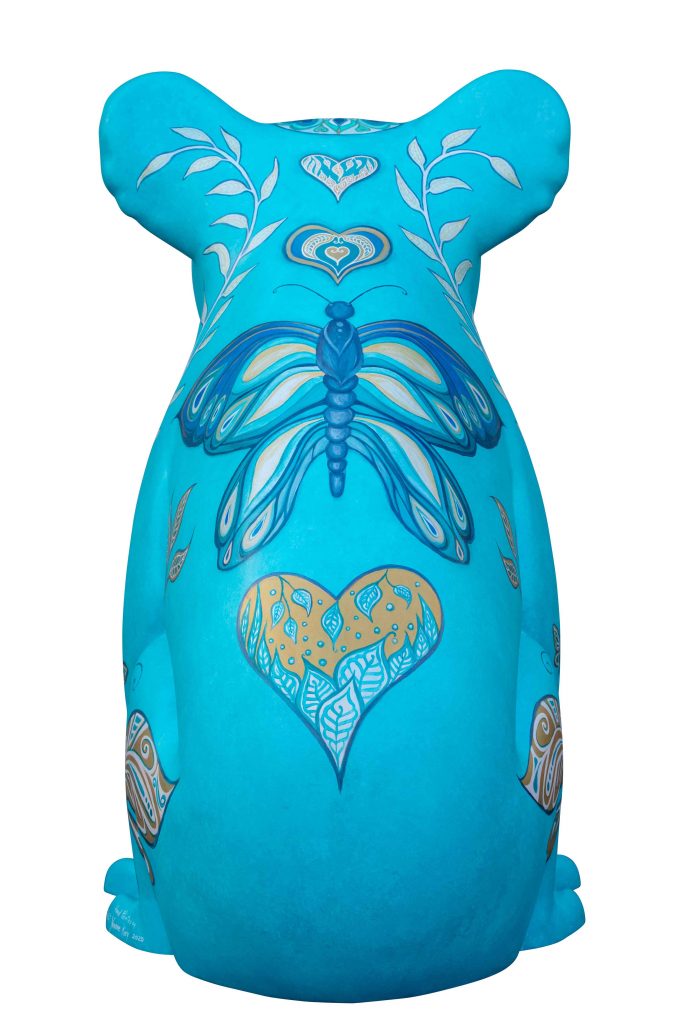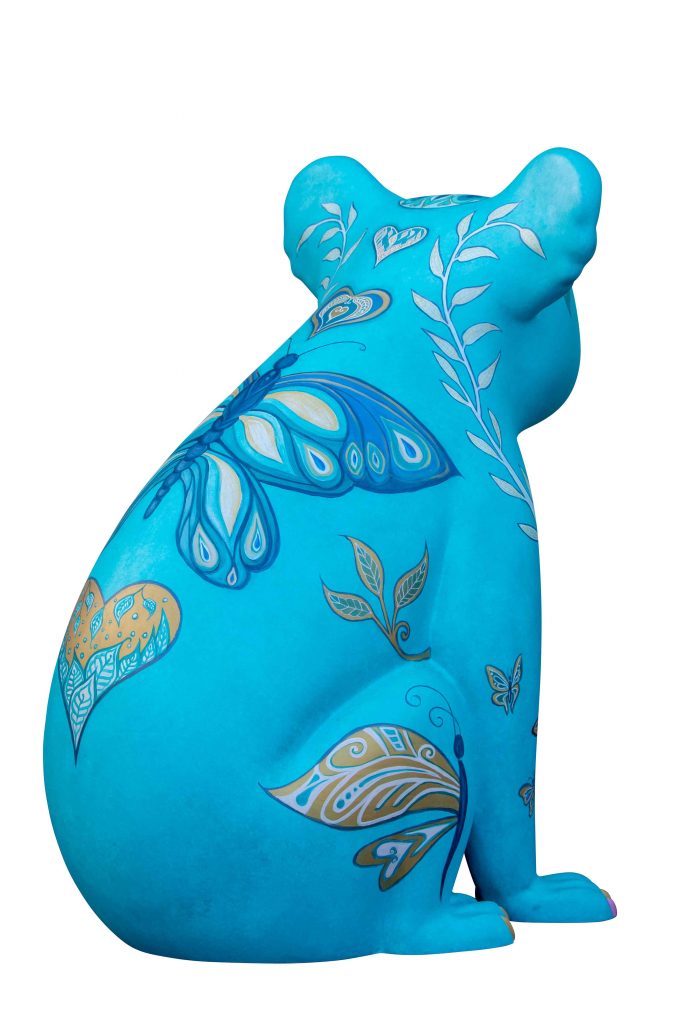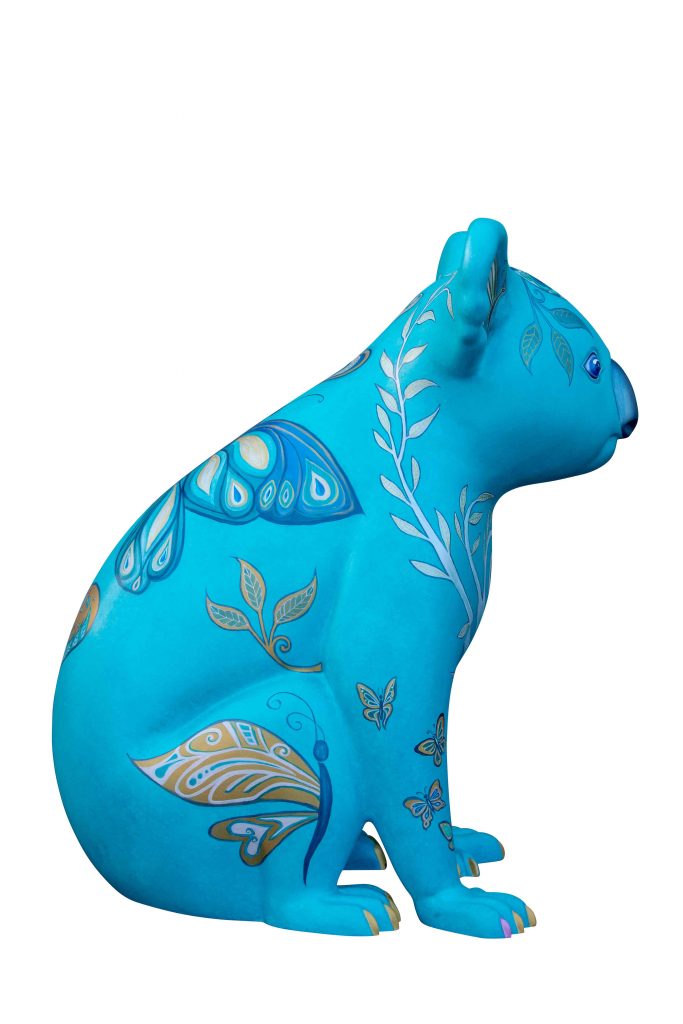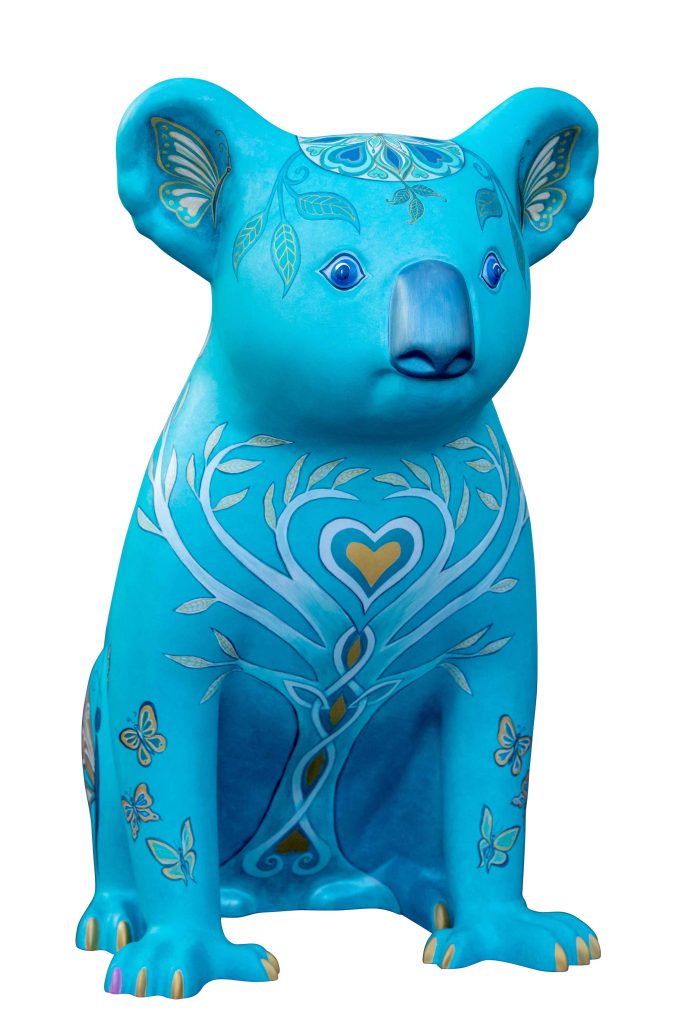 Artist : Yvonne Kiely
Sponsor: Belle Property Port Macquarie
Location: 98 William Street, Port Macquarie NSW 2444
Description / Inspiration
Asha is here as a symbol of HOPE, TRUST and WISDOM.

The very meaning of the girl's name Asha in Swahili, Hindi and Sanskrit is HOPE.

Through the butterflies in her ears she can listen gently to the whispers of Children and hear their Hopes and Dreams.
Asha's many more butterflies are symbolic of our souls and around the world, people view the butterfly as representing endurance, change, hope and life.

I was inspired to create Asha Koala during and in the aftermath of the devastating Australian Bushfires in 2019.

The symbolic design of the Celtic Tree of Life on her front is about the forces of nature combining to create balance and harmony.
The branches reach up and out to the sky and the roots reach down into the ground renewing life energy.
The Celts believed that the Tree of Life represented longevity, wisdom and strength.

Asha is painted with several layers of iridescent ocean blue.
Blue is often associated with depth and stability symbolising trust, loyalty, confidence and wisdom.
She also has many hearts of gold and is crowned with a love heart mandala.
Like her sister Mandy the Mandala Koala she has the kindest eyes that only look upon all who visit with Love.

Asha (HOPE) embodies that elusive feeling that urges us on when, against all odds, we refuse to give up.
She inspires us to keep going and trust that it's going to get better and this too shall pass.


Artist Biography
Born in Ireland, Yvonne studied at Dublin's National College of Art and Design.
She moved to Australia in 1982, where she continued her studies at the National School of Art in East Sydney.
In 1990 Yvonne moved to Port Macquarie to explore her art practice in more relaxed surroundings.

Inspired by random snippets of past visual memories and being in the NOW, Yvonne's process of applying texture, glazing and layering brings a powerful beauty to her translucent artworks.

Her works are compelling and invite you into their very core. Yvonne starts a working cycle by layering delicate washes and rich textures on prepared canvas.

Whispers of ideas aid the process, she delves deeper, making connections, adding strokes of line and colour from which the soul of the work can arise.

EXHIBITIONS, PUBLICATIONS and COMMISSIONS

2020 Group – "New Work" Sunset Gallery, Port Macquarie.
2020 Finalist – "Northers Exposure 6" Glasshouse Regional Gallery, Port Macquarie. 2020 Solo – "Now & Then" Nexus Community Gallery, Bellingen.
2019 Duo "Unlined" ,Maclay Valley Community Gallery, Gladstone.
2018 Finalist – "Northern Exposure 5" Glasshouse Regional Gallery, Port Macquarie. 2018 Duo - "Recent Works" L.P.V. Gallery Port Macquarie.
2017 Duo - "One Way or Another" Nexus Community Gallery, Bellingen. 2017 Duo – "This Way, That Way, Another Way" Breathing Colours, Balmain
2016 Finalist – " Northern Exposure 4" Glasshouse Regional Gallery, Port Macquarie. 2016 Duo - "Seascapes & Whispers" M.V.C. Art Gallery, Gladstone
2015 Duo – "Recent Work" – Home Studio & Gallery, Home St, Port Macquarie. 2014 Winner - 39th Port Macquarie Easter Art Exhibition (print making section) 2014 Solo - "Recent Work", Macleay Valley Community Art Gallery, Gladstone 2013 Duo -"New Work" Sunset Gallery, Port Macquarie.
2013 Solo -"Spirit Taking Form" Nexus Gallery, Bellingen
2012 Highly Commended – "Tastings of the Hastings", Port Macquarie 2011 Finalist - Kings School Exhibition – Sydney
2011 Finalist – "Northern Exposure"– Glasshouse Regional Gallery, Port Macquarie

REPRESENTATION
2013 – 2020 Resident Artist at Sunset Gallery, Port Macquarie
PUBLICATIONS
2018 – Good Health Magazine (Art Therapy) 2015– Australian Artist Magazine– April 2015
2006 – 2019 Regular Articles in Port Macquarie News
2006 -2019 Regular Articles in Focus Magazine Port Macquarie

COMMISSIONS
2014 - 2020 Commissioned by Arts and Health Australia to paint 3 Large Fibreglass Koalas for Hello Koalas Sculpture Trail. "Tully The Celtic Koala", "Mandy Mandala Koala" and "Asha Tree of Life Koala".

Location Info
Belle Property is housed in a charming Victorian cottage with a broad verandah where Asha spends her days looking out to the Hastings River and wishing passersby on foot or by car a happy and carefree day. Nearby is the outstanding Urban Grain Bakery which bakes all its sweet and savoury pastries on the premises along with outstanding artisan breads including our favourite sour dough. The coffee is excellent too. Check out the coffee machine - it looks amazing At Urban Grain Bakery you will also find the glamorous Dame Koala who may join you for a coffee under the umbrella on a sunny day. And around the corner Port Macquarie Museum hosts the Hello Koalas sculpture Forest which sits beside the Museum in the dedicated Forest Courtyard, created by Forestry NSW. Other attractions nearby include the Glasshouse Arts and Visitor Centre (Lady Lola & PK Sparkles) and the Historic Courthouse (Garage Girl & Con The Koala). If you have a desire for a cool glass of wine or mikshake, then visit Rydges Hotel, opposite the Courthouse and meet Ziggy and have a drink at the Zebu Bar overlooking the glistening river.