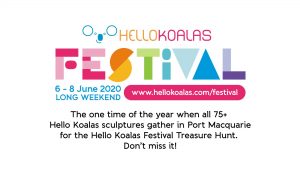 DUE TO THE COVID19 OUTBREAK, THE FESTIVAL HAS BEEN POSTPONED UNTIL SEPTEMBER 2020.
With around 75 Hello Koalas sculptures now on the Trail, and some travelling to other locations at various times of the year, we decided to make sure that all the Hello Koalas sculptures gathered in Port Macquarie for our our annual Hello Koalas Festival over the June Long Weekend.
It's a great time to visit Port Macquarie and join in the fun of the Hello Koalas Festival Treasure Hunt. It's free to enter but please register online so we know you are coming. Participants will receive a Certificate of Achievement with lots of prizes to be won too.
And it's exciting for all ages – discovering beautifully painted koala sculptures dotted across the landscape and learning more about the koala and how we can all protect and preserve Australia's most iconic animal.